Whatever Happened To Jax Taylor's Ex Carmen?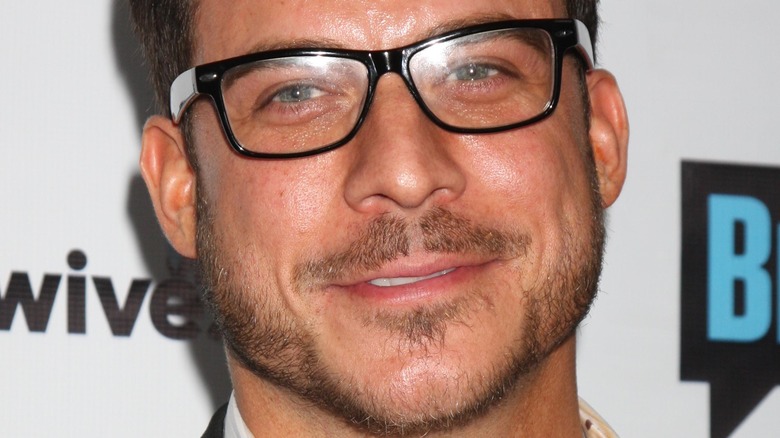 s_bukley/Shutterstock
Against all odds, Jax Taylor of "Vanderpump Rules" fame appears to have settled down into the quiet life of a family man. The former SURver is now happily (we assume) married to Brittany Cartwright and father to their 1-year-old son, Cruz, who was born in April of 2021, according to Us Weekly. Seeing all this domestic bliss, we can't help but reminisce about the early days of "Vanderpump Rules," when Taylor was a bartender Lothario who shook up more drama than actual drinks. 
For instance, whatever happened to Carmen, the woman Taylor was theoretically in love with for most of Season 3 — despite cheating on her approximately 100 times? Carmen wasn't long for the world of "Vanderpump," or for Taylor, even though she did make one of his infamous girlfriend-name arm tattoos (via Reality Blurb). She was very young when she dated Taylor so we can't fault her for that, but we are curious what happened to her after she stopped appearing on the show. 
Jax Taylor's ex-girlfriend Carmen moved to Puerto Rico
You may be surprised to learn that, unlike many other short-lived Bravo guest stars, Jax Taylor's ex-girlfriend Carmen Dickman isn't that hard to find on the internet. In fact, you might even call her something of a social media influencer. It appears that after breaking up with Taylor (for good, this time), Dickman moved to Puerto Rico, where she now lives, based on her social media accounts, and runs a blog called Cooking for Everyone. 
She has more than 52,000 followers on her Instagram and more than 21,000 followers on Twitter, where she posts updates from her sunny day-to-day life. Unfortunately, when we click the link to her blog we only get a page that says "we're doing some work on the site." So, we can't tell you for sure whether her cooking tips are any good or not. But we can tell you that it doesn't look like she's missing Taylor at all. 
Carmen is a mom now
The biggest change we can see in Carmen Dickman's life since "Vanderpump Rules" — even bigger than moving to Puerto Rico — is that it looks like she's a mom now! Carmen has a baby daughter named Penelope, according to her Instagram posts, born a few months before Jax Taylor's son Cruz was born. Life is funny that way. As for the little one's dad, we're assuming it's the man mentioned in Dickman's engagement announcement post from 2020. That said, this mystery man hasn't made many appearances on her social media pages since then, so we'll just leave it at that. 
In short, we can confirm that at least one of the women who briefly dated Taylor and then disappeared from Bravo screens appears to be absolutely thriving. Maybe all anyone needed was just a little time to grow up a bit to live their best lives. But we'd be lying if we said we weren't grateful for the entertainment while it lasted.