How Much Money Does Addison Rae Really Make Per TikTok?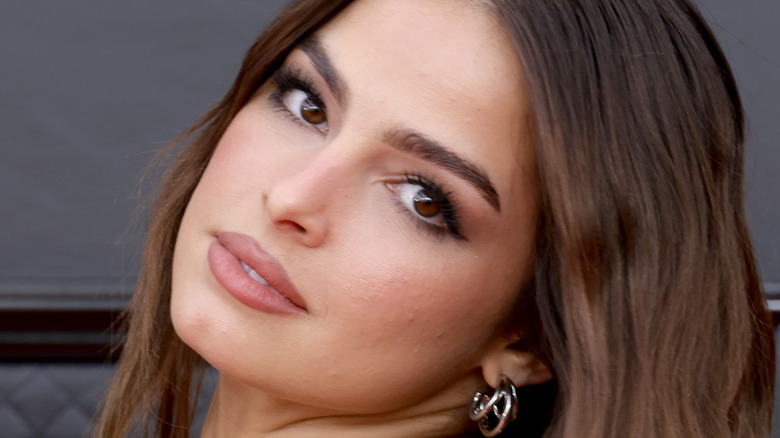 Frazer Harrison/Getty Images
Addison Rae is making bank, we know that for certain. The star has risen through the ranks to become one of the most notable and bankable influencers in the game, boasting a whopping more than 87 million followers on TikTok and another 40 million followers on Instagram. Rae's career has gone from strength to strength since those early days of dancing for the world on the hugely popular social media platform, even landing herself a leading role in a blockbuster in the form of "He's All That."
She's been pretty open about her whirlwind rise to the top too, admitting it hasn't been the easiest thing to branch out from her TikTok beginnings. "In this industry, when you come in and get labeled as one thing... people like to keep you there," Rae told Elle in July 2021. "People haven't really seen the background, or the classes I used to take and things like that. So I try to tell myself, 'You have to work that much harder to get people to take you seriously.'"
Rea revealed that social media became more than just a hobby when she moved to Los Angeles in 2019, telling Business Insider the following year, "That's when it changed for me. I knew I wanted to take it more seriously and expand it to other platforms. I uploaded a video to YouTube and got really active on Instagram." But how much has all that active social media behavior really netted the star?
Addison Rae's social media earnings
Addison Rae got candid about how much she makes from her TikTok videos while chatting on the "Views with David Dobrik & Jason Nash" podcast in January, where she confirmed she doesn't get paid for every video she posts. Instead, she clarified a video has to be "branded" for her to profit from it. Dobrik chimed in, "The thing I hate about TikTok prices, is that these TikTokers get paid per post. So, like, everyone will do math and they'll be like, 'Addison Rae gets paid $45,000 per post.' Oh, my God, she's posted 30 times this [week], which means she's made $18 million this week alone,'" pointing out assumptions aren't always accurate. Rae didn't clarify exactly how much she gets, but admitted the most she'd heard someone being offered for a TikTok video was $90,000. Though she didn't state if that was her, Influencer Marketing Hub estimates Rae could earn between $52,620 and $87,700 per post.
But that's not the only social media site where Rae's making cash. According to Hopper, Addison makes a whopping $155,800 for an Instagram post and can reportedly earn herself up to $1,200 every month from her YouTube videos, per Social Blade.
Of course, all that cash adds up, so it probably won't surprise you to hear that Rae is a multi-millionaire. The influencer has a net worth of a massive $15 million, with $9 million of that being earned in 2021 alone, Celebrity Net Worth reported. Impressive!
How does Addison Rae spend her money?
Addison Rae isn't afraid to splash the cash — as her stunning Los Angeles home proves. The star reportedly forked out a whopping $3 million for her super luxurious pad in the Golden State, which The Sun reported has six bedrooms, seven and a half baths, a pool, and even a four-car garage. Not bad for someone who's admitted she'd not the best driver!
The star has also revealed that she's shelled out on more frivolous things like NFTs, revealing via her Instagram Stories in January that she'd treated herself to the digital artwork that's oh so on trend for the rich and famous. Though she didn't confirm how much she paid, Rae wrote on the social media site (via Dexerto), "Never thought I'd get involved with NFTs, but yolo! So honored to join the Lil Heroes community."
As for what else Rae spends all that hard-earned cash on, the star appears to have the travel bug and often shares enviable photos with her millions of followers showing herself in some very tropical destinations. A May Instagram upload saw her lounging around on the beach, while she shared a snap to the social media site a few months earlier while out on what appeared to be a private yacht and cuddling up to her boyfriend, Omar Fedi. Clearly, it pays to be Addison Rae!