How Much Older Is Heidi Klum Than Her Husband Tom Kaulitz?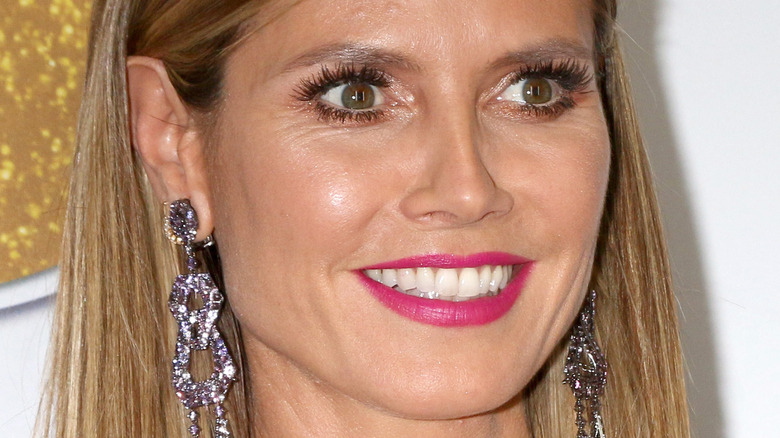 Kathy Hutchins/Shutterstock
Heidi Klum proved third time's the charm with her husband Tom Kaulitz, marrying the Tokio Hotel musician in 2019, five years after she called it quits with her former husband, Seal. Prior to that, the "America's Got Talent" judge was also married to Ric Pipino from 1997 until 2002. And Klum most certainly found love again. "For the first time I feel like I have a real partner, someone to share everything with," she gushed of Kaulitz to People in October 2019, just a few months after they tied the knot. "It's amazing. How can it not be? Did you see my husband? He's amazing," she continued of how much she was enjoying married life the third time around.
But that's far from the only time the mom of four has nothing but sweet things to say about her man. "I mean, I found my match, finally. I am very romantic and I do a lot of weird things, like I leave notes everywhere and I do a lot of things for him, and it's beautiful when you get that back from your partner," she explained to Entertainment Tonight in May 2021, adding of Kaulitz, "And it's the first time I feel like I really have a partner to do everything with." So cute!
But while we know these two are oh so in love, one thing you may not know is that there's quite the age gap between Klum and her husband.
Heidi Klum is almost two decades older than Tom Kaulitz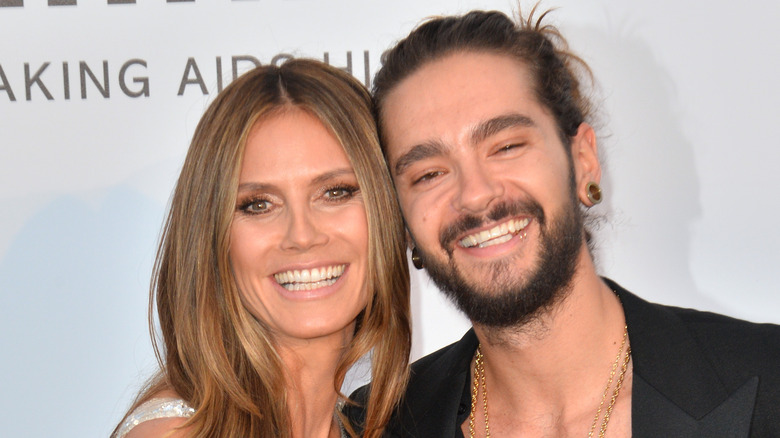 Featureflash Photo Agency/Shutterstock
Heidi Klum and Tom Kaulitz have a more than 16 year age difference. Klum was actually 45 years old to Kaulitz's 29 years when they married in a surprise ceremony in February 2019, tying the knot after around a year of dating and just two months of being engaged. But it sounds like age is certainly just a number for the former Victoria's Secret model, as she's addressed the years between them on more than one occasion.
"Lately, I'm being reminded more about my age by people other than myself. My boyfriend is many years younger than me, and lots of people are questioning that and asking about it," Klum told InStyle in 2018 (via People). "That's really the only time when age seems to be shoved in my face and I have to give an answer for it," she added. The star admitted that she actually doesn't think too much about the years between them otherwise, telling the outlet, "You have to just live a happy life without worrying too much about what people think because worrying is only going to give you more wrinkles."
It sounds like Kaultiz more than stepped up for his love though, and her children, despite being so much younger. "I'm sure it's not easy to step into an immediate family, having all of a sudden four kids and teenagers," Klum admitted to Us Weekly in January.
Not everyone supported Heidi Klum's age gap romance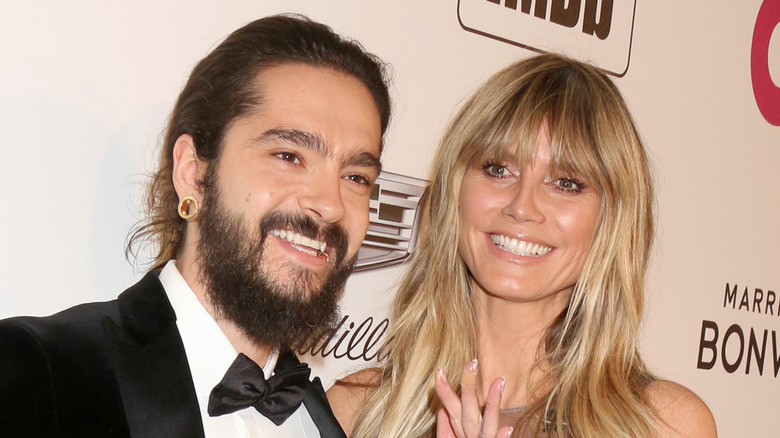 Kathy Hutchins/Shutterstock
Heidi Klum and Tom Kaulitz relationship wasn't met with approval from everyone when they first started dating in 2018. The "Project Runway" star has admitted that some people didn't approve of their age gap and didn't exactly pass along positive energy, telling She Knows in January, "I feel like, there too, if it feels right when you close your door at home and you know what you have together, I think that is the most important thing." Luckily, it sounds like the star and her man didn't let all the negativity get to them too much, though. "You have to cut out all the noise around you. Not everyone is always cheering you on in all things that you do. But I feel like you've got to do what makes you happy. And he made me happy. And we're still happy and having a great time together," Klum shared.
And ignore the haters they certainly have. Klum often adorably flaunts her love with her man on social media, including posting an adorable snap with Kaulitz during a vacation boat trip in Italy in May. The supermodel shared several snaps with her love on a boat before they then hit the land and enjoyed a romantic meal by the beach, with Klum in the caption, "La Dolce Vita." So cute!