The Real Reason Dave Grohl Was Almost Kicked Out Of Nirvana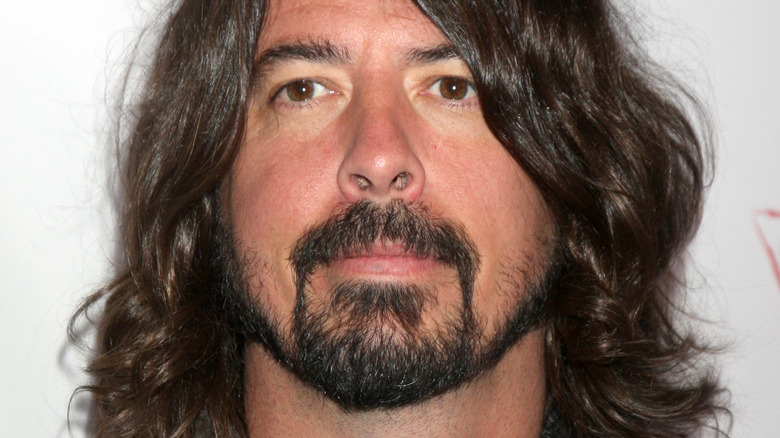 Kathy Hutchins/Shutterstock
This article contains references to suicide.
These days, Dave Grohl is known for his tour de force talent as the frontman behind Foo Fighters. But if we rewind back to the '90s, Grohl left his mark on music with an entirely different band. The hair-sprayed synthetic tone of the '80s gave way to something darker and rawer with the grunge scene of the following decade. And arguably, Nirvana was the face of the said grunge movement.
With Grohl on drums, Krist Novoselic on bass, and the once-in-a-generation Kurt Cobain on vocals, Nirvana quickly garnered a following on the underground scene before bursting into mainstream appeal. In an interview with USA Today, Grohl still remembers joining Nirvana for the first time. "They were different ... They had songs. They had Kurt," he said.
So it may surprise many to learn that Grohl almost got kicked out of the band. According to NME, Grohl described overhearing a conversation that made him so fired up that he reportedly threatened to quit Nirvana forever.
Kurt Cobain considered replacing Dave Grohl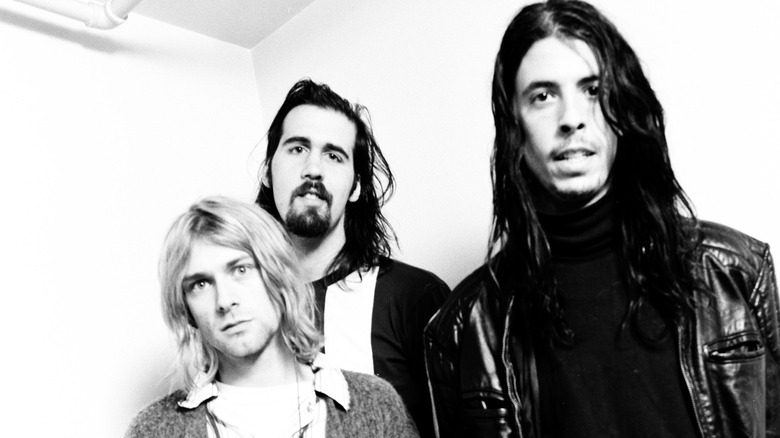 Gutchie Kojima/Shinko Music/Getty Images
In a 2021 sitdown with Vulture, Dave Grohl recounted overhearing his bandmates Kurt Cobain and Krist Novoselic having a conversation about potentially replacing him. At the time, Nirvana was preparing to start rehearsals for their "In Utero" tour. "We were on our way to Los Angeles ... and I was sitting a few rows ahead of Kurt and Krist," Grohl recalled. "I could hear Kurt saying, 'I think we need a drummer that's more rudimental, along the lines of Dan Peters,' who was the guy they almost hired when I joined the band."
According to Grohl, the conversation upset him, and he decided to confront his bandmates about the conversation. "I talked to Krist, and I said, 'Is that really what you guys want to do? Because if that's what you want, maybe just let me know, and we can call it a day,'" the Foo Fighters vocalist revealed. "I eventually talked to Kurt about it, and he said, 'No. That's not what we want to do.' I just felt like, It's up to you guys what kind of drummer you really want, and they decided I should stay."
Grohl stayed until Cobain's untimely death, but he admittedly always felt like the odd one out even when joining the band. "[Cobain and Novoselic] were both a mystery to me ... I did not see myself fitting into that picture at all," he told Rhythm in 1993 (via MusicRadar).
Dave Grohl has fond memories of Kurt Cobain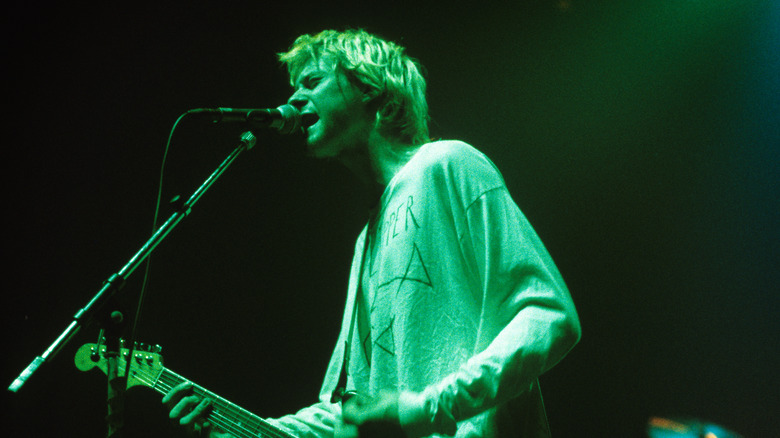 Gie Knaeps/Getty Images
Despite their differences in the band, Dave Grohl was shocked and saddened when Kurt Cobain committed suicide at only 27. In his interview with Vulture in 2021, Grohl described the morning after and how it took time for the realization to set in. "I woke up and I realized he wasn't coming back and I was lucky to have another day," Grohl recounted. "I can have a cup of coffee today. But he can't. I got in my car to take a drive ... He can't. It was then I realized no matter how good or bad a day, I wanted to be alive to experience it."
For years, Grohl couldn't even listen to a Nirvana song. Whenever one would play on the radio, he admittedly changed the station. The pain of losing his bandmate and being in a world surrounded by Nirvana fans was too much. But time and with help of his kids, Grohl learned to overcome the pain.
"I'll go driving with my kids in the car and they'll put on Nirvana ... We don't really sit around the house, talking about Nirvana all day long, but every once in a while, they'll ask me questions and I'll explain that life to them," he told People. Still, Grohl admitted he knew that call would eventually come regarding Cobain, according to USA Today. "There are certain people in your life you prepare yourself to lose."
If you or anyone you know is having suicidal thoughts, please call the National Suicide Prevention Lifeline​ at​ 1-800-273-TALK (8255)​.