Where Kyle Richards And Brandi Glanville's Friendship Stands Now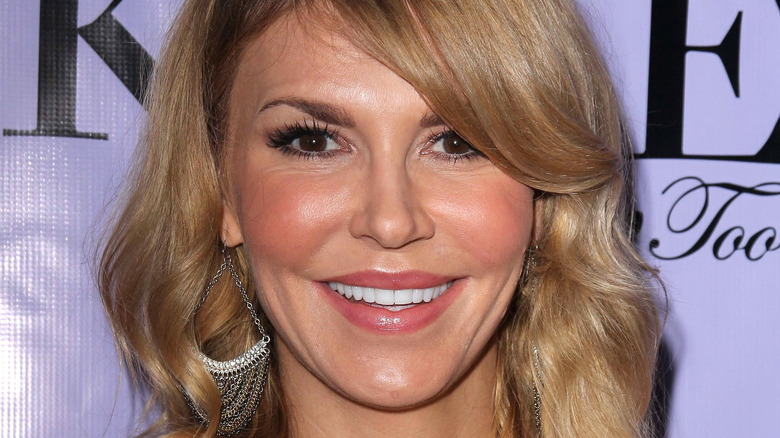 s_bukley/Shutterstock
The following article contains language that some may find offensive.
Brandi Glanville from "Real Housewives of Beverly Hills" is the queen of TMI and trash-talking. Brandi first appeared on the Bravo show during Season 2 but became a full-time cast member in Season 3. She was controversial and polarizing from the get-go and is definitely not afraid of speaking her mind. She doesn't hold back either, resulting in her fighting and feuding with all of the "RHOBH" women at some point.
Brandi's biggest adversary, however, was Kyle Richards. The two were like gasoline on fire from when they first butted heads during Dana Wilkey's game night from hell. It went from fun gaming to drunken screaming from zero to ten without passing go. Brandi got into it with Kyle and her sister, resulting in lots of angry finger-pointing and Kim Richards calling Brandi "a s**t pig." It didn't get any better from there on in.
Kyle and Brandi went at it constantly, often over Kim. Kyle accused Brandi of having a negative impact on her sister as Kim struggled with her sobriety. Brandi clapped back in the "RHOBH" Season 3 reunion show, claiming she believed Kyle would be "happy" for Kim to fall off the wagon. That really ramped things up a notch. An emotional and angry Kyle tearfully told Brandi, "That's the meanest thing you can say." Cue an overly dramatic eye roll response. The couple's constant catfighting made for something rotten in the state of Beverly Hills. But where do Kyle Richards and Brandi Glanville's friendship stand now?
Brandi Glanville and Kyle Richards' friendship 180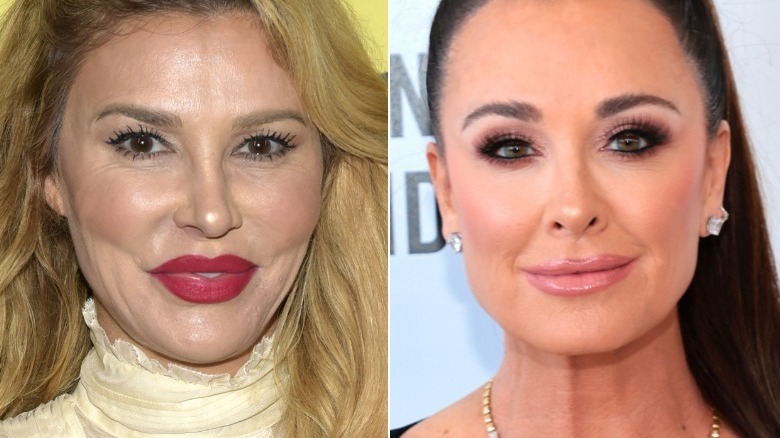 Michael Tullberg & Jamie McCarthy/Getty
Despite years of fighting, Kyle Richards and Brandi Glanville's feud eventually blossomed into a beautiful friendship. In 2019, a source revealed to HollywoodLife that Brandi and Kyle "are happy to be friends again and Lisa Vanderpump is the reason why," as they "reconnected and put their beef aside after Kyle stopped speaking to Lisa." Furthermore, in 2021, Brandi tweeted, "I honestly love [Kyle,] we have been through it."
Meanwhile, in a May appearance on "Watch What Happens Live" (via Bravo). Kyle admitted that Brandi had always been "a very good friend to [her] sister Kim" — despite a Brandi and Kim feud brewing months prior. Regardless, Kyle also said, "I've seen a totally different side of Brandi now that we're not on the same show together ... And she's very sweet with me." 
Regarding her beef with Kim, Brandi admitted on the "Two T's In A Pod" podcast (via Heavy), that there had been no catalyst to their falling out. Brandi also claimed they never even had an argument or a fight. Instead, she said Kim just vanished out of her life. She revealed that although she did miss Kim, she "had to take care of my own mental health. And I couldn't babysit other adults." Brandi said that she felt like their relationship had always been one-sided, with her being the one who made all the effort. That, however, wasn't the case between Brandi and Kyle in the years past.
Brandi Glanville and Kyle Richards had quite a rocky relationship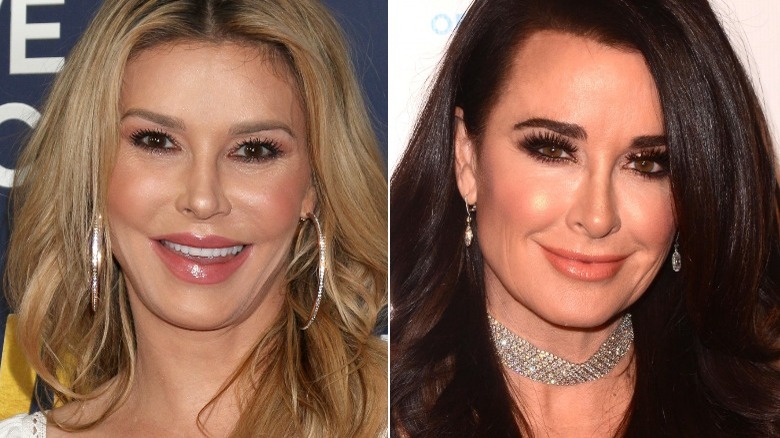 Kathy Hutchins & Kathy Hutchins/Shutterstock
Kyle Richards and Brandi Glanville's friendship was nonexistent when Brandi and Real Housewives parted ways in 2015. After slapping Lisa Vanderpump, throwing wine at Eileen Davidson, and fighting nonstop with everybody in the near vicinity, it was time to hang up the Louboutins. Brandi, however, claimed it was her decision to quit the show. "After a lot of careful thought and deliberation I have decided not to return to RHOBH [for Season 6]," she announced on the "Brandi Glanville Unfiltered" podcast (via Bravo).
However, others begged to differ. "By the end, she couldn't get along with anyone, and no one wanted to shoot with her," a source told People. "In a way, she will be missed," said another. There was no pining from Kyle, however. When asked if she would stay in contact with Glanville, Kyle didn't mince her words. "It's not like a friend you had a falling out with, and you missed them," she told ET. "There's no [love lost] there."
So, you would think Kyle would be horrified when Brandi strolled in during Season 9. However, the focus was now on Lisa Vanderpump and Kyle's feud, not Brandi. During an interview on "The Jenny McCarthy Show," Kyle admitted to following her ex-adversary on Instagram. She said they'd kissed and made up after she bumped into Brandi and that "she was kind and sweet."