This Is How Old Priscilla Presley Was When She Met Elvis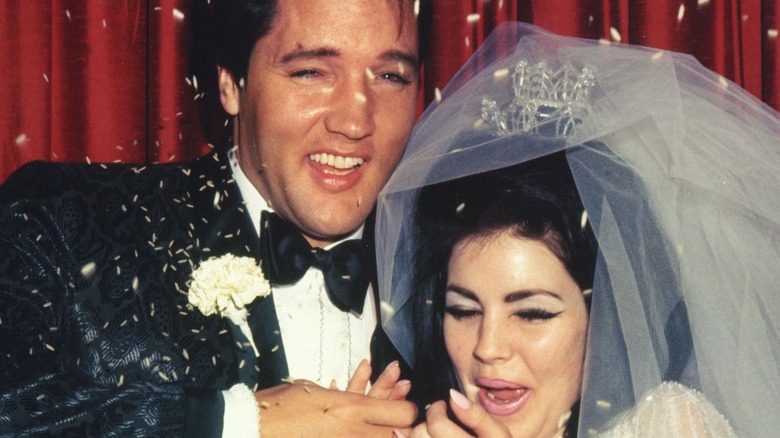 Michael Ochs Archives/Getty Images
Legendary rock and roll singer Elvis Presley is one of the icons of 20th century America. Having skyrocketed to fame in the 1950s for his provocative performing style and widespread appeal, it stands to reason that Elvis never had much trouble with the ladies. 
Of course, Elvis had many girlfriends throughout his life. However, there was only one relationship that ever led to anything serious: that with Priscilla Presley, née Beaulieu, whom he married in 1967 and had his only child, daughter Lisa Marie Presley, exactly nine months after their wedding date. Though they would divorce six years later, she would remain the only person who Elvis would marry, have a child, or even have any kind of serious, long-term relationship with. 
But how and when did the iconic singer meet his only wife, who was once nothing more than the stepdaughter of a U.S. Air Force pilot who lived a childhood moving all across the world? Well, there is a rather scandalous reality to their first meeting, and many fans and admirers of the American icon may not know how old Priscilla was when she met her future husband — and it might make some fans a little uncomfortable. 
Priscilla Presley was 14 years old when she met Elvis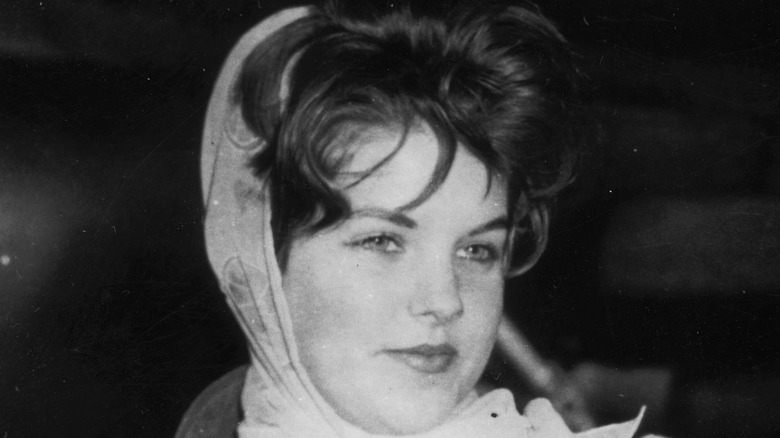 Keystone/Getty Images
Although Elvis and Priscilla Presley got married in 1967, shortly before Priscilla's 22nd birthday, the two have a history that spans much longer than that. 
The truth is that Elvis and Priscilla first met at a party in his rented home in West Germany, where he was stationed in the Army (and where Priscilla was living at the time) in September 1959. At that time, she was only 14 years old, and he was 24. Though they likely would not have an intimate relationship for some time, Elvis clearly became immediately smitten with her, acting like an "awkward, embarrassed" boy around her, per Smooth Radio. Though her parents were reluctant, Elvis convinced them to allow her to continue seeing him. They would go on to meet up quite consistently until March 1960, when he would return to the United States. She became upset about Elvis's departure, convinced that they might never see each other again. However, they stayed in touch by phone, and reunited in person in 1962, when she was 17.
According to Classic Rock World, this type of behavior was common for Elvis. Author Brent D. Taylor described Elvis as a "perpetual young man," per Classic Rock World, who was always attracted to young teens. "Elvis felt comfortable with these teenagers," he described. 
Elvis Presley told his girlfriend that Priscilla was a child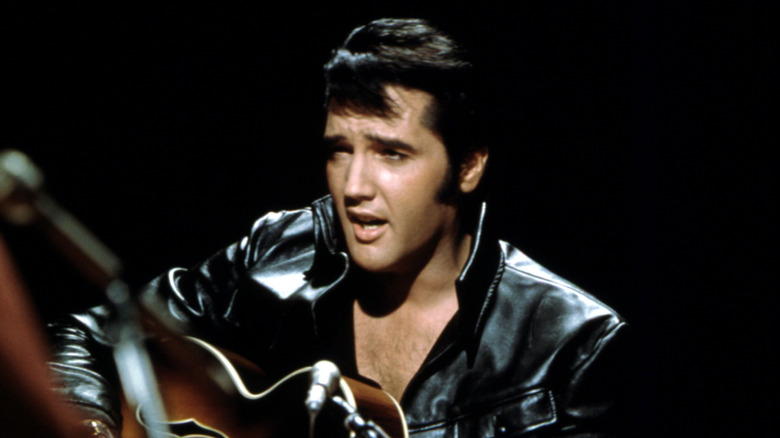 Michael Ochs Archives/Getty Images
Naturally, Elvis Presley was already in a relationship when he first met Priscilla Presley. He was dating an American television performer named Anita Wood when he was stationed to West Germany in 1957 (even referring to her as his "No. 1 girl"), and she remained in the United States. When he returned in 1960, she began to grow suspicious about Priscilla upon hearing rumors of their relationship in the press. 
As Wood told Express, whenever she asked about her, he would respond by saying she was a child and denied anything romantic was going on. Her suspicions grew in 1962, when she found a letter from Priscilla in his possessions. Per Wood, the letter read, "Please call my dad. I want to come over there and if you call my dad, I know he will let me come, he will listen to you. I miss you."
When she confronted him once again with evidence of their communication, she described him as "livid," adding, "He took me and he shoved me up against the closet." After Wood left Elvis to stay with her grandmother, he would plead, "This girl, again, she's just a child. She's just a fourteen-year-old child, it means absolutely nothing. She just wants to visit, it means nothing." Elvis and Wood would continue to date for some time, but of course whatever feelings he had for the young Priscilla trumped whatever he felt for Wood.