How Tall Is Johnny Depp?
Tinseltown/Shutterstock
Before he was embattled in legal scandal, Johnny Depp was considered Hollywood royalty thanks to his heartthrob status back during the 1980s and 1990s, as well as his catalog of successful films throughout the years. From "Edward Scissorhands" to "Fear and Loathing in Las Vegas" and even the "Pirates of the Caribbean" franchise, it seems everyone had a favorite Depp movie. 
And while there's no denying that Depp's legion of fans have always appreciated his work on the big screen, his dedication to his craft, and of course, his rugged good looks, Depp once told TODAY in 2015 that when acting, "the last thing I want to look like is myself." In other words, he wants to morph into the characters that he plays. Offscreen though, fans were still obsessed with the genes that his mama gave him. Depp was named People's Sexiest Man Alive back in 2003 and 2009, a title that only a handful of men have gotten more than once.
Even though Depp's charming good looks may just be an afterthought to him, a lot of people can't help but wonder just how tall the Kentucky-born actor is. Seeing how Depp's celebrity seems larger than life, the answer is quite surprising.
There's been some debate over Johnny Depp's real height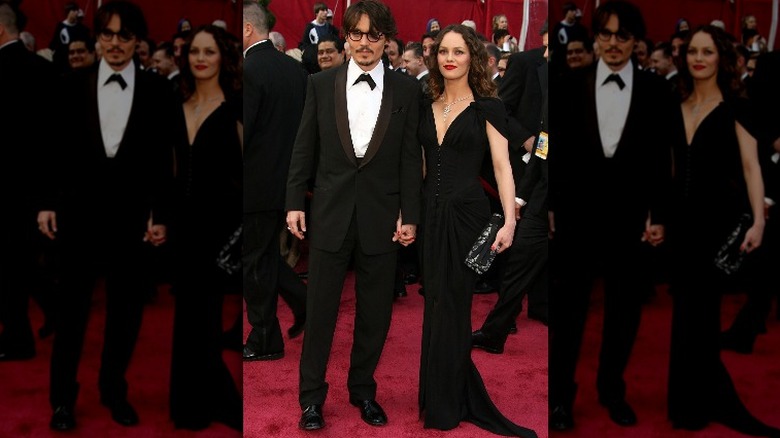 Frazer Harrison/Getty & BAKOUNINE/Shutterstock
While Johnny Depp himself might be the only person who knows the real answer, a lot of people have long debated how tall he is in real life. According to Celeb Heights, Depp is listed as 5 foot 9 inches. However, Harper's Bazaar listed him at a taller 5 foot 11 inches back in 1993. 
After all, Depp often looks like he's not much taller than his romantic partners. Depp's ex-wife Amber Heard, who he continues to be in the spotlight with due to their scandalous defamation trial, is listed as a little over 5 foot 6 inches. Meanwhile, his former longtime partner and mother of his children Vanessa Paradis is reported to be 5 foot 3 inches. There also didn't seem to be much of a height difference between Depp and his ex-girlfriend Kate Moss, who stands under 5 foot 8 inches and famously revolutionized the modeling world as being one of the shorter models to grace the runways during her prime, per Huff Post.
If that were't enough, many fans noticed that Depp stood at almost the same height as his "The Tourist" co-star Angelina Jolie while they were promoting the film together. Jolie stands at 5 foot 7 inches, which has certainly adds even more speculation about Depp's actual height. Yet, Depp's height doesn't seem to be of most concern to him.
Johnny Depp's changing look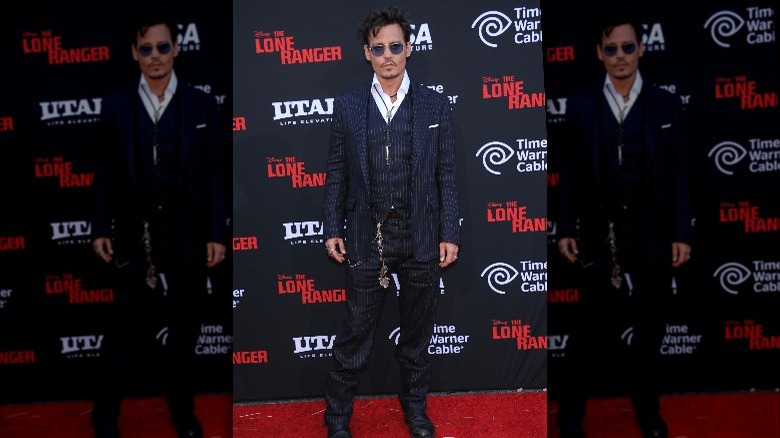 DFree/Shutterstock
Despite all of the speculation about his height, Depp has hinted that he'll always be a chameleon of sorts in the entertainment industry. Speaking to Interview magazine in 2014, he said, "I love the idea of changing my look. I think one owes it to the audience, to go out there and give them something different each time, so as not to bore them to death. And I always felt that if you're not trying something different each time out of the gate, you're being safe, and you don't ever want to find that place of safety."
But even with his fame, his fortune, and his success, Depp admits that he'd like to live a life in obscurity one day. He told Esquire in 2008, "My definition of freedom is simplicity, really. Anonymity. I'm sure it will be a possibility someday again. Maybe when I get old. They get tired of you." Seeing how Depp still gets so much attention for the drama in his personal life, we'd say that he's still at the height of his fame.