Johnny Depp Has Been Engaged More Times Than You Think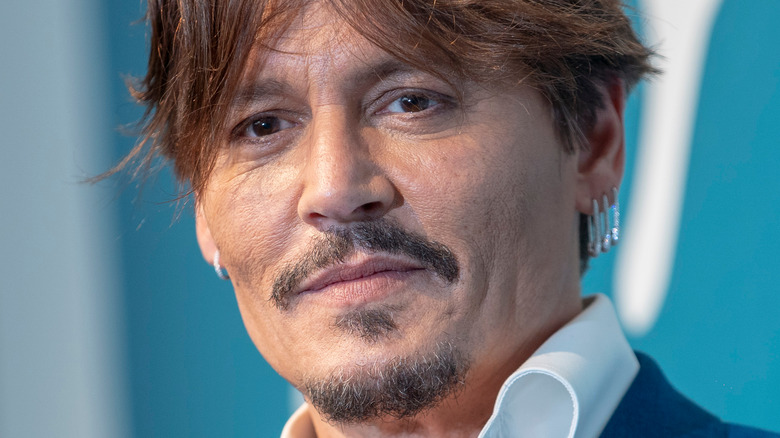 Denis Makarenko/Shutterstock
Long before Johnny Depp's tumultuous relationship with Amber Heard had been thrust into the spotlight, the "Pirates of the Caribbean" actor had a long list of lovers. As one of the most sought-after men in Hollywood to this day, he's always had an army of admirers, so his love life has always ended up being tabloid fodder.
Depp's dating history involved courting a string of beautiful leading ladies, then a period of laying low and settling down to be a father before it all went haywire with his toxic union to Heard. But before that happened, he had been a ladies' man, and apparently went down on one knee multiple times! People well-versed in pop culture may know that he got engaged with Winona Ryder at one point (Winona forever tattoo, anyone?), but not many are privy to the timeline of Depp's many engagements. While he has only been married twice, word on the street is that Depp has been engaged more times than you could count on one hand.
Johnny Depp's many engagements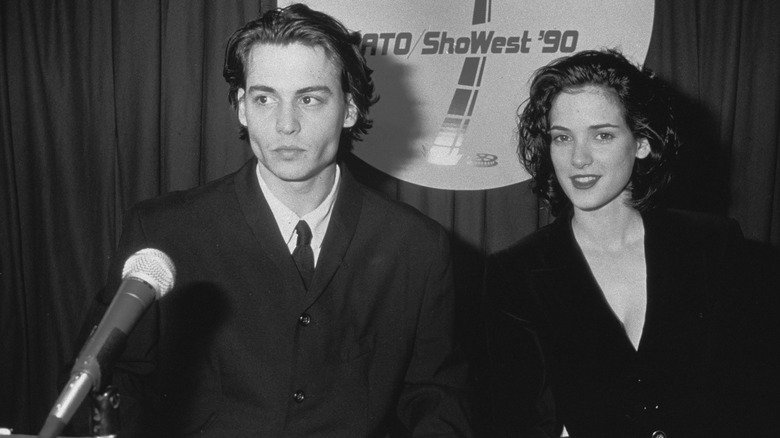 Michael Ochs Archives/Getty Images
Throughout his career as an actor, Johnny Depp had been linked to countless actors and celebrities, but as a serial monogamist, he's reportedly been engaged to nearly all of his serious relationships. Depp's first wife was makeup artist Lorie Anne Allison. Sadly, they only lasted about two years after marrying in 1983.
Depp had then moved on with "Twin Peaks" star Sherilyn Fenn, and while they were rumored to have promised forever to each other, they broke things off after three years together, per Us Weekly. Then, Depp had a relationship with Jennifer Grey, and proposed to the "Dirty Dancing" actor just two weeks after they met each other. But according to her recollection of their relationship in her memoir, "Out of the Corner," shortly after their breakup her "neighbor," started "banging [her] ex." That neighbor happened to be Winona Ryder, whose engagement to Depp was controversial, but again, the two never made it to the aisle as they broke up in 1993.
Depp dated Kate Moss and had a fling with Ellen Barkin after his split with Ryder, until he fell in love with model Vanessa Paradis, with whom he shares two children. However, the couple never actually married because according to Depp, he "never found myself needing that piece of paper," per Extra. Unfortunately, they parted ways after nearly 14 years, and in 2012, he started dating Amber Heard. After Depp gave Heard a ring, well, we know what happened after that.
Johnny Depp and his ex-fiances don't have bad blood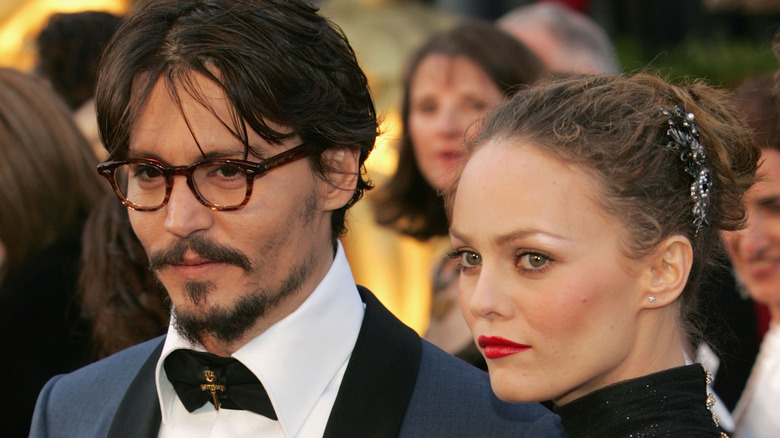 Frank Micelotta/Getty Images
Johnny Depp is currently embroiled in what is likely the biggest controversy of his life. He has been accused by his ex-wife Amber Heard of being abusive, resulting in a grueling multi-million dollar defamation trial that is nowhere near over. While Depp is trying his best to defend himself against the accusations, a number of his ex-fiances have rallied behind him.
Winona Ryder said that she could not fathom how Depp could ever be violent. "The idea that he is an incredibly violent person is the farthest thing from the Johnny I knew and loved," she said, per BBC. "I truly and honestly only know him as a really good man." Vanessa Paradis echoed the same sentiment, saying that Depp is nothing like what he had been accused of. "Through all these years I've known Johnny to be a kind, attentive, generous and non-violent person and father," she said in a statement, per People.
While she admitted to not following the trial, Jennifer Grey said that the accusations against Depp are nothing like what she had experienced with her ex in the past. "I don't recognize the person. It's nothing to do with anything that I've ever experienced, and it makes me sad," she said on "The Tamron Hall Show," per Entertainment Weekly. "I don't understand what's going on, and I just want everyone to be okay."