The Truth About Cara Delevingne's Wealthy Family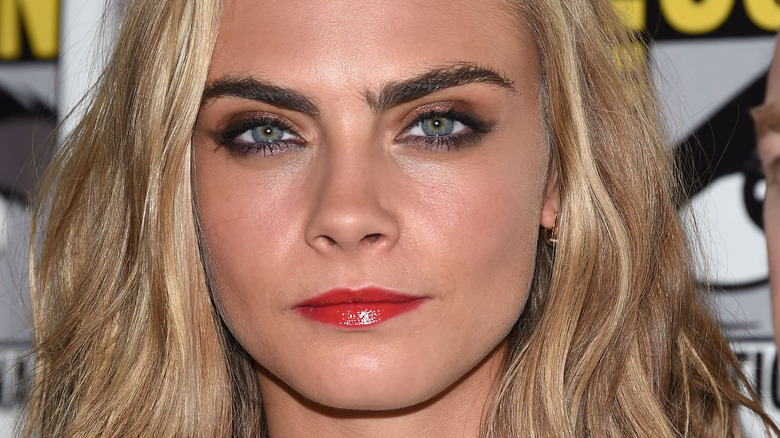 DFree/Shutterstock
Supermodel Cara Delevingne has her fingers in many pots outside of modeling. Harpers Bazaar reported that Delevingne starred with Orlando Bloom in "Carnival Row," sang backup vocals on a Fiona Apple album, founded two nonprofits, and is a partner in an adult toy company. Did we mention she did all of these projects while jetting around the globe as the face of Dior? The model-actor-singer-businesswoman told the outlet, "It doesn't make sense to have to be one thing. People ask me, 'How was it transitioning from being a model to an actress?' I'm not transitioning anywhere; I'm never going to stop modeling." She's not going to stop making headlines either.
Page Six reported Delevingne shook up the 2022 Met Gala by attending topless and painted in gold. Then, the model created a viral moment after her awkward behavior at the Billboard Music Awards with Megan Thee Stallion. But Delevingne often uses her time in the spotlight for activism. The supermodel identifies as pansexual, telling Harpers Bazaar, "The one thing I'm happy about growing up queer ... it gives me so much fire and drive to try to make people's lives easier in some way by talking about it." 
Delevingne juggles the world's attention on her career, activism and personality with flair because she grew up in the public eye. In fact, the supermodel comes from one of most prominent and wealthy families in the United Kingdom.
Cara Delevingne's family are aristocrats
Cara Delevingne comes from a very wealthy family. The Delevingne family has long been a part of London's high society, according to the Evening Standard. In 2015, British Vogue editor Alexandra Shulman told the Standard, "I suspect Cara is not particularly fazed by social situations because she comes from a very social family." 
Cara's mother Pandora Delevingne was debutante who came from a prestigious family and struggled with a heroin addiction for years, per the Daily Mail. Her dad is Charles Delevingne, the founder of Harvey White Properties Limited. Her oldest sibling Chloe Delevingne describes herself on Instagram as "Mumma, Sister, Wife and UCL Biomed Science Graduate." Middle sister Poppy Delevingne is also a model, married to Tom Cook since 2014, per Town & Country UK.
The three sisters founded a sparkling wine company, which launched in the United States in 2021. According to the Della Vite Prosecco website, the Delevingne sisters say their 'secco is made in a "solar-powered winery with 100% vegan processes" because they want to "push the boundaries of winemaking." Cara posted a photo with her business partner sisters on Instagram, writing, "Whenever @cdelevingne @poppydelevingne and I get together, Prosecco is always at the table with us. That's why when we started our first business together, we knew it had to be @della_vite." Add another job to the supermodel's CV!
Cara Delevingne earns from the family business
Cara Delevingne grew up in a posh Belgravia mansion in London, but Cara's childhood wasn't a fairy tale. In a 2015 Vogue interview, Cara revealed her mother's heroin addiction was a significant part of her upbringing. The supermodel told Vogue, "It shapes the childhood of every kid whose parent has an addiction. You grow up too quickly because you're parenting your parents." But Poppy Delevingne always knew her little sister would be a star despite their rocky upbringing. In 2017, Poppy told the Evening Standard, "I always knew she was going to be something special ... She was a little actress, we'd bring her out to do a performance after lunch, and she was just the apple of all of our eyes."
The youngest Delevingne is indeed a force of nature, just like her godmother "Dynasty" star Joan Collins. Still, it is surprising how Cara has leveraged her family's wealth to boost her own net worth. The Daily Mail reported Cara is a director of Harvey White Properties Limited, alongside her dad Charles Delevingne, and the real estate development company is on track to be worth £46.9 million. Combined with her millions earned from modeling, acting, and endorsements, Cara's net worth is estimated at over 100 million USD. Clearly, wealth is staying in the Delevingne family.