Here's What Hoda Kotb Looks Like Without Makeup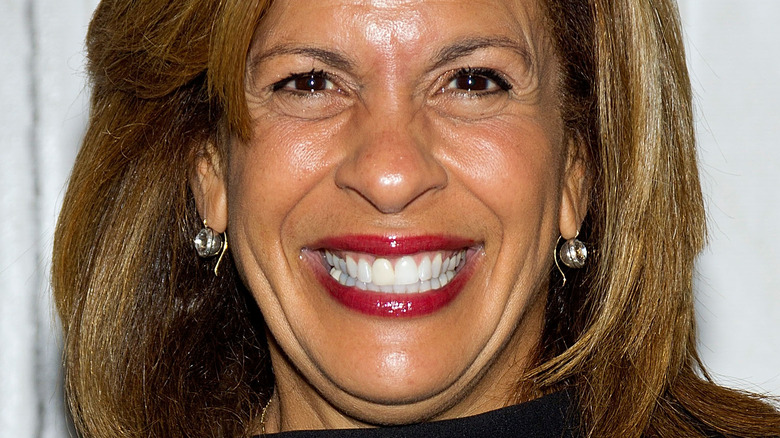 SD Mack/Shutterstock
Hoda Kotb is stunning. That goes without saying. The "Today" anchor has been a staple on our TV screens for years now, providing a reliable voice for the biggest breaking news every single morning as well as giving us some lighter entertainment while sipping on the wine with her fourth hour co-hosts like Kathie Lee Gifford or Jenna Bush Hager.
One of the things that makes Kotb so relatable though is her ability to keep things oh so real. The star is one of the most down to earth on TV, which she's proven by appearing in front of the cameras without a stitch of makeup. Not only has she given us the latest in the studio with a totally bare face, but she often shows off her natural beauty on social media without being totally made-up or filters we've come to expect from the likes of Instagram. That's pretty rare from someone who's revealed they can spend up to an hour and a half getting ready to be on TV. "[My makeup artist] spends about 40 or 45 minutes taming my most-often wet hair, followed by makeup for about the same amount of time," Kotb admitted in her 2011 book, "Hoda: How I Survived War Zones, Bad Hair, Cancer, and Kathie Lee." 
But when she forgoes that stretch in the makeup chair, what does Kotb really look like?
Hoda Kotb's makeup-free TV moment
Proving she's clearly a confident beauty, longtime viewers may remember when Hoda Kotb and her then co-host, Kathie Lee Gifford, went makeup free on "Today" in 2010 for what they dubbed "Today's No Makeup Zone," while also giving fans a peek into how much prep really goes into getting ready for the show. Kotb admitted she was feeling nervous about going totally makeup free, but looked absolutely stunning alongside Gifford as they took off their shades to show off their bare faces. Afterwards, the two revealed they felt "liberated."
"Just before the show I felt uneasy because I kept thinking of two words — HIGH DEF. Then after we got rolling, it became liberating. We felt free!" Kotb told TV Newser following the broadcast. "The reaction has been all positive but, then again, I don't know what anyone's saying behind my back! So glad we did it... and so glad we are NOT doing it tomorrow!" she added.
Five years later, Kotb went au naturel in front of the NBC morning show cameras once again when she proudly showed off her gorgeous natural hair and revealed how she styles her locks. She got very candid about not loving her hair growing up, but admitted to "Today," "Everyone has their issue. Some people it's their body, some people it's their hair, some people it's their whatever... I think you just have to figure out a way to fall in love with it, if you can."
Makeup-free family time
It seems like when she's at home, Hoda Kotb likes to spend much of her downtime sans makeup. The "Today" anchor regularly shared personal family photos on Instagram showing her going totally barefaced, including this gorgeous snap with her nearest and dearest (including her now former boyfriend, Joel Schiffman) as she celebrated her birthday back in August 2021. Prior to that, she showed off her obvious natural beauty again during a trip to Tokyo for the 2020 Olympics. Kotb posted a jaw-droppingly gorgeous selfie to the social media site that showed her skin totally glowing while she smiled and held up a box of Japanese Frosties to the camera. "Who's up for some breakfast! Sunday morning in tokyo," she captioned it, and we can safely say we'll take a bowl if it means we'll look as good as Kotb with no makeup!
As for how she got her bare skin to be so flawless, Kotb and Jenna Bush Hager shared some of their go-to skincare products on "Today" in 2020, with the former sharing that she can't live without makeup wipes to make sure her skin is always clean and fresh when she's finished being made up. "You know why I like them? They break up the makeup, they're so clean and they're soft and buttery," she revealed.