Inside Natalia Bryant's Close Relationship With Ciara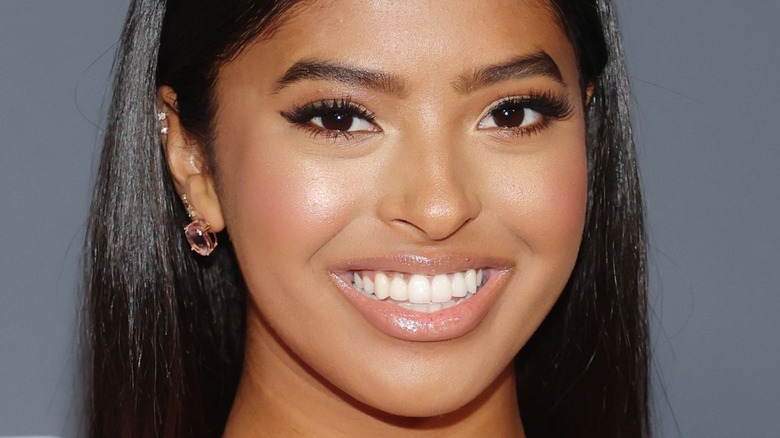 Emma Mcintyre/Getty Images
There's no doubting Natalia Bryant's young life has been fraught with tragedy. The stunning daughter of Kobe Bryant and Vanessa Bryant has certainly experienced her fair share of heartache after her dad and younger sister, Gianna Bryant, lost their lives suddenly in a helicopter crash in January 2020 that killed all nine people onboard. The horrific accident inspired an outpouring of mourning for all those who died, with Natalia often sharing little tributes to her late family members on social media. In June 2021, Vanessa shared a look at Natalia's graduation cap on Instagram which revealed there was a touching quote from her dad written across the top. "'Everything negative — pressure, challenges — is an opportunity for me to rise.' — Dad," the blinged out mortarboard read.
The Bryant family have no doubt received a whole lot of support from their nearest and dearest in the wake of their death, with some of that love coming from some famous faces. One of those? None other than Ciara. Shortly after Kobe and Gianna's deaths were made public, Ciara shared a gorgeous photo of the two on Instagram and wrote, "This news is heartbreaking. I am lost for words. Praying for @VanessaBryant, the Bryant family, and other families that have lost someone. Rest In Paradise Kobe and Gianna."
Ciara is famously close with the Bryant family and has been for years, but just what is her relationship with smart and stunning college student Natalia really like?
Ciara sent Natalia Bryant off to her high school prom
Not only has Ciara been there for many important moments in her friend Vanessa Bryant's life, but she's also been there for her daughters. The "Level Up" singer had the student's back in May 2021 when it was time for Natalia to head to prom, as Ciara and her husband, Russell Wilson, were on hand to help with the celebrations. Vanessa posted all the proof to Instagram, sharing a snap of Natalia smiling as she stood in the middle of the lovebirds alongside the caption, "Off to prom." And these two are clearly close, as they seem to love spending quality time together — even without Vanessa sometimes. In October 2020, Natalia shared a clip of herself and Ciara hanging out with LaLa Anthony and playing some football, captioning it, "The Girls Taking The W.... As We Should."
But that's far from the only time the two have appeared on one another's social media pages. Ciara gave the sweetest birthday shoutout to Natalia in 2021, seriously gushing over the stunning teen when she turned 18. The singer uploaded a fun video of the two dancing together and described Natalia as "the Smartest, most loving, compassionate, and fun young woman I know!" She continued in part, "Every room you walk in is filled with joy, love, & light. I have no doubt you're going to conquer whatever you put your mind to! Excited to watch you keep soaring!" Adorable!
Ciara can't help gushing over Natalia Bryant
But it's not just on social media or on her birthday where Ciara shows off her love for Natalia Bryant. In September 2021, Ciara had even more sweet things to say about Natalia before the latter made her big debut at the prestigious Met Gala, telling told "Access" on the red carpet, "She's got this. She's such a rock star and a trailblazer. I'm so proud of her." The star is so close to Natalia that she even referred to her as her "niece" during the interview, though the two aren't actually related.
But while there's no blood relation here, there may as well be. Ciara has been on hand for many of the Bryant family's biggest celebrations over the years, with her and the Bryant family regularly sharing adorable shots to Instagram of them spending plenty of quality time together — just like this one of Ciara and Natalia taken at a party in June 2021! The group have also been known to take vacations together, and Natalia was on hand for a snowy trip the Wilson and Bryant families took to Utah back in December 2020, where they all got in some skiing. In short? 
Ciara seems like the perfect auntie figure to Natalia, and we can't get enough of this sweet relationship!