This Is What Natalia Bryant Is Studying At College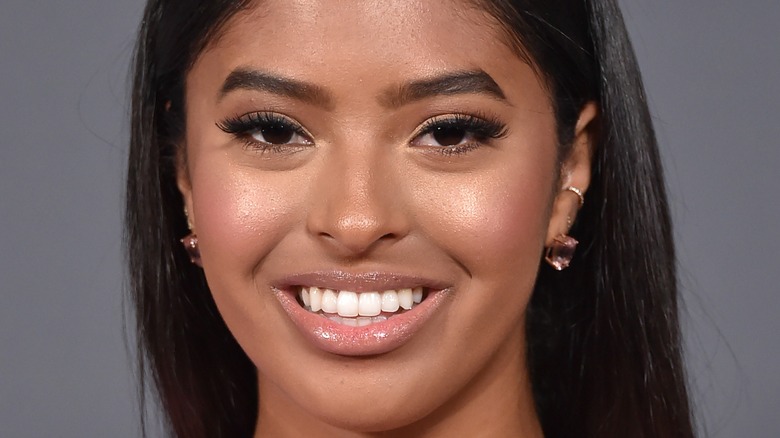 DFree/Shutterstock
Natalia Bryant is a talented young woman who has already earned great accomplishments in her life. The oldest daughter of the late Kobe Bryant and Vanessa Bryant has been known to go after her dreams, which includes her passion for modeling. 
In February 2021, IMG Models announced that Natalia had signed with a top modeling agency via the company's Instagram account. "I have always been interested in fashion since a very young age," Natalia said in the caption of the post. "I have a love for the industry and ever since I can remember I wanted to model." 
Additionally, Natalia is pursuing higher education. In March 2021, Vanessa shared a video on Instagram of Natalia celebrating after learning she'd been accepted into the University of Southern California. "I'm SO happy for you Nani! I know daddy is so PROUD OF YOU," Vanessa wrote in the caption. "I am so PROUD OF YOU!! Your hard work and dedication was so worth it." Natalia's major at USC is one that was inspired by impactful memories she shared with her father.
Natalia Bryant has a creative major at USC
As of May 2022, Model and student Natalia Bryant is currently in her second semester at the University of Southern California. In December 2021, she posted a video on Instagram that showed various fun memories of spending time with friends during her first semester in college. Her mother responded to the post with a sweet comment, writing, "It makes me so happy to see you enjoying your first year of college. I'm so proud of you @nataliabryant 1st semester complete."
In a September 2021 interview with Teen Vogue, Natalia shared that film would be her major at USC. One reason she developed an interest in the subject is because she and her father used to engage in conversations about cinema. In the interview, she recalled the car ride home after the two saw "Star Wars: Episode IX – The Rise of Skywalker" together, which was followed up by the father-daughter duo listening to music and having an enjoyable chat. "He was just letting me play my playlist and jam out to Taylor Swift the whole ride back, and talk about 'Star Wars' too," Natalia explained. "It was so much fun." As Natalia is becoming more familiar with the film industry, her future as a filmmaker is looking bright.
Natalia Bryant is gearing up for Hollywood success
Karwai Tang/Getty Images
While Natalia Bryant is pursuing a film degree at USC, she's already begun to get a taste of the Hollywood scene. In March 2022, she attended the star-studded Vanity Fair Oscar Party and told Entertainment Tonight she was excited "to run into some people" who are the best filmmakers in the business. As a cinema fan and student, Bryant expressed her admiration for the actors and crew members who were in attendance of the celebration."I just love everyone here," she said before adding, "I'm just so over the moon."
When Bryant was asked about her college experience thus far, she said it was "everything [she] expected and honestly more." Moving forward, Bryant has big plans to take Hollywood by storm. In a September 2021 interview with IMG Models, Bryant stated that winning an Academy Award is her ultimate goal. "In 10 years, I want to win an Oscar," she revealed. "I'm not sure for what or for what Oscar category, but that's on my list." Bryant also revealed that she wants to score an Oscar through making a film about her other passion — fashion, of course.