These Were Farrah Fawcett's Heartbreaking Last Words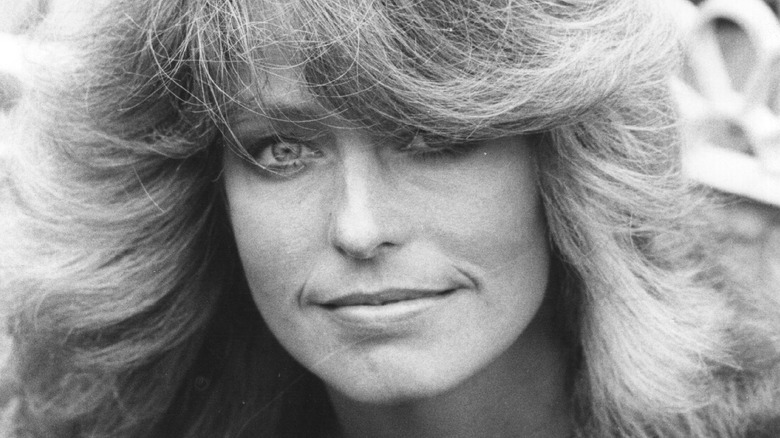 Keystone/Getty Images
Farrah Fawcett was widely known as one of America's most iconic actors upon her death in 2009, at the age of only 62. After appearing for the first time on film starring in Claude Lelouch's 1969 French dramedy "Love Is a Funny Thing," the Texas native reached worldwide recognition for her starring role in ABC's "Charlie's Angels," in which she portrayed Jill Munroe throughout the first season in 1976. 
Fawcett, who decided to leave the show which brought her so much fame after just one year, also became the subject of much media attention surrounding her personal life. Although she was only married once to actor Lee Majors (whom she divorced after nine years of marriage in 1982, per Fox News), she had an on and off long-term relationship with actor Ryan O'Neal, with whom she had her only child, son Redmond James Fawcett O'Neal. 
Perhaps unsurprisingly, given the nature of her relationship with Ryan (which was alleged as abusive by his daughter Tatum), Redmond lived a tragic life, and caused quite a bit of anxiety for his mother. And near the end, he became the subject of his mother's heartbreaking last words. 
Farrah Fawcett uttered her son's name as she died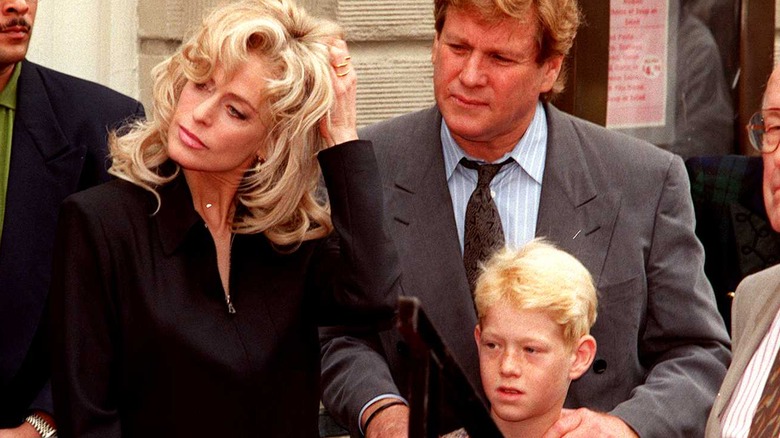 Denny Keeler/Getty Images
Farrah Fawcett's death was famously overshadowed by that of Michael Jackson, who died on the very same day just a few miles away, so it is no surprise that it has taken fans of the famed actress years to learn the details of her heartbreaking final moments. As People reported around the 10th anniversary of her death in 2019, her final words were simply her son's name. "She was saying his name, 'Redmond,'" a close friend of Fawcett's, Mela Murphy, recalled at the time. "That was the last thing she said."
Redmond, who was 24 at the time, was living a famously troubled life. Only the year prior, he was arrested alongside his father for possession of drugs, namely methamphetamine, according to the New York Daily News. The following year, only a few months before Fawcett's death, he was arrested once again for possession of heroin, per the Wrap. Even Tatum O'Neal, his half-sister, said of Redmond in 2015 (per People), "I love him, but I have never seen a more scary side of addiction."
Naturally, then, it is understandable why Fawcett's young son was at the top of her mind as she approached her final hours. Luckily though, her friend Murphy assuaged her fears near the end. "I told her I'd take care of him," Murphy told People, "that I'll always be there for him. I said, 'You can go now.' It was just a few hours before she died."
Redmond Fawcett O'Neal continued to live a troubled life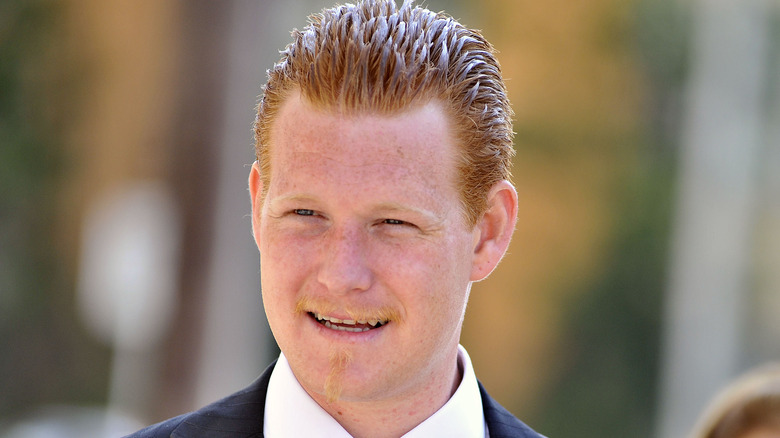 Toby Canham/Getty Images
Unfortunately for Farrah Fawcett and her loved ones, her son Redmond Fawcett O'Neal continued to live a self-destructive life in the years after his mother's death. In 2015, per People, his probation was revoked and he was sent to prison once more. "He's got addiction problems so bad that it breaks my heart," Tatum O'Neal told the outlet, adding that she believed "there is no way he's going to survive."
Three years later, in 2018, O'Neal was arrested again on a variety of charges, including assault, robbery, and attempted murder, after attempting to rob a Santa Monica convenience store, per the Washington Post. He was later found incompetent to stand trial after having been diagnosed with a number of mental health issues, including bipolar disorder, antisocial personality disorder, and schizophrenia, per Radar Online. His trial was put on hold, and he is currently facing a maximum of 22 years in prison should he be convicted.
Although it remains to be seen how O'Neal's journey ends for him, it's clear that even in her last moments of life, Fawcett had O'Neal's well-being on her mind.
If you or anyone you know is struggling with addiction issues, help is available. Visit the Substance Abuse and Mental Health Services Administration website or contact SAMHSA's National Helpline at 1-800-662-HELP (4357).