Who Is Finn Wolfhard's Girlfriend, Elsie Richter?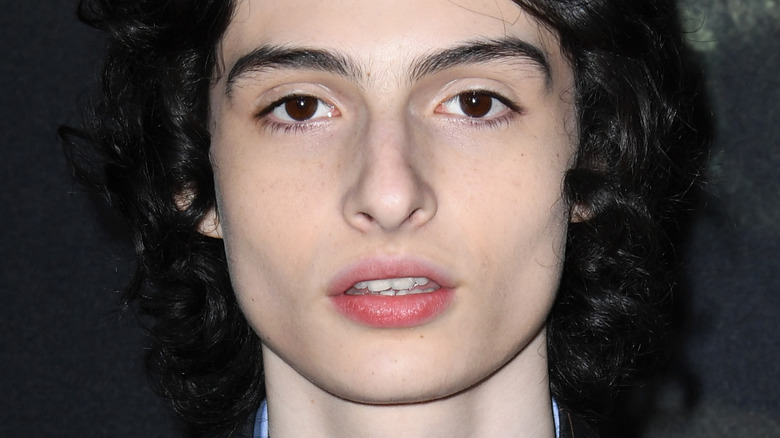 Jon Kopaloff/Getty Images
Season 4 of "Stranger Things" might've just made its debut on Netflix, but the popularity of the show has never let up in between seasons. Season 1 of the series was originally released in July 2016, according to IMDb, and has been followed by three seasons over the past six years. Mike Wheeler, played by Finn Wolfhard, is one of the show's leads and he's grown up in the public eye alongside his cast mates ever since "Stranger Things" premiered. According to Men's Health, Wolfhard was 13 years old when Season 1 came out and he is now 19 years old. Gaten Matarazzo, Wolfhard's co-star, is the same age. The cast strongly relates to each other when it comes to growing up in front of millions, as they all shared a similar experience.
In a 2019 interview with People, Wolfhard said, "We still try to go home and grow up around family and friends and stuff, and we try to be as normal as possible when we're not on set ... We all understand each other, because we'll go through the same thing." He added, "At the end of the day, we're all doing the same thing, and the people who understand me most is probably them."
As the cast grew up, their lives were put on display for complete strangers (no pun intended). Along with their careers, people had an interest in their personal and romantic relationships. Most recently, Wolfhard was seemingly forced to make his relationship with his girlfriend, Elsie Richter, public.
A threat led to Finn Wolfhard making his relationship public
"Stranger Things" remains one of Netflix's most watched shows, according to CNET. But, as the cast has come to realize, success and fame also come with some drawbacks. Social media users have been fixated on the lives of the cast for years now, as they balance their personal and professional lives while some even attend college. And while most fans are supportive, others can be toxic. In a 2021 interview with The Washington Post, Finn Wolfhard, opened up about how one so-caled fan's ultimatum put him in a difficult position. Someone threatened to expose his girlfriend's address unless he confirmed their relationship online. Once the actor agreed, he explained that the fan's whole demeanor changed.
"They're like, 'Oh, okay, I'm so sorry. We love her,' " he said. "It all fades literally once you're like, 'Hey, calm down. It's cool. I'm a real person.' It's almost like a trance or something. Maybe it's a power thing."
Wolfhard has also been open about his struggles with social media. During a conversation with Interview, he revealed that he's "terrified" of it. He called Instagram "anxiety-inducing and distracting." The actor explained that he only uses the platforms to promote his work. Maybe that's why he didn't want to post his girlfriend! So, who is Elsie Richter?
Get to know Finn Wolfhard's girlfriend, Elsie Richter
Elsie Richter is an actor known for her role on "Doll & Em," an HBO series, according to IMDb. Richter is the daughter of actors Dolly Wells and Mischa Richter, according to The Sun. It is still unclear how the couple met. Finn Wolfhard was spotted with his now-girlfriend for the first time publicly in April 2021. The actors went to an NBA game at the State Farm Arena and sat courtside together. However, that was not the first time the duo spent time together. The pair was seen in throwback images from March 2021 that were obtained by fans months later. As a result, it's uncertain when their romance truly began. 
After Wolfhard was blackmailed by someone on social media, the couple confirmed their relationship in a since-deleted Instagram photo. Wolfhard playfully bit his girlfriend's cheek as they both appeared smitten with each other. Most fans were beyond happy about the duo going public with their relationship. One took to Twitter to say, "My twitter feed is full of the pic of Elsie and Finn. they're so cute and I'm happy for both of them!!" Another tweeted, "Oh my god Finn and Elsie are literally the cutest."
It's unclear what Richter is working on now, although she is active on social media. Her last project was a role on the TV short, "Di Bibl," in 2019. The couple continue to keep their relationship offline, but fans appear to be happy for them.