Here's What Leighton Meester Looks Like Without Makeup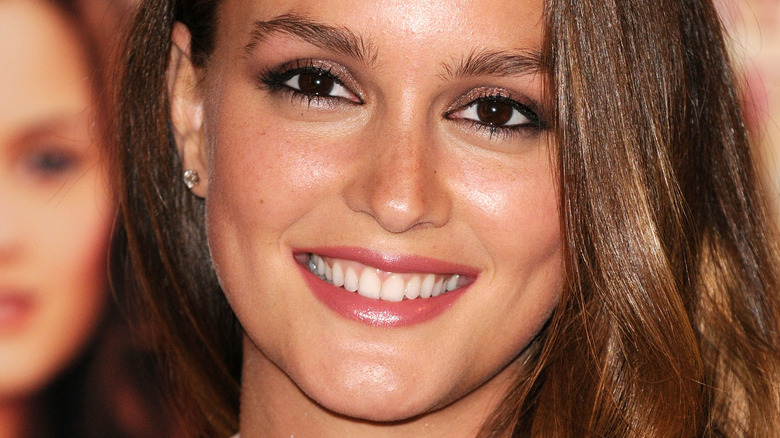 Featureflash Photo Agency/Shutterstock
Leighton Meester is a natural beauty, that's for sure. One of the things we love the most about her is her down to earth nature and her confidence in going au naturel in front of the camera in a world full of filters and photoshopping — plus we can't get enough of reading about all of her secrets to looking oh so flawless!
Some people may be surprised the star isn't necessarily the stereotypical girlie girl, though. Meester is possibly most famous for playing the ultimate glam queen Blair Waldorf on The CW's huge hit, the original "Gossip Girl," as well as popping up in the likes of the Gwyneth Paltrow and Tim McGraw movie "Country Strong" or alongside Minka Kelly in "The Roommate." In real life, though? Meester is all about keeping this low-key and natural. "In my daily life, I don't have a makeup routine," she admitted to Byrdie back in 2017.
The star doubled down on her minimal approach while chatting with Elle Australia in 2014 too, admitting when asked what her definition of beauty is, "Natural, fresh, inner beauty that shines from within. I really believe in natural beauty: minimal makeup, healthy skin and a kind attitude." So now we know the actor isn't all about the makeup 24/7, what does she actually look like underneath the cosmetics?
Leighton Meester loves no makeup days
Leighton Meester is all about those natural days, admitting back in 2010 that when she gets the chance to not have to wear cosmetics for a while she makes the most of it. "I wear makeup every day [for 'Gossip Girl'], so I'm sure to remove all the makeup when I'm done and keep it off as long as I can," she told Allure. And on those days she's letting her skin breath, it sounds like the star really does keep things to a minimum, as she always wears sunscreen during the day and opts for a light moisturizer at night.
The star doubled down in the importance of always going to bed with a bare face too, telling Elle Australia, "It sounds simple, but I've learned the hard way, it's important to take off all your makeup before bed."
But don't think Meester is totally against the cosmetics, as she also revealed her favorite look for a night out. "Usually I keep it minimal, emphasizing one feature, like lips or eyes, either with plum or red lipstick, or a bronze eye liner. I curl my lashes and use BB cream when necessary," she shared. The actor also confessed that she considers herself to be pretty low maintenance, revealing that her everyday makeup kit consists of a little mascara, an eyelash curler, some sheer lipstick or a lip gloss and, of course, that all-important sunscreen to shield her skin from the sun.
Leighton Meester's makeup-free photos
Clearly Leighton Meester's minimal beauty routine is working for her, as the star is confident enough to step on front of the camera even on those days she's going for a barefaced look. Back in 2018, the star wowed with a makeup-free photo shared to Instagram which appeared to show her out and about without any blush or bronzer in sight as she flashed a smile while she showed off her perfectly manicured nails. Fans clearly couldn't get enough either, with one person telling mom of one Meester, "You're so beautiful! Inside & out." We second that!
This star has also proven that she doesn't need to be made up to do good. In September 2020, she went barefaced again on Instagram, this time for a very good cause. That snap showed Meester rocking a white t-shirt with the words "Take out hunger" written across her chest as she shared in the caption how she was supporting Feeding America to help those in need for Hunger Action Month. "These inspirational T-shirts are just a reminder that when we come together, we can make an impact. This year, food banks across the country are facing increased demands because of the pandemic," she wrote on the caption. Naturally gorgeous, talented, and charitable? Leighton Meester really does have it all!