Joe Rogan Has A Surprising Pick For Johnny Depp's Next Romantic Partner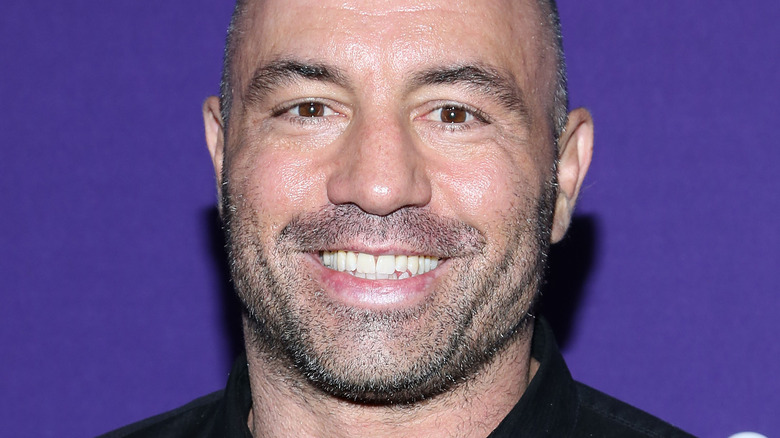 Rob Kim/Getty Images
Comedian and podcast host Joe Rogan is no shrinking violet — especially when it comes to hot topics. Case in point: the long and arduous defamation trial that is Johnny Depp vs. Amber Heard. (Just in case you're new here, Depp is currently suing Heard after she penned an op-ed piece for the Washington Post wherein she discussed being a victim of domestic abuse. While she did not name him directly, Depp argues that it was clear she was talking about him in the article and because of that, his career suffered. The pair are currently duking it out in court in Virginia. Depp is suing Heard for $50 million and she is countersuing for $100 million.)
While many have gone on to share their hot takes about the goings-on of the often chaotic court proceedings, Rogan offered up his own fair share of words for Amber's legal team and some of the other key players in the court case. "That's probably all she could afford. Her f****** lawyers are terrible. She probably found 'em on Craigslist," Rogan quipped during the May 26 episode of "The Joe Rogan Experience." He added, "They don't make any sense. Their questions are terrible. They're so ill-prepared. But also — what are they dealing with? Like what are they dealing with? They're dealing with someone who's a clear sociopath, a clear liar." 
But Rogan didn't stop there. He also offered up his thoughts on who he believes the former "Pirates of the Caribbean star should pair off with next...
Joe Rogan wants a fairy-tale ending for Johnny Depp and his attorney Camille Vasquez
Outspoken podcaster Joe Rogan wants actor Johnny Depp to ride off in the sunset with... one of his attorneys?
Yep, that's right folks. During the May 26 episode of "The Joe Rogan Experience," Rogan sang Brown Rudnick associate attorney Camille Vasquez's praises. "That Camille Vasquez. That lady's a gangster. She's amazing," he gushed. "I hope Johnny and her fall in love," he declared. "That's what I hope. I hope after this trial's over, they go out to dinner and he thanks her, and then they fall in love and he gets sober." First comes love court, then comes marriage...
Perhaps, however, Rogan's on to something. As it turns out, many other fans are down for a Depp/Vasquez love story. "If Johnny Depp and Camille Vasquez don't get married I'll cry," one Twitter user wrote. Meanwhile, another fan penned, "Imagine being the boyfriend of Camille Vasquez knowing the whole world wants Johnny Depp to date her." Still, others weren't as pleased with the idea of pairing Vasquez off with Depp just because she was doing her job. "Don't like the fact that everyone is saying johnny depp and camille vasquez are getting together, can't we just have a beautiful boss babe be good at her job and not, idk sexualize it? ty!" one user tweeted. Another wrote, "Honestly, can you stop shipping Johnny Depp and Camille Vasquez. Of course, he is smiling at her, she is winning his case..." 
Joe Rogan is no stranger to controversial remarks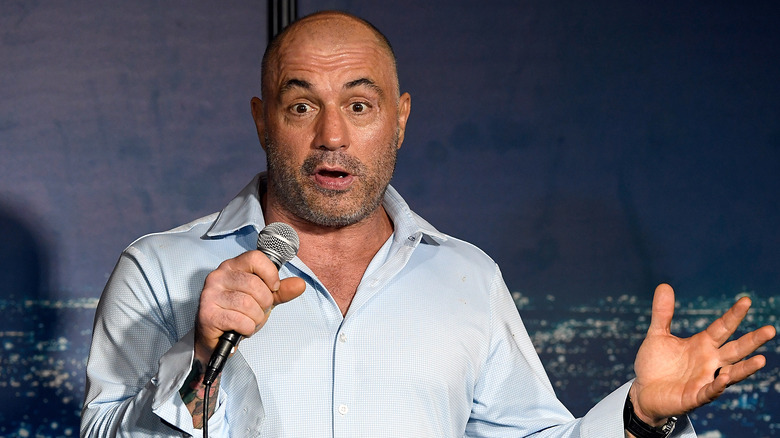 Michael S. Schwartz/Getty Images
Alas, this wouldn't be the first time Joe Rogan delivered a controversial hot take on his popular podcast show. 
As you may recall, the podcast host found himself in a pot of boiling hot water after making questionable comments about the COVID-19 vaccine. "But if you're, like, 21 years old and you say to me, 'Should I get vaccinated?' I'll go, 'No,'" Rogan famously said during the April 23, 2021 episode of "The Joe Rogan Experience" (via Media Matters). "If you're a healthy person and you're exercising all the time and you're young and you're eating well, I don't think you need to worry about this," he added.
As one can imagine, the backlash was swift with many healthcare providers and even the director of the U.S. National Institute of Allergy and Infectious Diseases, Dr. Anthony Fauci, calling him out. "Well that's incorrect," Fauci said when asked about Rogan's comments during an interview with Today. "The reason why is you're talking about yourself in a vacuum. You're worried about yourself getting infected and likelihood that you're not going to get symptoms," he continued. "But you can get infected and will get infected if you put yourself at risk," he added. "So if you want to only worry about yourself and not society, then that's okay. But if you're saying to yourself, even if I get infected, I could do damage to somebody else even if I have no symptoms at all, and that's the reason why you've got to be careful and get vaccinated."