Kylie Jenner Continues To Tease Fans About Her Son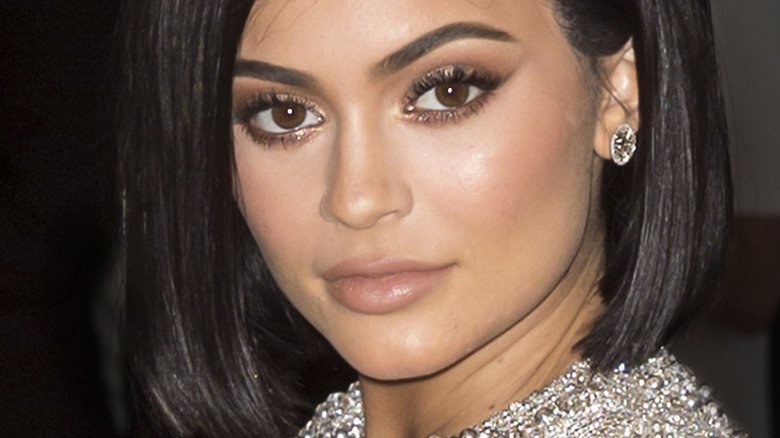 Ovidiu Hrubaru/Shutterstock
Motherhood becomes Kylie Jenner. The beauty mogul, who gave birth to her second child on February 2, is back at work and promoting her new range of lavender-scented body care products, via her Instagram. It seems that even though she's a mother of two, she's still chasing her business goals. However, her boyfriend and father of her kids, rapper Travis Scott, certainly knows how to pamper the woman in his life.
On Mother's Day, Scott pulled out all the stops to celebrate the mother of his children. Jenner shared a snapshot and two videos on her Instagram page depicting the fairytale wonderland he created in honor of her. She captioned it, "the sweetest mother's day." Per Harper's Bazaar, the rapper indulged Jenner with several lavish bouquets of hundreds of white daisies set alongside a table with a special breakfast setting. Scott, Jenner, and their daughter, Stormi Webster, each had their own bedazzled cup set on the white table cloth. Scott's choice of flower may have a hidden meaning. According to Florgeous, the daisy was the Norse goddess Freya's sacred flower. As the goddess of fertility, the flower has come to symbolize motherhood and childbirth. Scott's display of affection couldn't be more perfect for Jenner who's in this season of her life. And just because Jenner is promoting her new range, it doesn't mean she doesn't stop to appreciate the small moments, especially when it comes to her kids.
Kylie Jenner obsessed with her kids' tiny features
Kylie Jenner may be a billionaire businessman, but she's still a mama. Jenner and Travis Scott have two children together: Stormi Webster and a son whose name is yet to be revealed. When the infant was first born, the couple called him Wolf Jacques Webster, but they had a change of heart after getting to know their little guy. And it seems as if she's not ready for her fans to meet her son yet, and has only shared teasing snaps of her youngest.
The mother-of-two, however, recently took to her Instagram stories to share a cute snap of Stormi and her son. Per Us Weekly, Jenner's photo showed her children's legs and feet. Stormi was wearing pink leggings, while her brother stood in a lime Fisher-Price bouncer. Both the kids were barefoot. Jenner wrote, "I made these little feet," alongside the pic. A mother's pride has no boundaries, and it seems as if their feet have captured her heart. 
Of course, this was not the first time that Jenner put her son's tootsies on display. She shared a video on her YouTube channel where she prepares and goes to the 2022 Met Gala. In the clip, her son wears a pair of brown and orange Air Jordans. Jenner touched his feet and cooed, "Look at my son's cute shoes!" She added, "He can't even walk yet!" Perhaps, Scott should throw in a luxury pedicure for Jenner's next Mother's Day.