The Truth About Sharon Stone's Health Problems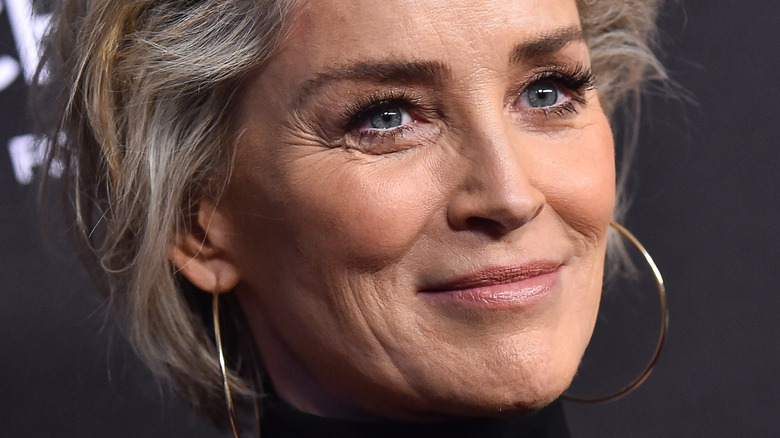 DFree/Shutterstock
After working with a series of powerful directors in the 1980s, Sharon Stone skyrocketed to fame after starring in the 1992 thriller "Basic Instinct." Nearly overnight, Stone became one of the most celebrated female actors of the 1990s and one of the decade's most recognizable sex symbols. Time and time again, Stone proved she was way more than her beauty, being nominated for an Academy Award and a Golden Globe for her performance in Martin Scorsese's "Casino," the latter of which she took home. Stone also snagged three other Golden Globe nominations between 1992 and 2000.
But none of it prevented Stone from falling victim to Hollywood predators who were much later targeted by the MeToo movement. In her March 2021 memoir "The Beauty of Living Twice," Stone accused an unnamed producer of abuse. Without naming the man or the film, Stone described being pressured behind the scenes, writing (via Vanity Fair), "He explained to me why I should f*** my costar so that we could have onscreen chemistry."
Stone was also mislead about the infamous "Basic Instinct" scene, contending producers guaranteed she needed to forgo underwear to prevent light reflection and that her private parts wouldn't be visible. "It was terrifying ... I had hideous nightmares." Hollywood didn't treat her any more kindly a few years later, when Stone suffered a health crisis that put her life in peril. In fact, that's when the industry showed its ugliest side.
Sharon Stone had a near-fatal stroke in 2001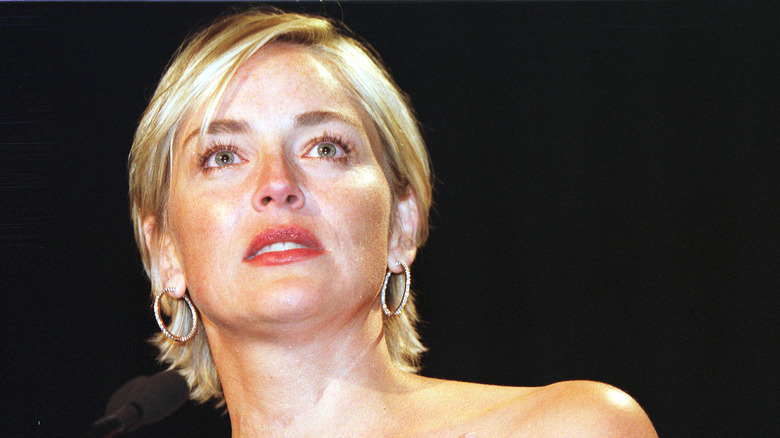 Karin Cooper/Getty Images
In September 2001, Sharon Stone was rushed to the hospital after suffering a stroke, she detailed in her 2021 memoir "The Beauty of Living Twice," via New York Post. She was only 43. Lying in the hospital bed, Stone saw three friends by her side, sharing encouraging words. All of them were already dead. "The light was so luminous," she wrote. "It was so ... mystical. I wanted to know it. I wanted to immerse myself." What was really happening was entirely different.
Stone was in a sterile room, fighting for her life. Instead of performing complicated procedures, the medical professionals were quietly looking at her. "The room was so silent," she told TODAY in 2021. "When the room is so silent and no one's running around trying to fix you, that's when you realize how near death is and how serious everything is." Her brain bled for nine days, Variety noted.
Her recovery was no easier, leaving her debilitated for seven years. Hollywood showed no compassion. "People treated me in a way that was brutally unkind," she told Variety in 2019. Stone's life was upended, both personally and professionally. "I had to remortgage my house. I lost everything I had. I lost my place in the business. I was like the hottest movie star, you know?" she said. Stone slowly rebuilt her career, but won't soon forgot being "forgotten."
Strokes run in Sharon Stone's family
Sharon Stone isn't the first woman in her family to have a stroke. Both her mother, Dorothy Stone, and her grandmother suffered from the same brain condition, she told Variety. In recent years, Dorothy has had not one but several episodes, prompting Sharon to often take to social media to raise awareness and ask for support. "Say a prayer for Dorothy Marie Stone, my mom, who has suffered another acute stroke tonight. Thx," she wrote on Instagram in November 2021.
Since then, Sharon has updated fans on how Dorothy is doing. "No one puts mommy in the corner. From unresponsive to this in three days," Sharon captioned a photo of Dorothy all dolled up in a wheelchair, referencing the 1980s movie "Dirty Dancing." In February, Sharon took Dorothy to lunch, a milestone she celebrated on Twitter by thanking everyone's positive thoughts. "89 years old, 5 strokes, heart attack, pace maker. Looking for a boyfriend," she captioned their smiling photo. 
Sharon's experience and family history inspired her to become an advocate for brain-related illnesses, particularly among women whose symptoms often get dismissed by medical professionals. "So much of our health industry is geared toward men and a lot of what happens with women is that it becomes, 'Oh, you're just PMSing or you're emotional,'" she told The Hollywood Reporter in July 2019. She experienced it herself. "When I was in the hospital," Sharon recalled, "they thought I was faking it."