Catherine Zeta-Jones And Michael Douglas' Son Just Reached A Major Milestone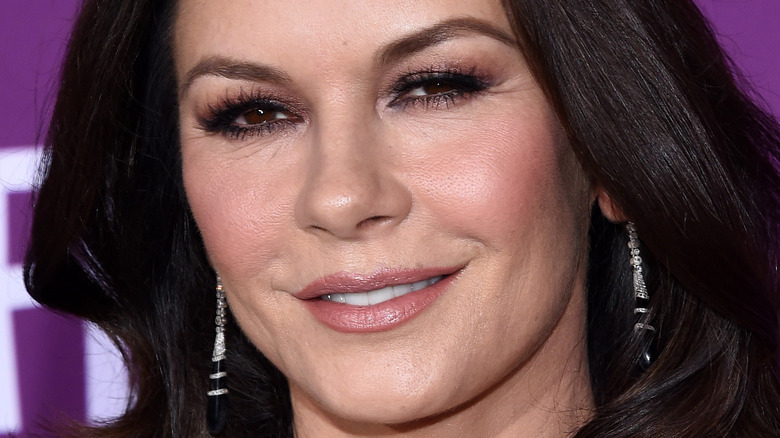 DFree/Shutterstock
Catherine Zeta-Jones and Michael Douglas have withstood the test of time in Hollywood. According to Showbiz CheatSheet, the couple wed at New York City's famed Plaza Hotel in 2000. There were plenty of celebrities in attendance for the nuptials, including Jennifer Aniston, Brad Pitt, and Tom Hanks. Pretty impressive guest list if you ask us! As of this writing, the pair has been married for over 20 years. Zeta-Jones spoke with WSJ Magazine in 2021, and she talked about how she and Michael make things last. "First of all, we have a lot of fun together," she told the outlet. "We've never, ever lost our sense of humor, and we enjoy each other's company." How sweet is that?
During their marriage, the couple welcomed two children — Dylan and Carys Douglas. As you can tell from her Instagram feed, Zeta-Jones regularly gushes over her children, and it's easy to see how important they are to her. In an interview with The Sydney Morning Herald, Zeta-Jones talked about her kids and the importance of having a private childhood, which is why they raised them in Bermuda. "I'm very conscious of my kids being very rooted, very down to earth, and I'm always big on manners," she said. "I get complimented on how unaffected they are, and that's because they weren't brought up in Hollywood. We managed to retain some of their childhood longer than other folk."
Both kiddos have come a long way, and Dylan is celebrating a huge milestone.
Dylan Douglas graduates from Brown University
It's hard to believe that Catherine Zeta-Jones and Michael Douglas have a college graduate on their hands. The "Chicago" star took to share a heartwarming photo of herself and her son Dylan Douglas at his graduation from Brown University. Dylan sported a black cap and gown with a white dress shirt and a tie underneath. He wrapped his arms around his beloved mother, who appeared to be beaming with pride. "Graduation congratulations to my boy, my pride, my joy, Dylan. I am inexplicably proud of you, and I love you beyond words," she wrote in the caption.
Michael Douglas also joined in on the fun, posting a photo of himself and Dylan on his own Instagram page. He also came up with a simple caption as he gushed over his son's latest accomplishment. "One proud Dad! Congratulations Dylan! Well done!" the actor wrote on the update. Fans made sure to send their well-wishes in the post's comments section. "Nothing like seeing our kids go after and achieve their dreams. Congrats to all," one follower wrote. "Amazing Father.. Amazing Son!! Congratulations," another social media user chimed in.
It's easy to see that the couple is incredibly proud of their son. On September 28, 2021, Zeta-Jones took to Instagram to share a photo of Dylan lip-synching. "National Sons Day! Mine as a wee lad, ' You are beautiful, in every single way' the gift that keeps on giving," she wrote on the post — what a sweet family!