Julia Fox Looks Unrecognizable With Her Bold New Look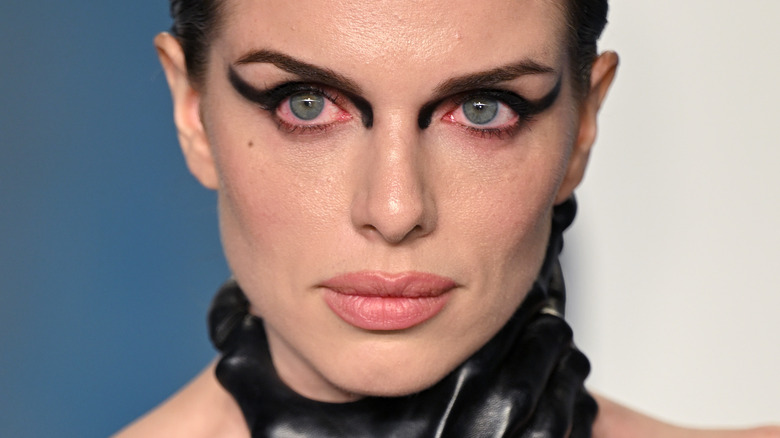 Karwai Tang/Getty Images
Another day, another bold new look on Julia Fox — the It Girl du Jour who has gone from niche celebrity to inescapable in record time. Since rocketing to social media superstardom with the help of a casual relationship with Kanye West, Fox's envelope-pushing fashion choices, each style more extreme and impractical than the last, have made it impossible to stop talking about her. 
First, she debuted a signature black eye makeup look, which involves a cat eye shape that goes up to her eyebrows and all the way across the sides of her face. Next, she began a one-woman crusade to bring back extreme low-rise styles, tutoring her Instagram followers in the art of chopping off the top of one's jeans to wear as a bra top with the newly hip-hugging pants. She is a fan of matching elbow-length gloves with thigh-high boots, leather, and finding creative ways to show some skin. 
And would you believe it, she's done it again.
Julia Fox bleached her eyebrows
While most of the girlies are still rocking the thick and bold eyebrow style, Julia Fox has skipped the overly-tweezed stage altogether and bleached her eyebrows white so they blend in with her skin tone. The overall look is quite avant-garde — but that is kind of Fox's whole vibe. Posting a photo of her new lewk to Instagram, Fox wrote, "Major shout out to my mother queen [makeup artist Pat McGrath] for these brows!" And in her Instagram Stories (via People), Fox wrote, "Since I bleached the brow[s] I get stopped on the street way less and even tho I ... love you guys I'm enjoying this false sense of anonymity." 
We have to assume that when Fox goes out on the street with her bleached brows and doesn't get stopped on the street, she's wearing something more or less basic. Because honey, there's no one else who's going to go out in a bikini and leather boots just to walk to Starbucks. But perhaps this newfound anonymity will help Fox as she pens her upcoming book, which she says will be a "masterpiece," per Vulture. "I don't wanna give too much of it away 'cause I'm very superstitious, so I don't like to speak of things before they're finished," she also noted in very Fox-like manner.