Nicole Kidman Gave Keith Urban Fans Quite A Surprise At His Latest Concert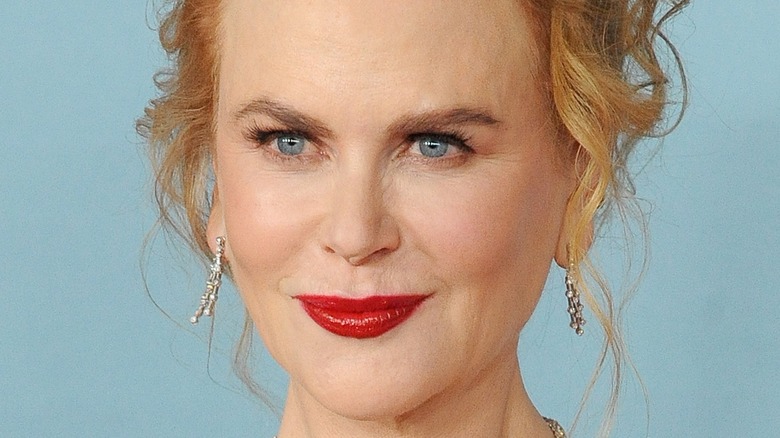 Tinseltown/Shutterstock
Since marrying in 2006, Nicole Kidman and Keith Urban have remained one of the sweetest Hollywood couples to watch. Frequenting red carpets together, the duo is also a fan of mutual SMDA (social media displays of affection). Urban tweeted his enthusiastic pride after Kidman was nominated for a Best Actress Oscar for her role in "Being the Ricardos." "We REALLY lived through it with you on this one, & you gave it EVERYTHING," Urban gushed alongside a screenshot of Kidman FaceTiming him from set. Kidman is an equally big fan of Urban's career. In June 2021, the "Big Little Lies" star posted to Instagram Urban sharing a tender gaze with their family pooch, writing, "Julian's reaction when he realized @KeithUrban will be away from home for a few nights when he performs in Las Vegas."
Sharing two daughters, Sunday Rose and Faith Margaret, per Us Weekly, the couple has spoken openly about what fortifies their bond. On "The Big Talk Show" in April, Urban emphasized his and Kidman's shared family values. "We're just a couple who work things out, go through things together, life, and support each other the best way we can and try and raise our family," he said (via the Daily Mail).
And with Urban still away performing at his Las Vegas residency, he and Kidman proved their love to be as affectionate as ever. 
Nicole Kidman publicly adopts Keith Urban's last name for first time
Nicole Kidman brought down the house with an onstage appearance during Keith Urban's Las Vegas residency performance on May 29. As shown in an Instagram reel posted by Urban, Kidman walked out on stage at The Colosseum at Caesars Palace to cheers and applause. After greeting his wife with a warm embrace, Urban jokingly asked Kidman to introduce herself, to which she replied, "Nicole Urban." Until now, Kidman has never publicly referred to herself with her husband's surname, retaining "Kidman" professionally post-marriage.
Kidman also revealed her adorably mundane reason for appearing onstage. "I want to get your jacket. You put it on the floor and I'm worried," she stated. (Such relatable spouse problems!) Urban led Kidman by the hand to fetch said jacket, bantering to fans, "She literally said, 'Don't lose that jacket.'" With Kidman donning the found blazer, the actor blew a kiss to the crowd goodbye. 
Fans on Instagram adored the Urbans' onstage cuteness as well. "I thought it was so cute when she said "Nicole Urban," one noted in Urban's comments. Another wrote, "I'm so so happy that these two found each other!. Watch them and you will what true love looks like."