The Truth Behind Khloé Kardashian's Difficult Journey To Motherhood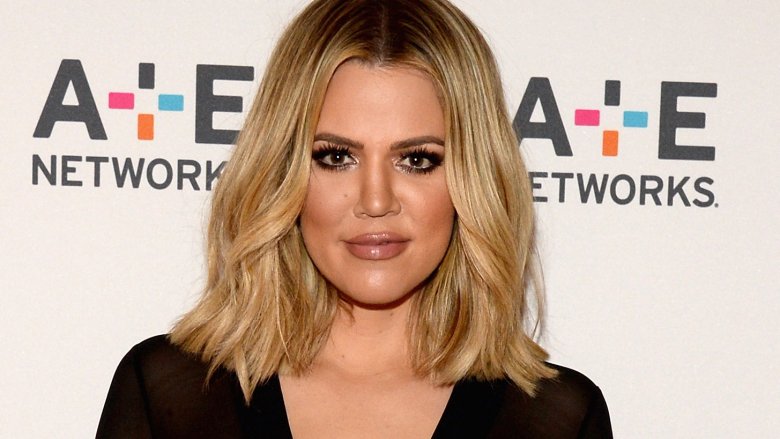 Getty Images
Hot on the heels of the news of little sister Kylie Jenner's pregnancy with rapper beau Travis Scott, sources confirmed to People that Khloé Kardashian and basketball boyfriend Tristan Thompson are also expecting a baby girl together. Fans rejoiced for the reality stars, particularly for Kardashian, who has endured a lot of heartache while dreaming of becoming a mom. A baby has been a long (and tough) time coming for her.
As we bask in Kardashian's pregnancy glow and look forward to an exciting future with her bundle of joy, let's also take a closer look at the rocky road that brought her to this place and the challenges that have plagued her relationships and this pregnancy. From a failed marriage to cheating rumors on the brink of delivery, Kardashian has certainly proved that she'll be one tough and resilient mama to her daughter. Here is the truth behind Khloe Kardashian's difficult journey to motherhood
She kept the news quiet for as long as she could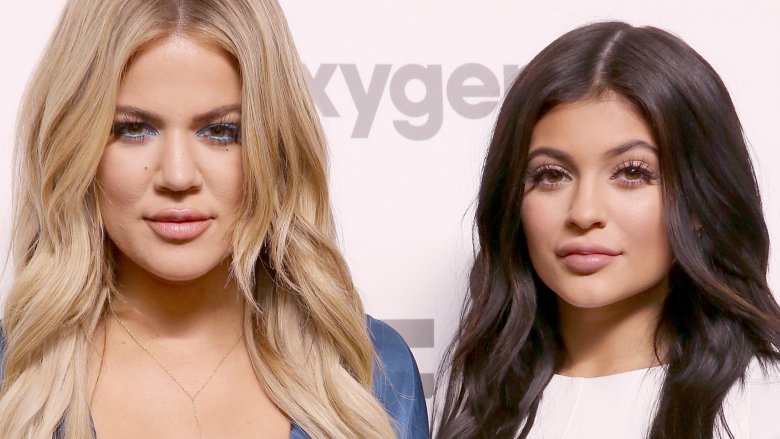 Getty Images
Khloé Kardashian and Tristan Thompson would have announced their pregnancy sooner, but Kylie Jenner's baby news got in the way.
"This isn't something they were in a rush to announce to the whole world, and it's only been in just the past week or so that they've felt comfortable telling most of their inner circle," a source told People in September 2017. "Things were complicated a bit by Kylie's announcement as they don't want to be seen as intruding on that moment for her, but it is now reaching a point where Khloé doesn't want to be openly lying to people, and just staying quiet isn't going to work anymore." The source added, "They are looking at it like a unifying experience for them as sisters. Getting pregnant at the same time was totally unplanned but they are really happy about it."
That same month, Us Weekly reported that both Jenner and Kardahian were about four months along.
She underwent fertility treatments during her first marriage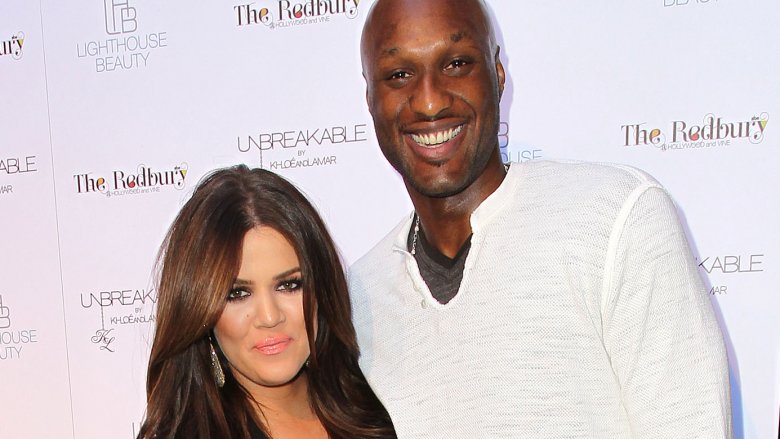 Getty Images
Khloé Kardashian made it no secret that she was eager to become a mom during her marriage to former pro basketball star Lamar Odom, whom she married in 2009 after one month of dating. Kardashian revealed that she underwent fertility treatments in an effort to conceive.
"About a year ago, we were like, 'Let's just see what happens.' And then when it didn't happen, Kim was like, 'Let's go to the doctor,'" Khloé recalled in a February 2013 episode of Kourtney and Kim Take Miami (via E! News). "I found out I don't ovulate," she said. "My uterus lining isn't thick enough and I have to take pills to make my uterus lining thicker. If that doesn't get thicker, then I cannot carry a baby."
In a March 2016 episode of Kocktails with Khloé, the reality starlet revealed she'd undergone in-vitro fertilization treatments in an effort to conceive a baby with Odom to try salvaging their struggling marriage. "At the time, I was like, 'Oh, I have to have a baby!'" she said (via Entertainment Tonight). "That's all I wanted at the time, and I thought it would maybe fix the situation [with Odom], so I'm also happy it didn't happen because I was young. I was 27, and I thought, 'A baby will fix this,' and it's not going to fix that."
She learned a lot through her struggle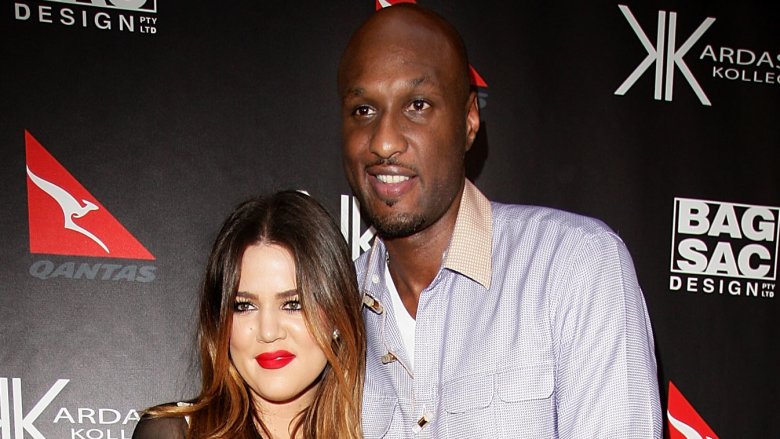 Getty Images
Khloé Kardashian told Redbook in 2013 that she was sick of discussing her own fertility struggles, but she was happy she shared them with the world.
"Do I wish people would quit asking me about it 24-7? Yes, but I don't regret it," she said. "I was 26 when that started, and I admit, I didn't know a lot about my body. It was hard for me to understand what was happening because my mom had six kids and Kourtney [Kardashian] got pregnant quickly. People assume I'm desperate for a baby. And yes, I would love to have a baby. But I'm 28, and I've been married three and a half years. I love my life, but it doesn't feel incomplete right now."
She added, "It's more about my hormones being off ... I was taking hormone shots to stabilize them, and you have to take those shots consistently and they have to be done by a doctor. You can do them yourself, but I couldn't. And then after your cycle, you have to go to the doctor for ultrasounds and more testing. And if I'm in Miami and miss a treatment, I have to start all over again. It's a commitment, and I don't mind doing it, but the timing was just off."
Kourtney offered to be a surrogate for her
In a March 2013 episode of Kourtney and Kim Take Miami, Scott Disick expresses sympathetic toward Khloé's plight and speaks to his on-again-off-again partner, Kourtney Kardashian, about her desire to potentially serve as a surrogate for Khloé and Odom. (Disick was initially not a fan of that idea.)
"I was just hanging with Khloé and you know, I want her to be a happy, and I feel like she wants a kid so bad," Disick says. "I still think it's a huge decision, but I understand how you'd want to do that for your family. I think you should go talk to her," he says. "It's a conversation to have."
Kourtney reveals in a confessional, "Now that I know I'm a good candidate, and that Scott is supportive, I will be the oven for her bun if she shall need it."
Kourtney then speaks to Khloé, telling her that she overheard Khloé talking with friends about her fertility struggles. "I just wanted to say that if you did need someone to carry your child that I would volunteer my services. I would do that for you ... I'm being serious. I would. I called the doctor, I got all the info ... I don't even know how Lamar would feel about it. I don't think it's the number one option, but if it gets to be the only option [I'll do it,]" she says.
Khloé called the conversation "awkward" and apparently decided not to take her sister up on that offer. 
Kids were part of why she and Lamar Odom divorced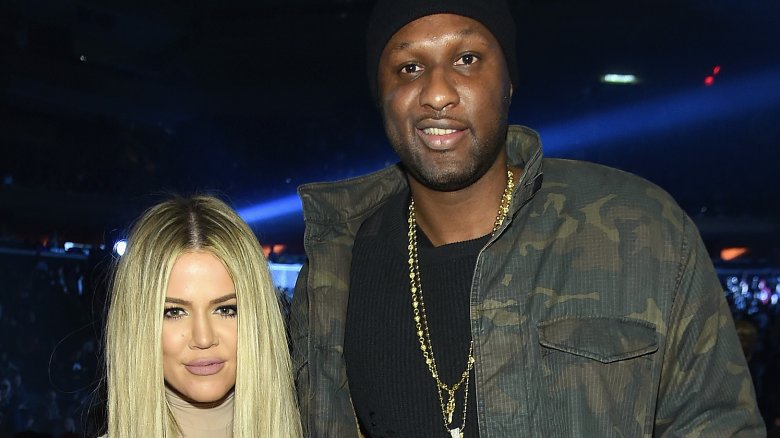 Getty Images
In May 2016, TMZ reported that Khloé Kardashian filed for divorce from Lamar Odom because she wanted to have kids and was concerned that her own biological clock was ticking. It was allegedly one of the main triggers for their split, despite rumors of a reconciliation after Odom's near-lethal overdose at a brothel in October 2015.
Khloé said as much in a June 2016 episode of Keeping up with the Kardashians (via E! News, and filmed before her May 2016 re-filing). "I love Lamar with all of my heart and I want the best for him, but now I feel I'm back to it being the hardest thing to do," she said. "I want to have kids and maybe to be remarried one day. I need to move on, and I will be filing for divorce very soon."
Their on-again-off-again divorce was finalized in December 2016. According to CNN, their joint company, Khlomar, was dissolved and both parties waived spousal support.
She changed her mind about treatments
In a June 2017 episode of Keeping up with the Kardashians (via E! News), Khloé admitted to her doctor that she "fake-tried" to conceive during her marriage to Odom.
"I was married, but I knew the circumstances weren't the healthiest, so, I just kept pretending I was doing it," she confessed.
In her confessional, she added, "When I was doing my fertility treatments, they were more so for Lamar. I had to stop because there was much deeper stuff that was happening in our marriage. I knew that it wasn't the right situation to bring a child into, and I think I've done a lot of covering up for him, like even when it made me look like I was the problem. But I was fine taking on that burden on my shoulders because he had a lot of other deeper s**t to deal with."
The "deeper stuff" likely refers to Odom's struggles with substance abuse and infidelity, which led to the end of the couple's marriage.
She battled false pregnancy rumors for a long time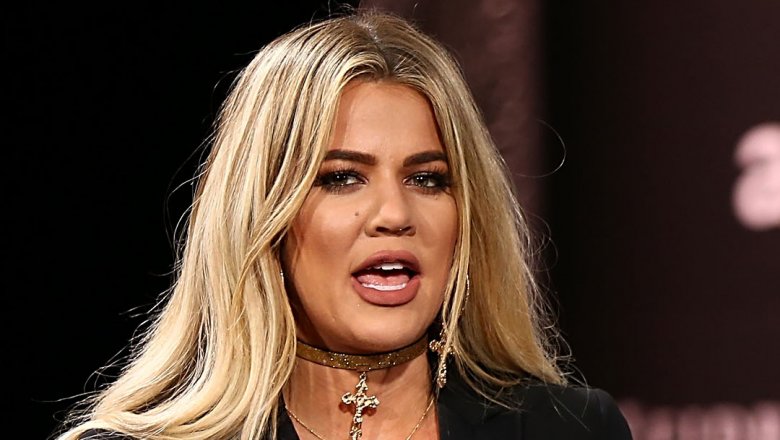 Getty Images
Khloé Kardashian has suffered a ton of scrutiny about her weight through the years, which contributed to a lot of false pregnancy rumors during her relationships.
"I feel like I've been pregnant for six years," she griped to People in 2014. "I used to get offended, like, 'Do I look fat today?' or 'Why are they saying that?' But they just say it. Before I was like, 'Do I have a baby bump? Is my belly sticking out?' But no. I mean, one day the rumor will be true, I hope, but who knows? Until then, it is what it is."
In 2017, when news broke that Khloé was, indeed, expecting, Kim Kardashian railed against the rumor mill. "Let me just say this...," the reality star tweeted (via Harper's Bazaar.) "People who supposedly work with us 'confirming' details they know nothing about! Especially when we havent [sic] even communicated with them SMH"
She and Tristan Thompson were eager to conceive
Khloé Kardashian reportedly started dating Thompson in September 2016. By April 2017, she'd dished to the Evening Standard magazine that she would say "yes" if Thompson, who fathered a child in December 2016 with ex Jordan Craig (from whom he split before dating Khloé,) proposed to her and wanted kids. 
"I would love to have a family. We've talked about it," she said. "He [already] is a father, and I know for a fact that he would be an impeccable father ... I definitely want to be a mom. But I don't put the pressure on it. It's not like, 'The clock is ticking.' I feel in my soul it will happen."
By June 2017, Khloé revealed on Keeping up with the Kardashians (via E! News): "Tristan and I definitely talk about starting a family. He wants to have about five or six kids with me and that's lovely. We could start at one and we could grow from there."
In the August 2017 issue of You magazine (via the Daily Mail), the starlet elaborated. "We're still in a new relationship and I love us having time together. Once you have kids you can't get back your non-kid years," she said. "...You worry about your children for the rest of your life. The concern I have is raising little human beings in a world that's filled with such hate and terror. That seems very scary."
She reveals that Thompson is the only baby daddy for her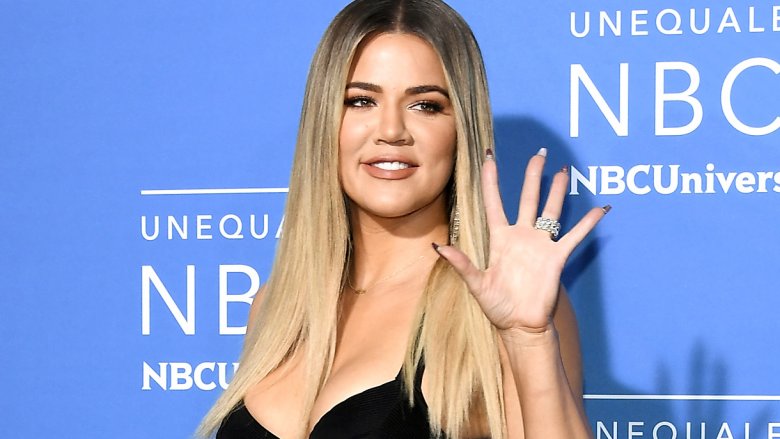 Getty Images
In a June 2017 episode of Keeping up with the Kardashians (via People), Khloé announces that she is no longer using birth control. 
"I'm not on birth control is scary. It's like a really big step," she says, noting that she's undergone enough testing to know that it is possible for her to conceive. "I am so relieved to know that I am able to get pregnant. Now I have so many other things to think about. Do I wanna have my own baby now? I don't know. I'm at a crossroads."
What she did seem to know was that Tristan Thompson was father material — or so she thought. "This is something Khloé has wanted for years and years, and yet it's more than that: she didn't want it unless she was in the right relationship for it," a source told People. "She never let it happen with Lamar, intentionally, and she never considered it with James or French or anyone else she has seen. But this is such a wonderful moment for her: not only is she going to be a mother, she is going to be raising a child with a man she truly loves. Everyone is over the moon for them both." 
Tristan was busted cheating
Tristan Thompson was caught on camera cheating multiple times with multiple women throughout his and Khloé's relationship — and it all came to a head in April 2018, as Khloé prepared to give birth to their baby girl.
On April 9, 2018, TMZ reported that Khloé arrived in Cleveland, Ohio and that her OB-GYN, Dr. Thais Aliabadi, was close behind.
On April 10, 2018, all hell broke loose when the Daily Mail published videos and photos of Thompson allegedly kissing an IG model in a NYC nightclub two nights earlier. TMZ obtained video footage of Thompson entering his New York City hotel with the same woman, as well as even more footage from October 2017 that depicted Thompson getting handsy with two different women on a couch in a hookah lounge outside of Washington, D.C. The NYC woman then posted alleged sex videos with Thompson on her social media accounts, reported TMZ, but neither of their faces were visible in the footage.
None of the Kardashians have commented thus far on the alleged incidents involving the sports star, but it's safe to assume they're not too happy right about now.
Khloé is still focused on motherhood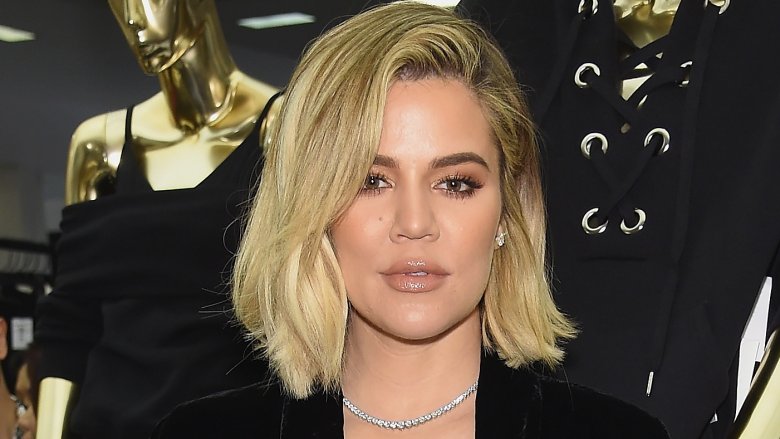 Getty Images
Despite the cheating drama, all Khloé Kardashian wants to do is just be a great mom to her little girl.
"Khloé is focusing on delivering a healthy baby," a source told Us Weekly. "She doesn't want to deal with any of these rumors regarding Tristan kissing another woman ... It has always been important for Khloe to try and establish her own identity beyond her sisters and family. She moved to Dallas with Lamar when he was traded, and things had already been really bad at that point. It just seems like she is trying to run away from them and have her own thing."
A source told Us Weekly that Khloé would stay in Cleveland, where Thompson is based, for the birth. "It's too late in the pregnancy for Khloé to fly back to L.A. right now," the insider explained. "Even on a private jet with a doctor on board."
Did his alleged cheating push her into early labor?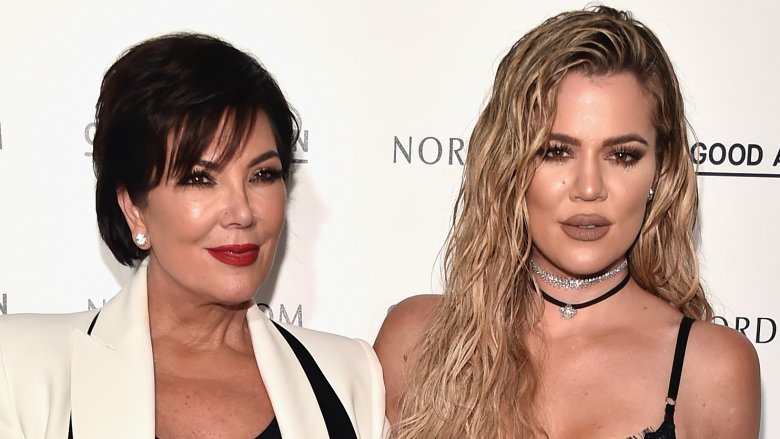 Getty Images
The day after Thompson's cheating allegations surfaced, TMZ reported that Kardashian began having "early contractions," which some suspect is the result of stress from the infidelity scandal. The contractions reportedly began only hours after news of his wandering eye (and other parts) hit the internet. An insider told Radar Online that the Kardashian-Jenner family is worried sick about how Thompson's alleged behavior could affect Khloé and the baby. A source told Life & Style, "Tristan's f**ked up big time. He knows it ... Khloé's done ... Her stomach hurts so bad and it's not from the pregnancy. She could kill Tristan right now."
The very next day, TMZ reported that Kardashian's little girl made her debut around 4 a.m. April 12, 2018. Mom Kris Jenner, sisters Kourtney and Kim Kardashian, and bestie Malika Haqq were all in Ohio to support Khloé, the tab reported. Guess who else was supposedly there? 
That's right, Thompson. 
A custody battle could be brewing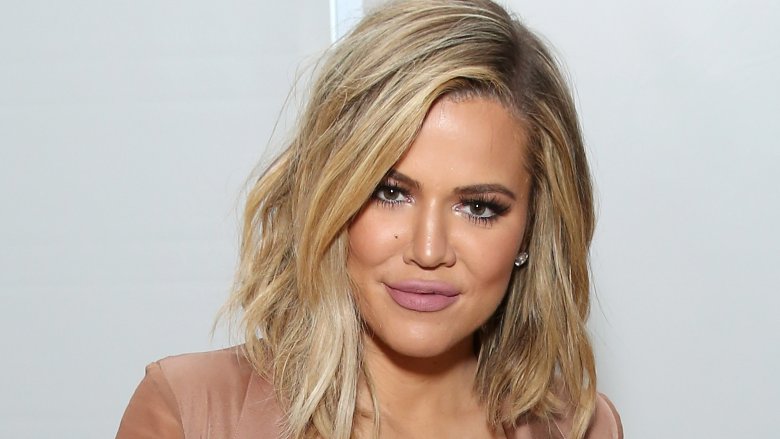 Getty Images
Khloé Kardashian plans on being a full-time mom with full-time custody of her child — at least that's what a source told Radar Online.
"Khloé is going for full legal and primary custody of her daughter," the insider claimed. "Also, she's made up her mind to leave Cleveland following the birth, which her family and mom Kris is thankful for. She literally wants nothing to do with [Thompson] for the rest of her life and, as of right now, she does not want her baby to even know him at all. She is never going to fall for another basketball player again ... he just broke her heart."
TMZ reported in February 2018 that Kardashian and Thompson had not made written financial or custodial arrangements for their child in the event that they split up. 
Only time will tell how this dynamic evolves, but we wish the little one and all those who love her the very best.