Kathie Lee Gifford's Family Just Got Bigger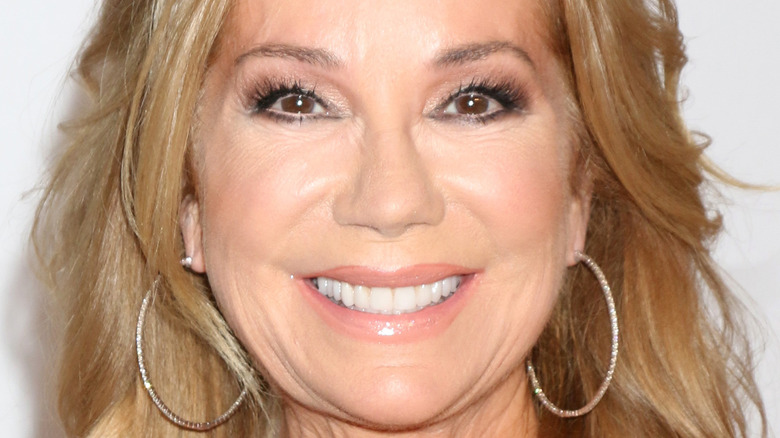 Kathy Hutchins/Shutterstock
Kathie Lee Gifford is one of the most beloved figures in the television industry. As fans know, she starred in "Live With Regis and Kathie Lee" for years, later landing a stint on the "Today" show, where she famously sipped wine and gossiped with gal pal Hoda Kotb. Sadly, in 2018, Kathie Lee announced she would be leaving the series. "It's an exciting time for me and I'm thrilled about all the projects that are coming up, but it's also hard," she said on the show. 
After retiring from "Today," Kathie Lee moved to Nashville, Tennessee. The star regularly posts about her two kids, Cassidy and Cody Gifford. In 2021, Cody married longtime love Erika, per Us Weekly. Then, in October 2021, Kathie Lee gushed over Cassidy finally getting to have a big, white wedding following the COVID-19 pandemic. In an interview with People, the star shared that Cassidy wed in a small ceremony in 2020, but got the bash of her dreams the following year. In the same interview, she revealed she kept her house in Connecticut, where Cody and his wife live, while Cassidy and her husband reside in Nashville. "So I have my children back in my life, close to me, in both homes," the mom shared. "And one day, the Lord might bless us with little tiny feet running around. That's in God's hands. But for the meantime, life is sweet!"
Well, Kathie Lee's dream of tiny feet running around is now a reality.
Kathie Lee Gifford is officially a grandma
Kathie Lee Gifford can add "Grandma" to her résumé. The former "Today" show star took to social media to share some exciting news with fans. The television personality shared a photo of her son, Cody Gifford, snapping a selfie in a hospital room. In the background, you could see his wife Erika and newborn son lying in the hospital bed. "My heart is bursting. Frank Michael Gifford is here, confirming that our God is good and merciful and faithful. And he loves us!" the mother-of-two wrote on the upload. Sweetly, Cody named his firstborn after his late father, Frank Gifford, who died in 2015, per NBC News.
Fans of Kathie Lee seemed just as thrilled as she was about her new life update, and we can only imagine that there will be bottles poppin' in the proud grandma's home tonight. "Congratulations!!!!! So happy for all of you!!!!! Love the name," one fan commented on the post. Even some of Kathie Lee's famous friends took time to send well-wishes. "Congratulations!!!!! What a blessing!!!!!!! He is beautiful," Kris Jenner wrote.
It's easy to see that family means a lot to Kathie Lee. On March 22, the star shared a photo of herself and Cody enjoying some dessert on a special day. "So grateful to be able to spend Cody's 32nd birthday with him and his beautiful wife Erika and their precious baby to be," she wrote. What a sweet family!