How Did Sarah Hyland And Wells Adams Meet?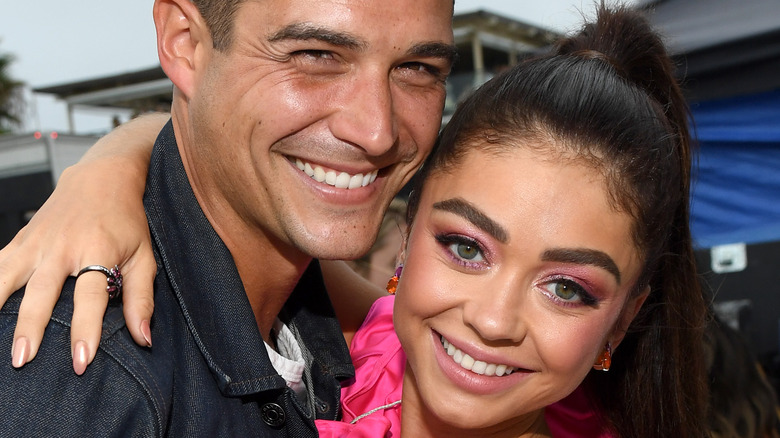 Kevin Mazur/fox/Getty Images
Wells Adams started looking for love in Season 11 of "The Bachelorette," where he was eliminated in week six. Never one to give up, Adams returned to TV for Season 3 of "Bachelor in Paradise" and even later appeared as a bartender on the show. However, despite rumors he was replacing Chris Harrison as host, Adams decided to end his reality career and become a radio DJ. But, he was still determined to find love, and Adams eventually did with Sarah Hyland.
The "Modern Family" star had to kiss a few frogs before finding her Prince Charming. One of them was Matt Prokop, her co-star in the Disney Flick "Geek Charming." Prokop apparently turned out to be anything but charming. The couple split in 2014 after five years of dating; he was hit with restraining orders by Hyland –- a three-year temporary one followed by a permanent one. Per Life & Style, legal documents claim Hyland was "terrorized" for the last four years of their relationship, "both verbally and physically."
Hyland went on to date another co-star, Dominic Sherwood. The actors appeared in "Vampire Academy" and dated for just over two years before parting ways in 2017. "[The breakup is] genuinely mutual and amicable, and they truly remain friends," a source told E! News. Thankfully, both Adams and Hyland finally got their happily ever after. The two singletons first collided in 2017 and have been plain sailing on the love boat ever since. So, how did Sarah Hyland and Wells Adams meet?
Sarah Hyland and Wells Adams bonded over DMs and tacos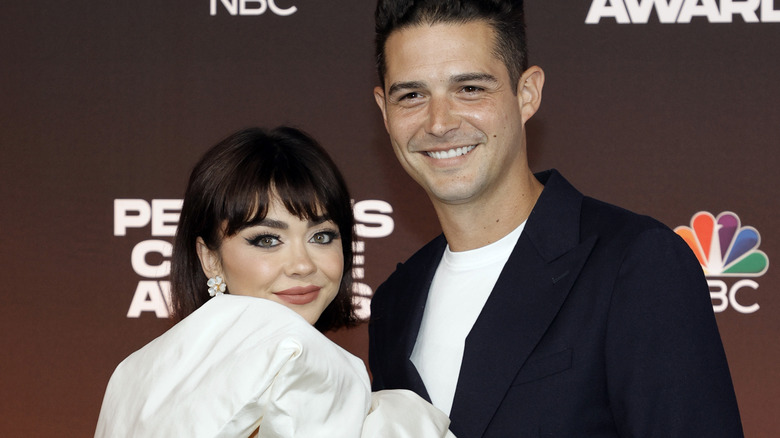 Amy Sussman/Getty Images
Social media paved the way for Sarah Hyland and Wells Adams to meet. After switching from reality to radio, Adams relocated to Nashville. Meanwhile, Hyland lived over 2,000 miles away in Los Angeles, filming "Modern Family." So the chances of them bumping into each other were slim.
It's a matter of contention, but it appears Hyland (kind of) made the first move. She fangirled over Adams while he was on "The Bachelorette." But, she claimed to be more interested in his brains than his brawn. "Ugh! @WellsAdams making a Lord of the Flies reference on men tell all??? #knewhewasthebestfromthestart #menwhoreadarehot," she tweeted in July 2016.
However, Hyland claims it was Adams who first ignited the romance fire. Hyland admitted on "Jimmy Kimmel Live" that they had "tweeted each other because I thought he was funny and he was a fan of [Modern Family]." Adams decided to ramp it up a notch, though, by sliding into her DMs. Hyland said he'd told her they were going on a date to have some drinks and eat tacos the next time he was in LA. She admitted to Kimmel that she'd told him, "You're being very forward, and it's sexy but not aggressive." Oh, and that she "loves tacos." Adams visited LA, they had tacos, and the romance was on. So really, it was a shared love of tacos, and not social media, that actually led to Hyland and Adams meeting.
Sarah Hyland and Wells Adams are #RomanceGoals
Sarah Hyland and Wells Adams meeting was the start of a beautiful romance that continues to grow and blossom over time. They moved in together in 2018. "I think it's brought us closer," she told E! News. "I don't think it's been long enough to discover pet peeves in each other." They continue to grow as Adams supports Hyland during her health battle with kidney dysplasia. She had a kidney transplant in 2017, but landed back in hospital months later.
"Sarah had a scare and was hospitalized," a source told People. "It was scary, but thankfully she is better and is home." Adams was overseas but ensured Hyland knew he was thinking of her. "I miss this one a lot. Coming home soon, baby!" He captioned a cute pic on his Instagram Story (via E! News).
Adams got down on one knee in July 2019. "That can't eat, can't sleep, reach for the stars, over the fence, world series kind of stuff," Hyland captioned a photo of the beach proposal. Their marriage plans are on ice for now, as Hyland postponed her wedding because of COVID. In the meantime, they're determined to fake it 'til they make it. "Find someone who will take fake wedding pictures with you when everything is canceled. Happy Valentine's Day to my would-be husband of 6 months by now. I love you to Pluto and back," Hyland captioned a pic of them dressed as a bride and groom.