Joy Behar's Take On The Johnny Depp Amber Heard Verdict Has Viewers Steaming Mad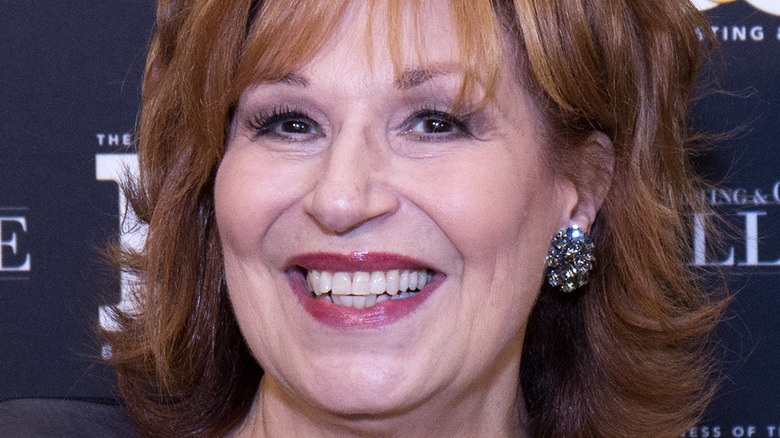 Santiago Felipe/Getty Images
The Johnny Depp vs. Amber Heard trial proved to be one of the hottest Hollywood trials in recent memory and people at home got to follow along with the cameras in the courtroom. As most know, Depp sued Heard for defamation over an op-ed that she wrote about being a victim of domestic abuse. Depp sought $50 million in damages, while Heard counter-sued Depp for $100 million. The duo faced off in a six-week trial, which was held at a courthouse in Virginia (per NBC).
After a few days of deliberation, jurors reached a verdict in favor of Depp. According to USA Today, they suggested Heard pay Depp $10 million in compensatory damage and $5 million in punitive damages, but Virginia law only allows up to $350,000 for punitive damages. In turn, jurors awarded Heard $2 million after Depp's ex-lawyer called the whole thing a hoax. Following his victory, Depp released a lengthy statement on Instagram. "Speaking the truth was something I owed to my children and to all those who have remained steadfast in their support of me," he wrote in the post, adding, "I feel at peace knowing I have finally accomplished that." Heard also released a statement of her own. "The disappointment I feel today is beyond words," she said on Instagram. "I'm heartbroken that the mountain of evidence still was not enough to stand up to the disproportionate power, influence, and sway of my ex-husband." 
People have been sharing their take on the verdict, including Joy Behar, who has a pretty unpopular opinion, it seems.
Joy Behar didn't actually watch the Johnny Depp and Amber Heard trial
The ladies of "The View" brought up the Johnny Depp and Amber Heard verdict on the June 2 episode of the show. Each host shared their "view" on the topic, but when it came time for Joy Behar to weigh in with her thoughts, she had some pretty surprising things to say. "I did not watch this at all. I have nothing. But I do know that Donald Jr. and Megyn Kelly and a few others think that Johnny Depp was right," she said as the crowd laughed. "So take what you can from that. That's all I have to say about it. I have no idea what went on."
Some people took to Twitter to weigh in with their thoughts, and Behar's comments had many people seeing red. "Seriously, Joy?! If you have no clue as to what went on...don't comment!" one person tweeted, pointing out Behar's lack of awareness. "Joy Behar supposedly makes 7 million per year on the View. On this subject, she brings up the Trump family and offers nothing. What a job eh?" another wrote. A few others stood in solidarity with the star. "Joy Behar is right. The fox news crowd is celebrating johnny depp. So what does that tell you...," one person wrote.
As of this writing, it does not appear that Behar has addressed the backlash on social media, but as we all know, Behar is no stranger to controversy.