What You Might Not Know About Gigi And Bella Hadid's Heritage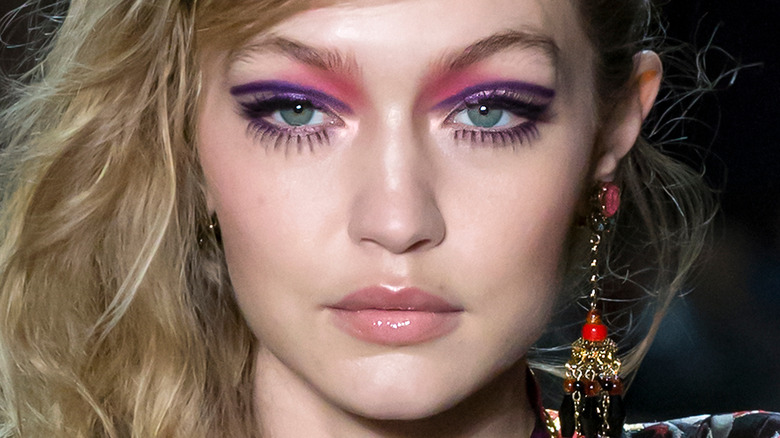 Ovidiu Hrubaru/Shutterstock
Gigi and Bella Hadid are among this generation's most successful models. Before turning 30, the Hadid sisters have amassed an impressive fortune and left their mark in the industry. Gigi is worth $29 million, pocketing close to $10 million a year thanks to her lucrative deals with powerhouses, such as Tommy Hilfiger and Maybelline, according to Celebrity Net Worth. Her lil sis isn't too far behind, with Bella claiming $25 million to her name, Celebrity Net Worth noted. Like Gigi, she also cashes in close to $10 million a year, proving both have what it takes to survive and thrive in the competitive modeling world.
And Gigi and Bella aren't the only successful Hadids. Or the only models in the family, for that matter. The youngest of the brood, Anwar Hadid, is also making a name for himself in the industry through IMG Models, the same agency that represents his sisters. Of course, the three siblings had a great influence at home. Gigi, Bella and Anwar are the children of Yolanda Hadid. Despite being known for starring in the "Real Housewives of Beverly Hills," Yolanda had a fruitful modeling career in the 1980s, Vogue France noted.
A whole lot more goes into making it as a model than having striking good looks. But surely the contrast between the Hadids' dirty blonde hair and green-blue eyes with their distinct facial features makes them stand out. Their stand-out beauty, as it turns out, is a result of their unique mixed heritage.
Gigi and Bella Hadid have Dutch and Palestinian roots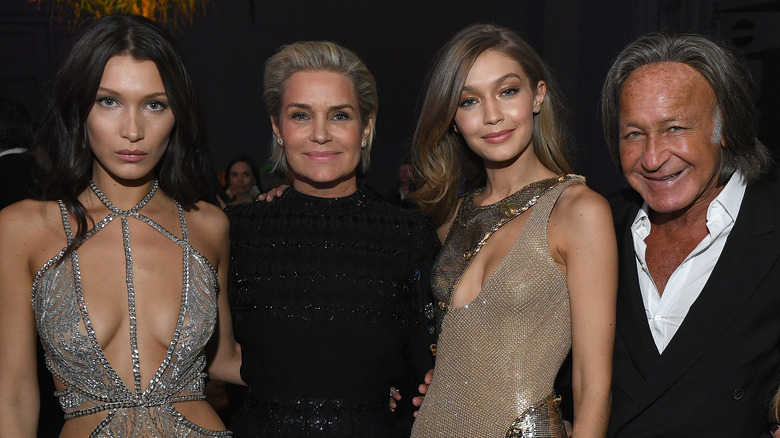 Dimitrios Kambouris/Getty Images
Gigi and Bella Hadid were born and raised in the U.S., but the models are the daughters of a Dutch mother and a Palestinian father. Before changing her name upon marrying Mohamed Hadid in 1994, their mother was known in the modeling industry as Yolanda van den Herik, Bravo's The Daily Dish noted. Despite becoming a U.S. citizen in 2013, Yolanda is still very much attached to the Netherlands, a country she visits with her children often. "Missing my home land so much and all the beautiful summers we spent there with our family," Yolanda captioned an August Instagram post that featured her, Gigi, and Bella posing in front of an iconic Dutch windmill.
Their father's story is less straightforward. The real-estate mogul was born in Nazareth in November 1948, the year Israel annexed the then-Palestinian city, according to the Edinburgh University Press. Mohamed was just days old when his family had to flee their homeland and cross the border, he detailed on Instagram. "I don't have a single picture of me when I was a baby ... all the pictures of me and my 3 elder sisters were left behind in our furnished home in Safad," he lamented.
After experiencing life as refugees in Syria, Lebanon, and Tunisia, the family eventually settled in Jordan, where they were granted citizenship before emigrating to the U.S. Gigi and Bella don't hide this side of their heritage, often using their voice to advocate for refugees.
Gigi and Bella Hadid are passionate about their Palestinian roots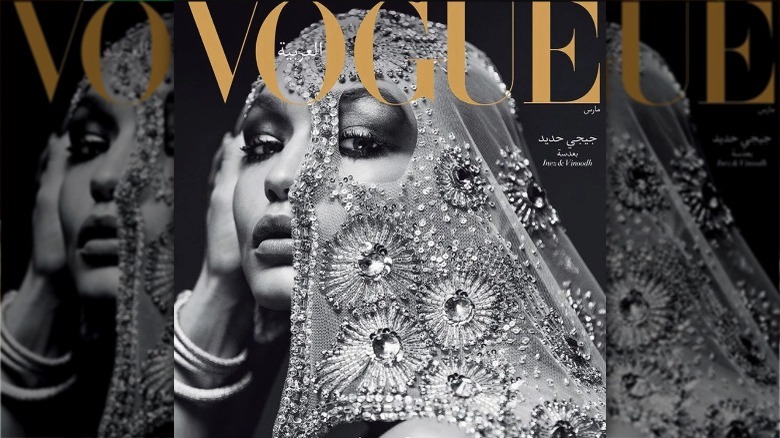 Vogue Arabia
Gigi and Bella Hadid often express pride for their Palestinian roots. In 2017, Gigi became the first model to ever grace the cover of Vogue Arabia, a feat she marked by rocking a stylish headscarf, E! News reported. "I hope that this magazine will show another layer of the fashion industry's desire to continue to accept, celebrate, and incorporate all people & customs," she said. The sisters are also outspoken about their history on Instagram. "I love my family, I love my Heritage, I love Palestine," Bella wrote in 2021.
Their pride goes beyond social media, though. In May 2021, Bella joined pro-Palestine marches in New York amid the conflict that broke out with Israel that month, CNN reported. For showing her support, Bella was publicly criticized by the state of Israel on its official Twitter account. "When celebrities like @BellaHadid advocate for throwing Jews into the sea, they are advocating for the elimination of the Jewish State ... Shame on you," it tweeted. Gigi also expressed solidarity for the Palestinian cause on her Instagram Stories (via Newsweek).
The previous year, Bella criticized Instagram for deleting a post in which she shared Mohamed Hadid's passport, listing his citizenship as Palestinian, People reported. "Instagram exactly what part of me being proud of my fathers birth place of Palestine is 'bullying, harassment, graphic, or sexual nudity'?" Bella wrote. "Are we not allowed to be Palestinian on Instagram? This, to me, is bullying."