Machine Gun Kelly Shares A Rare Photo With His Mother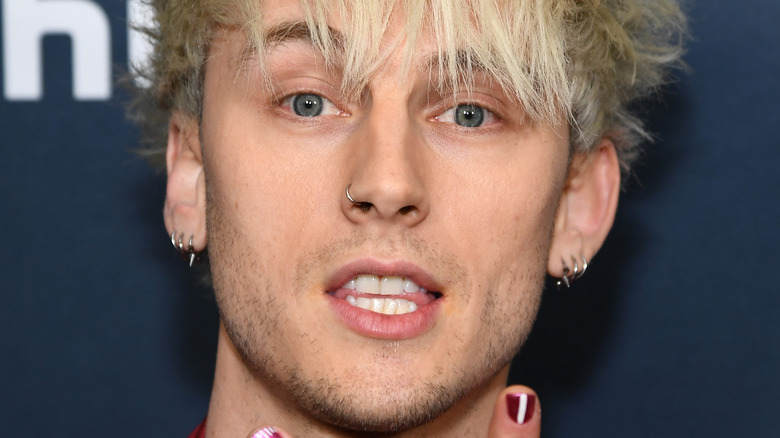 Dimitrios Kambouris/Getty Images
Machine Gun Kelly may seem like he's at the top of the world now, but he had a pretty rough childhood. The singer, born in Houston, Texas, has talked about his past on several occasions, including in an interview with First-Avenue. "I don't have a relationship with my mom; she left when I was nine years old," he told the outlet. Since his father suffered from depression, they moved to Denver to live with the singer's aunt. According to the star, the family moved around a lot when he was a kid, even living in Egypt for a brief period of time. 
Of course, Kelly made something of himself, and he's a shining star in Hollywood. Still, he couldn't help but resent his mother for the childhood trauma. The star references his relationship with his then-estranged mother in his 2019 song, "Burning Memories." "Yeah, this one's for the mama that I never knew (Never knew)," the song begins, per AZ Lyrics. "I took acid just to burn all of my memories of you." Kelly also asked how his mother could leave him at the age of 9 for "another dude." In another line, Kelly sings, "All the years that you ignored me, left me sleepless in the bed / I hope that he got some kids because your only son is dead."
Believe it or not, Kelly and his mom have made leaps and bounds in their relationship, and he just shared his first photo of her on social media.
Fans showed support for MGK's reunion with his mom
Machine Gun Kelly is showing off his mom to his army of Instagram followers. He took to the social media-sharing platform, posting a photo with his mother by his side. They posed in front of a white wall, both sitting cross-legged as they smiled big for the camera. Kelly looked casual in a pair of printed shorts and a solid blue shirt. He added a pop of color with a pair of light pink sneakers and a baseball cap to match.
Kelly's mom wrapped one arm around her son's leg and gave a peace sign with the other. She sported a pair of black pants and a solid top for the casual look. Kelly kept the caption simple, writing, "introducing ... my mom," with a heart and flame emoji. Fans seemed to love the new update and quickly flocked to the comments section to weigh in. "I'm so happy for you i will literally cry," one follower commented on the upload. "Omg! This is major. Congrats for reconnecting," another Instagrammer wrote. Another person called the meeting a "full circle moment."
On June 20, 2021, he shared a surprising tweet about his mother. "Wild story, but after all these years, the fans are responsible for me and my mom finally reconnecting," he wrote, adding, "i love you." It's nice to see a story like this, and it definitely seems like Kelly has come a long way in his relationship with his mom over the past year.