Is Matthew Lawrence Still Close With Any Of His Boy Meets World Co-Stars?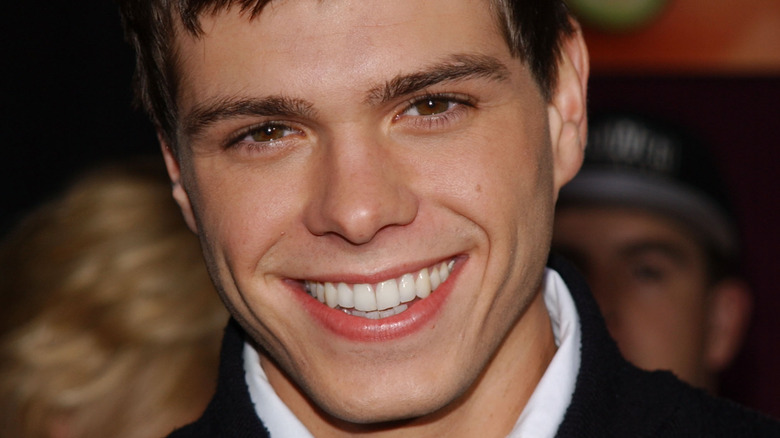 Jon Kopaloff/Getty Images
Actor Matthew Lawrence is a performer who has maintained an impressive career starting from a young age. Lawrence began acting with roles in shows and films like "Mrs. Doubtfire," "Brotherly Love," and later the fan-favorite Disney Channel series, "Boy Meets World." In a 1997 interview on "The Rosie O'Donnell Show," Lawrence explained that his proximity to the "Boy Meets World" filming location allowed him to attend school when he wasn't on set. "It was something cool because ... I wanted to go to my senior year in high school, so it's close. It's just a lot of fun," Lawrence said. 
As he portrayed character Jack Hunter from 1997 to 2000, Lawrence starred alongside talented actors like Ben Savage, Danielle Fishel, Rider Strong, Will Friedle, and Trina McGee. At a 2014 "BMW" reunion panel, Lawrence explained that his co-stars were very welcoming as he joined the show during its fifth season."These guys all kind of rallied around me and really just helped me elevate my game," Lawrence said.
In the years since "BMW" wrapped up, Lawrence and his castmates have managed to consistently keep in touch.
Matthew Lawrence and his co-stars have reunited over the years
Matthew Lawrence and his "Boy Meets World" cast members shared lots of TV chemistry as the sitcom aired in the '90s through the early '00s. In the nearly 30 years since the show's debut, these actors have publicly displayed their continued closeness off-screen. This includes the show's cast appearing together for a 2013 "BMW" reunion which was held by ABC News as "Girl Meets World," a spinoff to the show, was set to premiere. More recently, in 2022, Lawrence and cast members Trina McGee, Rider Strong, Danielle Fishel, and Will Friedle visited '90s Con together in Hartford, Connecticut, and appeared on "Good Morning America." 
Lawrence's "BMW" colleagues have additionally shown up for personal occasions in the actor's life. In 2018, when Lawrence held a party to celebrate his engagement to his now ex-wife, Cheryl Burke, Ben Savage posted a photo of himself with Lawrence on Instagram to document the occasion, as seen above. "Congratulations on your engagement @matthewlawrence. So happy for you and @cherylburke," Savage wrote. Lawrence's friendships with his "BMW" co-stars are very special bonds that have not diminished with time.
The Boy Meets World cast is 'like family'
Matthew Lawrence's time portraying Jack Hunter in the original "Boy Meets World" series may have ended in the early 2000s, but his connection to this project has stayed with the actor. In 2015, Lawrence reprised his role of Jack in an episode of the "BMW" spinoff, "Girl Meets World," as TV Insider reported. He posted a photo on Instagram of himself and "BMW" alum Will Friedle smiling on set while filming the episode, writing, "This is what boy meets world was all about for me! So surreal to do it again 15 years later. And nothing has changed!" Additionally, at a 2014 "BMW" panel, Lawrence described his gratitude for being involved in the series as a kid. "Looking back ... we had such an amazing experience, such a different, amazing childhood," he said.
In 2021, another "BMW" star, Rider Strong, told People of the closeness that developed amongst the cast as a result of these unique experiences they went through together. "It's so cheesy, but it really does feel like family. We're all connected in this way no one else in our life understands," Strong said. Lawrence and fellow "BMW" actors certainly have a tight-knit kinship that will no doubt continue as it has for almost three decades.