Lisa Rinna's Messy Drama With Kathy Hilton Fully Explained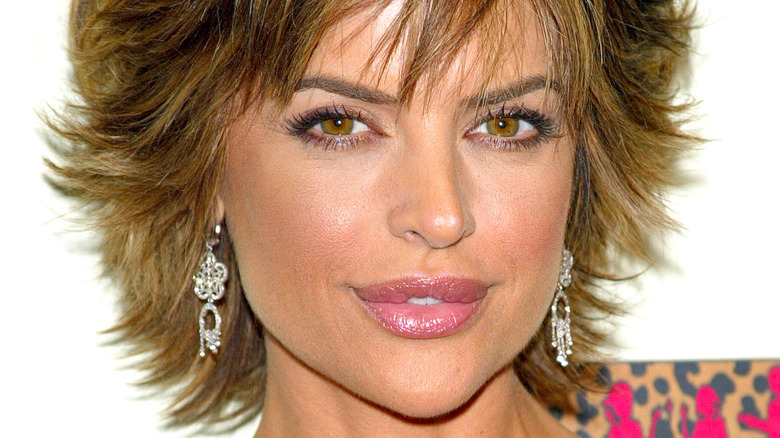 DFree/Shutterstock
You may have started watching the "Real Housewives" for the cars, the houses, or the private planes, but no matter what got you hooked, you stayed for the drama. And no one brings more drama than the ladies of "The Real Housewives of Beverly Hills."
The shadiest drama queen in Beverly Hills is, without a doubt, Lisa Rinna. The former soap star joined the franchise in 2014 and has butted heads with almost everyone in the cast, from Lisa Vanderpump to Denise Richards. In the infamous "PuppyGate" scandal, Rinna was notably on Dorit Kemsley's side and was thus instrumental in pushing Vanderpump off the show. As for the Richards vs. Brandy Glanville conflict, Rinna similarly found herself on Glanville's side and Richards quit "RHOBH" shortly thereafter. To make a long story short, if you happen to find yourself cast in the next season of "RHOBH," you will do well to stay on Rinna's good side.
That's a lesson Kathy Hilton has learned the hard way. After joining the series in Season 11, Paris Hilton's mother and Kyle Richards' sister became a fan favorite. Fast forward a year, and she reportedly stopped filming midseason due to an ongoing beef with Rinna. Since then, the drama has become increasingly convoluted and, thanks to Instagram, increasingly public.
Lisa Rinna tried to out Kathy Hilton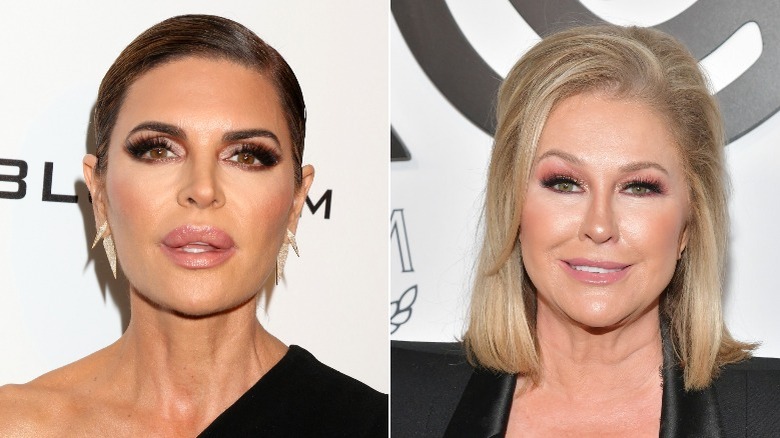 Amy Sussman/Getty & Kathy Hutchins/Shutterstock
The trouble reportedly started during a cast trip to Aspen in February. According to Radar Online, Hilton reportedly got into a screaming fight with a hotel employee over whether or not a DJ would be willing to play "Billie Jean" by Michael Jackson. When the employee refused to mass along Hilton's musical request, she reportedly became aggressive and yelled something about "white privilege." Representatives for Hilton have denied that such an exchange took place. Interestingly enough, the outlet reported that Lisa Rinna was the one to come to Hilton's aid and kindly escort her out of the venue and away from the drama.
Well, whatever good feelings there were between Rinna and Hilton at the time were short-lived. After the alleged incident, Hilton reportedly refused to film anymore, which, if true, could be what soured things between herself and Rinna. Either way, within days of the Aspen trip, Hilton allegedly sent Rinna a Cease and Desist, per Radar. Meanwhile, Hilton maintains she never sent any legal documents her castmate's way.
After publicly claiming to have been served by Hilton, Rinna's behind-the-scenes drama spilled out onto social media, thanks to some leaked DM's from Rinna insulting Hilton's kids and calling the socialite a "homophobic racist." Fast forward a few weeks (and a few more leaked DMs), and it looks like Hilton may be out for revenge.
Kathy Hilton's assistant gets involved
As if being slapped with a Cease and Desist from your frenemy wasn't stressful enough, Lisa Rinna was reportedly harassed after bad-mouthing Kathy Hilton. After weeks of back and forth about the offscreen drama, Rinna took to Instagram to announce that a man named Patrick Somers sent her a scary text message threatening to "expose" her, per Reality Tea.
You're probably asking yourself, who exactly is Somers? That's where things get interesting. After fans speculated about why he reached out to Rinna, Somers spilled some absolutely scalding tea. In screenshots of obtained by Nicki Swift, Rinna shared a statement posted by Somers to his private Instagram account in which he claimed that his official title is "marketing manager," and that he had been paid upwards of $27,000 to text Rinna threatening messages and "draw attention away" from his unnamed wealthy client. A gossip account later posted screenshots of an apparent conversation with Somers, who confirmed in the DM's that he was paid to "bait" and start drama with Rinna for a "bigger picture" serving his boss. He wouldn't name his employer, but admitted that her name rhymes with "Milton."
And that's the tea. We don't know what Hilton's — errr, "Milton's" — endgame is, but hopefully, she starts giving her assistants NDAs as quickly as she gives her friends Cease and Desists.