The Stranger Things Star Millie Bobby Brown Has A Marriage Pact With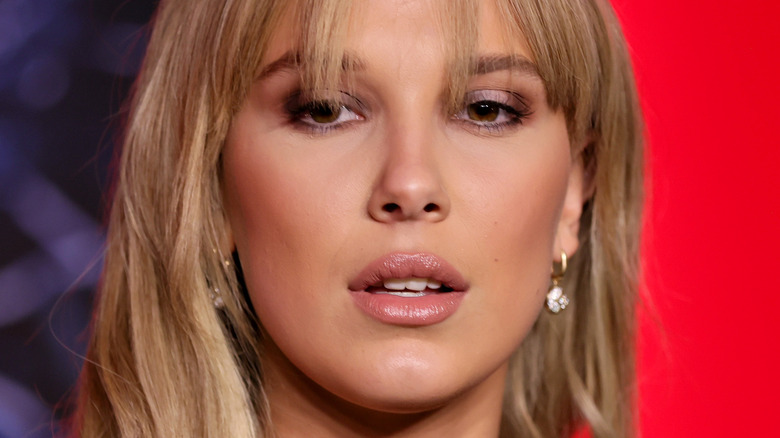 Theo Wargo/Getty Images
Millie Bobby Brown has nothing but love for her "Stranger Things" co-stars. As fans can tell from interviews and appearances with the cast of the Netflix hit, the teens of the show seem to be an incredibly close-knit group, much like they are in the series. Ahead of the highly anticipated fourth season of the show (which seems like we've been waiting to come out for forever), Brown shared a series of silly photos with her castmates from the season. "So many giggles! so much hard work! we hope you like it," she wrote, adding a single pink heart emoji to the end of her post.
In 2018, the star also talked about her friendship with the cast. "It was like a relationship actually, because it felt like we went through a honeymoon stage," she said on a panel at PaleyFest, per the Daily Mail. "We would be, like, really nice to each other. We didn't want to do anything that would hurt each other's feelings." But after working so closely for so long, Brown shared that their relationships took somewhat of a turn. ​​"'Now it's so different. We are actually siblings. We argue all the time," she revealed. Caleb McLaughlin, who plays Lucas Sinclair, also weighed in, stating, "Once we first met each other I think we were all very outgoing. So it was just easy to connect."
If it came down to it, Brown says there's a certain co-star who's she's already made a marriage pact with.
Millie Bobby Brown and Noah Schnapp could marry at 40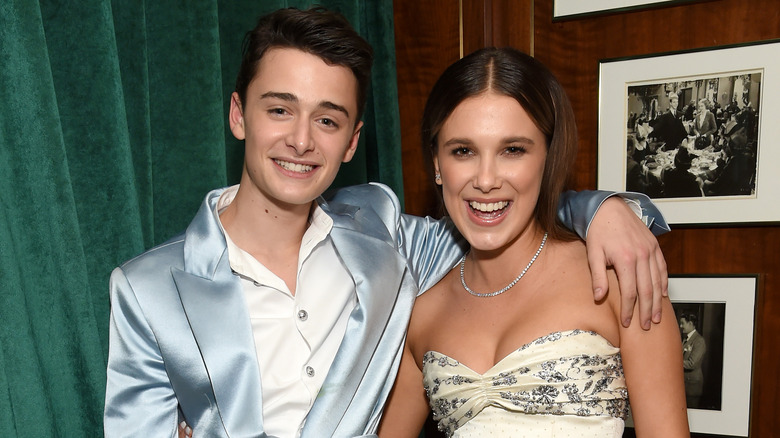 Michael Kovac/Getty Images
First comes friendship, then comes marriage, but don't expect a baby in a baby carriage. According to Millie Bobby Brown, she and castmate, Noah Schnapp, made a pact that if neither one of them are married by a certain age, they would happily wed one another. "We said if we're not married by 40, we'll get married together," Brown told MTV News, adding that she and Schnapp were "good roomies." Currently, Brown is 18 years old, and Schnapp is one year her junior. 
The two seem to have a playful banter that showed in their joint interview, and Brown said that if they did get to the marriage stage, they would get married "completely platonically." "No kids, though, 'cause I could not deal with a child of yours," Brown joked. Schnapp clapped right back, stating that kids would be a "deal-breaker" for him as well. Another part of the deal? They would sleep in separate bedrooms and get a dog. It definitely seems like the two are close, but it's more of a brother/sister relationship.
For now, the two simply refer to one another as best friends. They met on season 1 of "Stranger Things" and hit it off immediately. In 2019, Schnapp shared a video of himself and Brown doing the "best friend challenge," to see how well the two knew each other. As of this writing, the YouTube video has racked up over 42 million views, which is pretty impressive.