What Erika Jayne Is Supposedly Like Behind The Scenes On RHOBH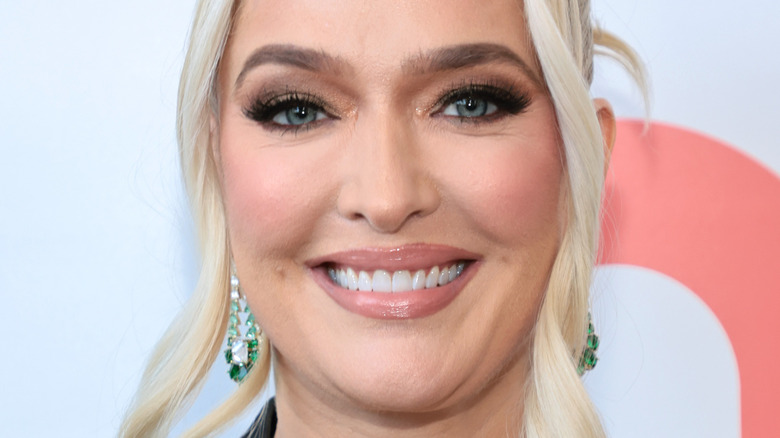 Jamie Mccarthy/Getty Images
If you watch "The Real Housewives of Beverly Hills," you know that before her divorce and all the lawsuits and fraud allegations, Erika Jayne was known for keeping her cards pretty close to her chest. She may have occasionally lost her temper on the show, but she never talked about issues in her marriage and she definitely never cried. All that changed in Season 11, when Jayne surprised viewers — and her costars — by opening all the way up about her personal life. 
Seeing this whole new side of Jayne over the past two years had us wondering what the "Pretty Mess" author is really like behind the scenes when filming "RHOBH." Is she as ice cold in real life as she used to come across in the show? Is she awful to work with? Or is she actually a total sweetheart to the producers and we just see the hard exterior? 
Erika Jayne has been described as a 'nightmare' to work with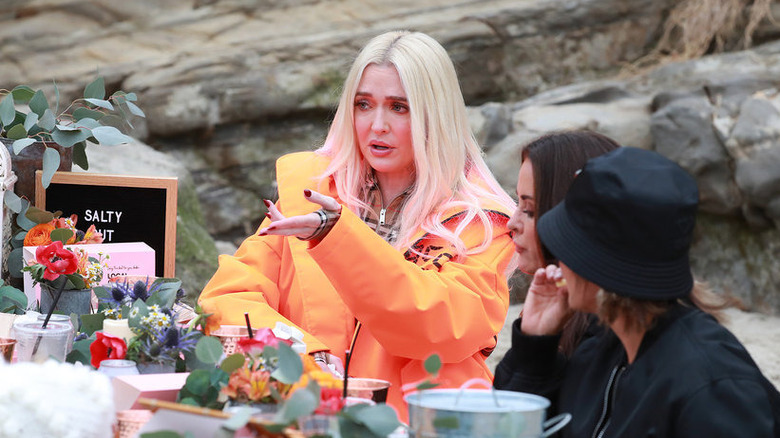 Joe Scarnici/Bravo
We hate to have to be the ones to break it to all those Erika Jayne stans out there, but the word on the street is that working with Jayne is a "nightmare," and that's a direct quote. In one viral TikTok, podcaster and former publicist Amir Yassai named Jayne as one of the "Corny-a** celebs" he's worked for. "She was a motherf***ing nightmare, no surprise to anyone who's ever worked with her," he said. "She would not go on live TV, I had to force her." Yassai also said that Jayne tried to get him fired. Yassai elaborated in an interview with Heavy that as soon as he walked into the room, "right off the bat, Erika was giving me dirty looks."
She has also been accused of nightmarish behavior by former "The Real Housewives of Beverly Hills" costars, including Kathryn Edwards, who said on the "Behind the Velvet Ropes" podcast that she saw Jayne talking down to people and mistreating the crew, per Celeb. In a tweet, "RHOBH" alum Camille Meyer agreed with Edwards, writing, "If a scene doesn't suit her she yells at the crew and producers. It's doesn't happen all the time but she did this in the Bahamas." Yikes. 
Erika Jayne has been accused of mistreating producers by fans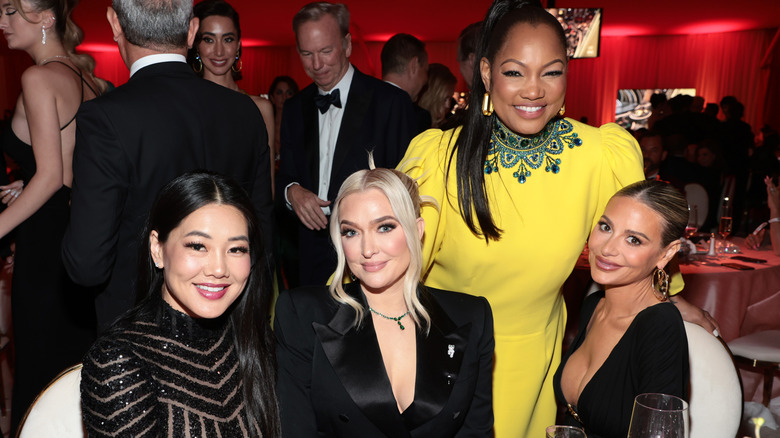 Jamie Mccarthy/Getty Images
Then, of course, there was the reported screaming fight Erika Jayne had with producers while filming an episode in "The Real Housewives of Beverly Hills" Season 11 that, according to Us Weekly, was eventually cut from the show. During the episode, Garcelle Beauvais brought up Jayne's confession that her ex-husband had been calling her in front of the rest of the women, causing a big blowout from Jayne, who apparently then accused producers of putting Beauvais up to it. 
Now in Season 12, fans on Twitter have been slamming Jayne for snapping at producer's questions during confessional interviews. "Erika being rude to producers is trash," one person tweeted. "The way Erika is so rude to production?!?! B**** you need to respect them," tweeted another viewer. A "RHOBH" fan chimed in on Jayne playing the victim in a recent episode, writing, "Stfu go and apologize to all them kids and that producer ya bullied last week ya knob."
Girl, we know you're going through it, but no need to take it out on the crew!