The Erika Girardi Legal Issues Explained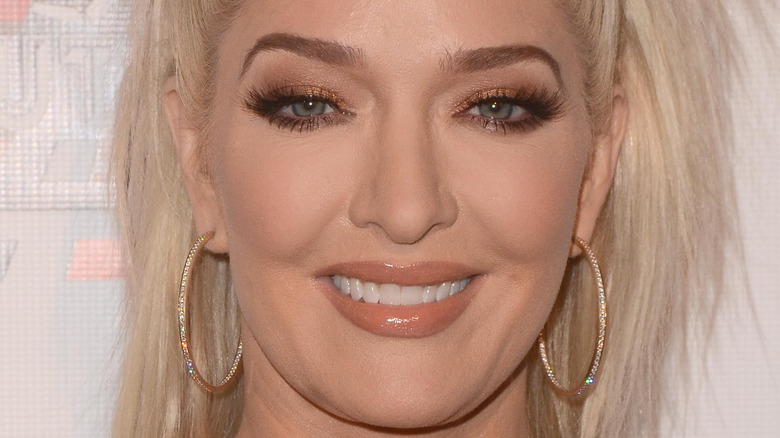 Shutterstock
What's really going on with Erika Girardi and her legal issues? "The Real Housewives of Beverly Hills" star has been in the headlines for all the wrong reasons as the legal drama around her and her estranged husband, Tom Girardi continues to mount.
Their legal woes first hit the headlines in late 2020, around the time Erika filed for divorce from Tom in December. That month, Girardi Keese, Tom's law firm, was accused of allegedly of embezzling money from families who lost family members in a plane crash. Tom was then forced to file a bankruptcy petition after being sued by his business partners and Tom was accused of using the missing money to "[fund] his and Erika's lavish Beverly Hills lifestyles" (per People).
Radar Online reported in June that Erika's name was added to a $5 million lawsuit after it was suggested "to avoid paying Plaintiffs the amounts owed, [Tom] and his firm 'loaned' millions of dollars to [Erika], and then filed a sham 'divorce' to fraudulently keep the money from Plaintiffs and other vulnerable victims."
Erika has maintained her innocence, addressing the lawsuit on a July episode of "The Real Housewives of Beverly Hills" (per People). "The things that are being said are just wrong. People are believing [the allegations] and they're everywhere and it's terrible," she said, calling it "insane" people think her "divorce is a sham" while claiming, "nobody cares about the facts."
Erika Girardi was accused of allegedly receiving 'luxury items' from funds belonging to Tom Girardi's law firm
A new legal document filed on July 14 claims that Erika Girardi — also known by her stage name of Erika Jayne — and two of her businesses allegedly "received jewelry and other luxury items purchased using funds" that belonged to Tom Girardi's law firm, Girardi Keese. It's thought the items and "lottery payments" could be worth $25 million (per People).
The filing by the bankruptcy trustee, Ronald Richards, also accused Erika and Tom of having allegedly "conspired to conceal" funds in regards to the bankruptcy case and said they "continue to derive benefit from their wrongful acts." It also referred to the couple flaunting their wealth on the Bravo hit "with pride as to the cost and value" of their belongings.
Richards asked the money owed be paid back by Erika and her businesses, similar to a motion passed in July. A judge ruled a family involved in a case against Tom would be allowed to sue Erika for the $11 million allegedly owed to them by her estranged husband (per E! News). That was in relation to a 2013 settlement when Tom represented the family after their son was injured in an explosion.
Erika's lawyer didn't respond to the latest allegations made by Richards, though a source denied the allegations to People and said there was "no merit" to the claims, "no investigation, no proof, just more harassment."