Body Language Expert Says Prince Harry Was Unshakable At His First Royal Event With Meghan In Years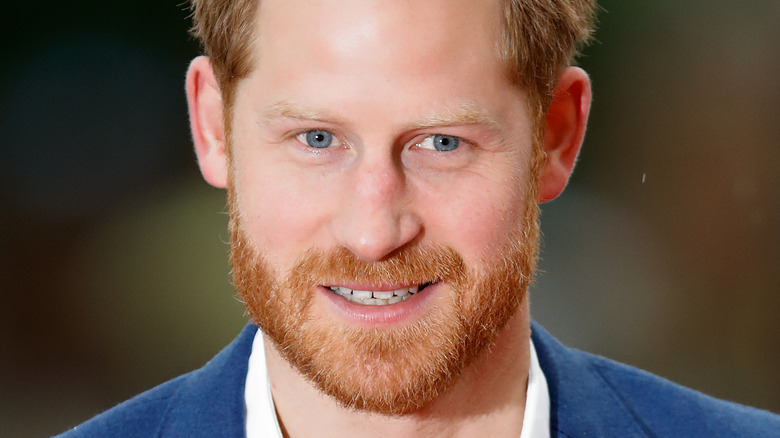 Max Mumby/indigo/Getty Images
We may receive a commission on purchases made from links.
Royal fanatics rejoice! Queen Elizabeth's Platinum Jubilee is here and brings with it a ton of royal appearances to gush over. June 2 kicked off the four-day-long celebration and it already has royal fans buzzing. The queen seemed to be in good spirits as she stepped out onto the balcony of Buckingham Palace on the first day of her Jubilee (even if little Prince Louis totally stole the show). Unfortunately, though, the day's festivities proved to be a bit too much on the 96-year-old queen, whose health has been the subject of speculation as of late. The jubilee celebrations certainly hit a snag when Buckingham Palace released a statement that announced the queen would not be attending the National Service of Thanksgiving at St. Paul's Cathedral on June 3, reading, "The Queen greatly enjoyed today's Birthday Parade and Flypast but did experience some discomfort." With just how jam-packed full the celebrations are, we can't blame the queen for sitting this one out.
However, the couple who did attend the service of thanksgiving has surely made up for the queen's absence. Prince Harry and Meghan Markle flew across the pond to attend the Platinum Jubilee and, according to a body language expert, the prince was as cool as a cucumber.
Prince Harry was fully in control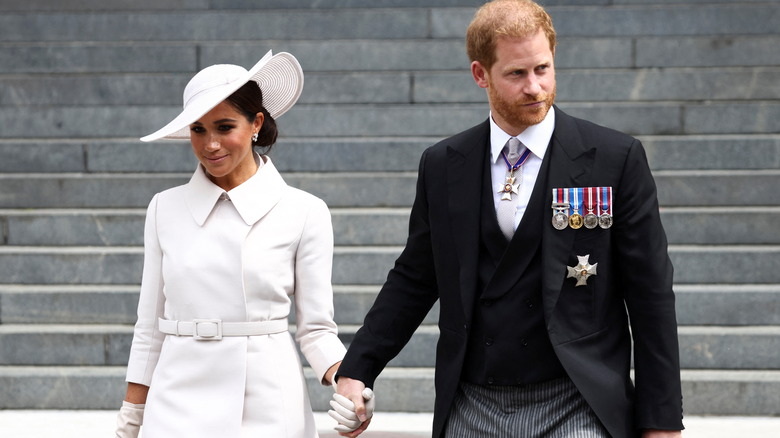 Wpa Pool/Getty Images
On June 3, the second day of celebrations for Queen Elizabeth's Platinum Jubilee, Prince Harry and Meghan Markle stepped out for their first royal event in over two years since stepping down as senior members of the royal family. The two joined the royal family for a service of thanksgiving at St. Paul's Cathedral. All eyes were on the two as they made their way to the cathedral, but they didn't let the attention phase them. According to Jess Ponce III, body language expert, communication coach, and author of "A.W.E.S.O.M.E., Harry was at ease during the event, often smiling and even waving to the crowd. "And while there was a sense of self-consciousness, you could tell it was a situation he could easily navigate," Ponce exclusively told Nicki Swift. Meanwhile, Ponce said Meghan was more on the nervous side but was able to smile through it.
Then, during their departure from the service, Harry continued to stay confident. "While you could see he was eager to leave after some initial pleasantries, he didn't seem in a rush to leave," Ponce said. "Rather he seemed resolute." Meghan, on the other hand, played the role of the supporting partner well by smiling through the situation, according to Ponce.
Also of note, Harry and Megan affectionately held hands both during their arrival and departure from the cathedral, which Ponce said was a sign of support. "Harry held Megan's hands in a more supportive way, as to say 'I got you,'" he explained. "He was in control — not in a sexist way at all — as someone who was her guide, protector, and supporter."