Queen Elizabeth's Joke About Her Health Has Everyone Buzzing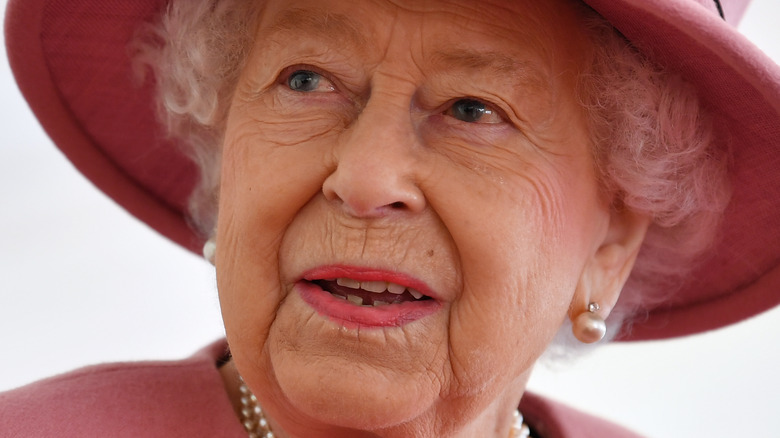 Wpa Pool/Getty Images
Speculation about the health of Queen Elizabeth II has been running rampant since Prince Philip's death in April 2021. Compounded by heavier workloads, royal controversies, and the COVID-19 pandemic, Elizabeth's health has taken a turn for the worse over the past year.
She was admitted into the hospital in November 2021 for "some preliminary investigations," and was told by doctors she had to take it easy with her work commitments and "rest," per Us Weekly. Throughout the past few months, the queen was also spotted using a cane for support during various engagements, prompting fans to wonder about her mobility at the age of 95.
Though Elizabeth — who is set to celebrate 70 years on the throne with a Platinum Jubilee in the summer — has hinted her reign will continue as long as she is capable, a recent appearance and joke made by the majesty herself has once again put her health into question. Here's what people are saying.
Queen Elizabeth is having some mobility issues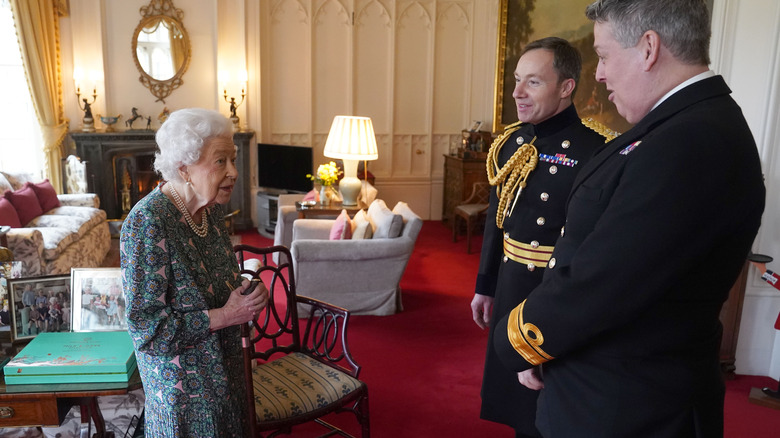 Wpa Pool/Getty Images
Queen Elizabeth prompted new concerns about her health on February 16 after joking to royal visitors that she couldn't move. Per People, Elizabeth met with outgoing Defence Services Secretary Rear Admiral James Macleod, along with incoming Defense Services Secretary Major General Eldon Millar at her audience rooms in Windsor Castle. The meeting marked the monarch's first appearance since her son Prince Charles was diagnosed with coronavirus for the second time, two days after meeting with her in early February. 
Though Elizabeth's in-person appearance eased any fears of her testing positive for the virus, she was seen looking frail and walking with a cane again. "I can't move," she joked to Millar and pointed to her feet as they greeted her. The admission caused many royal watchers and fans to comment on what they think happened to the queen. "I couldn't move either after writing a check for 12 million," one user tweeted, referring to the massive payout Prince Andrew gave to Virginia Giuffre in his sexual abuse allegations lawsuit (although the exact settlement amount has not been disclosed).
Another user thinks Elizabeth's old age is acting up, writing, "At 95, I'm surprised she isn't riddled with arthritis," while another user said that it might be time for the monarch "to retire." However, one user supported the monarch, writing, "long live the queen." Despite the speculation, a royal source tells Reuters that the queen "had been feeling slightly stiff," ahead of her appearance, but noted that she didn't have any injuries or sickness.