Prince Louis Totally Stole The Show At The Platinum Jubilee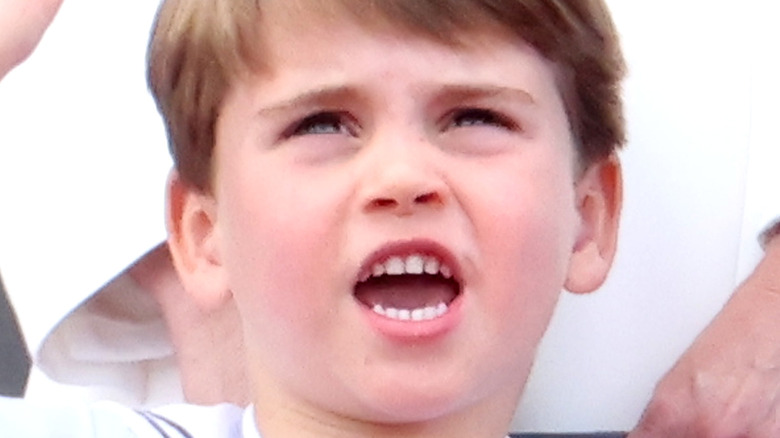 Chris Jackson/Getty Images
As Queen Elizabeth's Platinum Jubilee kicked off, members of the royal family were careful not to upstage the monarch. Page Six reported Prince Harry and Meghan Markle were not on the balcony for the Trooping the Colour celebration. The outlet noted that only the working members of the royal family stood with the 96-year-old queen, including the Duke and Duchess of Cambridge and their kids, along with Prince Charles and Camilla Parker Bowles. The monarch's cousins, Prince Edward, the Duke of Kent, and Prince Richard, the Duke of Gloucester, and their wives also attended.
Yahoo News UK reported that Prince Louis wore his dad's sailor suit at the Platinum Jubilee kickoff and looked as adorable as Prince William did in 1985. But Louis didn't get the memo not to upstage his great-grandmother. The 4-year-old prince stole the show at the Trooping the Colour celebration, as he appeared with his brother Prince George, 8, and sister Princess Charlotte, 7. The youngest Cambridge amused the queen and inspired delight on social media.
Prince Louis was hilarious and adorable at the Jubilee
Prince Louis stole the show at the kickoff for the Platinum Jubilee. The 4-year-old prince made hilarious faces and he covered his ears. That's not all, though: Daily Mail reported Louis picked his nose during the Trooping the Colour ceremony! In other words, the prince acted like a typical pre-schooler. In addition to his cheeky antics, the youngest Cambridge child melted hearts as he chatted with his great grandmother, Queen Elizabeth. The photos and videos from Trooping the Colour showed Louis in adorable conversations with the monarch.
Twitter fell in love with the prince, with Twitterati weighing in on the youngest Cambridge. One amused royal watcher tweeted, "Prince Louis is going to be the new wild card! I hope they are ready for him." Another Cambridge fan posted a photo of the Duchess of Cambridge laughing at her son's antics, tweeting, "Catherine's laugh as Prince Louis covers his ears and pulls a face ... Kids will be kids."
The Louis memes began immediately, too. One meme showed a photo of the prince covering his ears with the tweet, "prince louis is over the platinum jubilee. i can relate." But one tweet perfectly summed up Louis and his siblings at the Jubilee: "Prince Louis is a whole mood. Princess Charlotte is clearly the boss. Prince George understands the assignment."