Kathy Griffin Stands By Controversial Trump Photo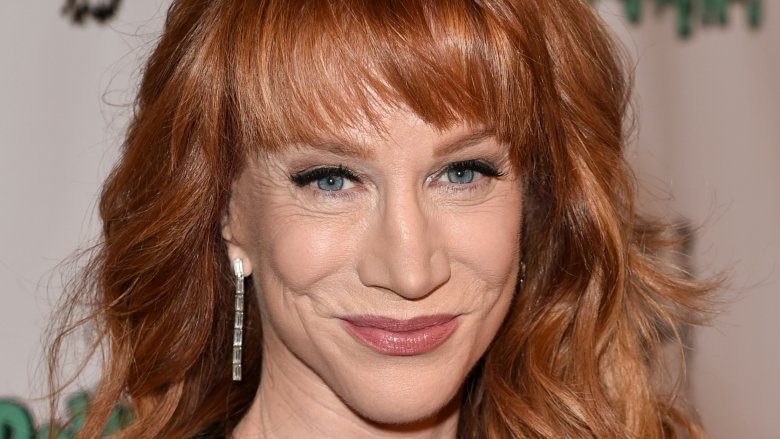 Getty Images
Kathy Griffin is sorry not sorry.
The comedian spoke candidly about her controversial May 2017 photo shoot, in which she infamously posed with a decapitated replica of President Donald Trump's head, during her Saturday, Sept. 23, 2017 interview with The Guardian. 
"I took a picture that you or anyone of your friends could make," she told the publication. "I put it online and was under federal investigation for conspiracy to assassinate the President of the United States of America. I didn't do anything wrong. It's insane and I truly believe if it happened to me it could happen to you."
"I will not be convinced this was not a straight-up case of sexism and ageism. I really think Trump went for me because I was an easy target," Griffin continued, adding that it won't force her to back down. "I will openly accuse the President of the United States of human rights violations," she said.
As Nicki Swift previously reported, the My Life on the D-List star, who was fired from CNN following the photo shoot, initially apologized for the gory image shortly after sharing it on social media, as it sparked immediate outrage on both sides of the political spectrum. "I'm a comic. I cross the line. I move the line then I cross it. I went way too far," she stated in a now-deleted video posted on Twitter. 
In June, Griffin tearfully spoke out against the backlash during a press conference. "It's hurtful to me," she said. "You don't have to like me, but you shouldn't silence a comic."
However, she officially took back her apology in late August while promoting her international Laugh Your Head Off comedy tour on the Australian talk show Sunrise. "I'm no longer sorry. The whole outrage was BS, the whole thing got so blown out of proportion," the 56-year-old comic said. "So the picture happened, the outrage was ridiculous, I made an apology, and now in light of all the crazy stuff that [Trump] and this administration are doing....He's unhinged."
Kathy Griffin is certainly not the only comedian to stir the pot. Check out other controversial jokes that got comedians into serious trouble.