The Truth About Renee Zellweger And Jim Carrey's Relationship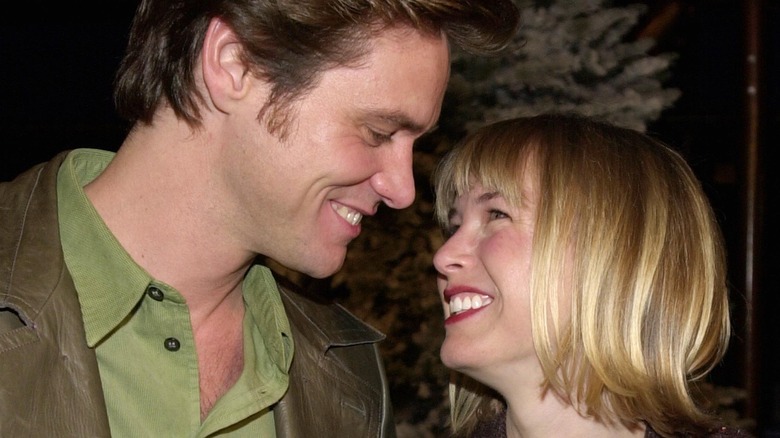 Chris Weeks/Getty Images
When Canadian comedy legend Jim Carrey met "Chicago" actor Renée Zellweger on the set of their movie "Me, Myself, and Irene" in 1999, little did they both know that they would fall in love. In fact, it came as a surprise to Zellweger. "I liked him, a lot, but you're not going [to the set] for the love connection," she told CNN back in 2000. "'And then I went home ... and I went, 'God, I do miss him.'"
The "Ace Venture: Pet Detective" star fell a tad more swiftly, as producer Bobby Farrelly told People in 2000 that Carrey "flipped for her immediately." Talk about getting Carrey'd away!
Despite loving every aspect of the "Bridget Jones' Diary" star's lifestyle — Carrey told Entertainment Weekly in 2000, "She thinks having a good time is renting a U-Haul and taking furniture to Texas ... and I absolutely love it" — the pair wasn't meant to last. "The Grinch" director Ron Howard told People in 2001 that the glare of the spotlight on their relationship was to blame. "In this case, the media attention just heightened the pressure," he said. Zellweger's rep told the outlet, "They just wanted different things" — which really could mean anything. But in the 20 years since their split, the "Man on the Moon" actor has revealed that his affection for the "Down With Love" star never really faded.
Jim admits Renee was the love of his life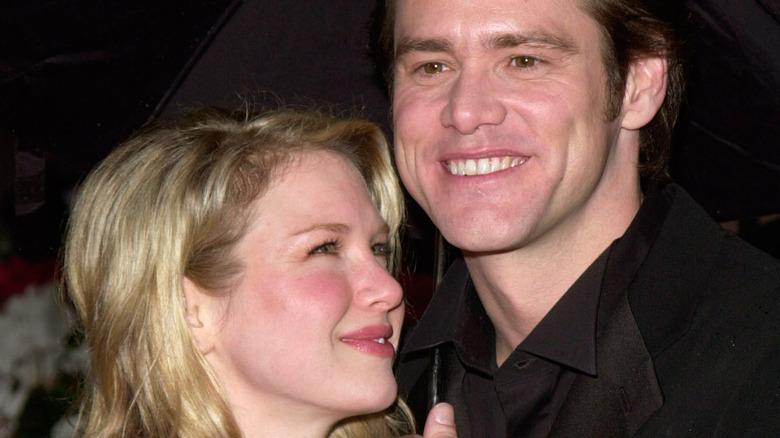 Featureflash Photo Agency/Shutterstock
In 2020, Jim Carrey tried his hand at writing and came out with a novel called "Memoirs and Misinformation." While it was officially fiction, "The Truman Show" star drew on his personal life to fashion the story, and one part of the book harkened back to his relationship with Renée Zellweger, whom he characterized in the book as the love of his life.
Howard Stern spoke with Carrey on his SiriusXM radio show that year, where the Canadian funnyman admitted, "She definitely was special to me, very special, I think she's lovely." When Stern added that he felt Carrey was saying that he regretted messing up the relationship and that Zellweger was "the one that got away," the "In Loving Color" star made sure to clarify, "I don't regret, I don't have those things, but I do appreciate the people that have come through my life for the good that they gave me."
The "Judy" star went on have romances with a slew of famous names after Carrey. She walked down the aisle with country crooner Kenny Chesney in 2005 (and divorced him the same year), and also had a two-year relationship with "A Star Is Born" director Bradley Cooper after meeting on the set of "Case 39" in 2009, per Harper's Bazaar. She was also linked to White Stripes frontman Jack White in 2003 after they met on the set of "Cold Mountain," per People. 
Renee wasn't Jim's only major love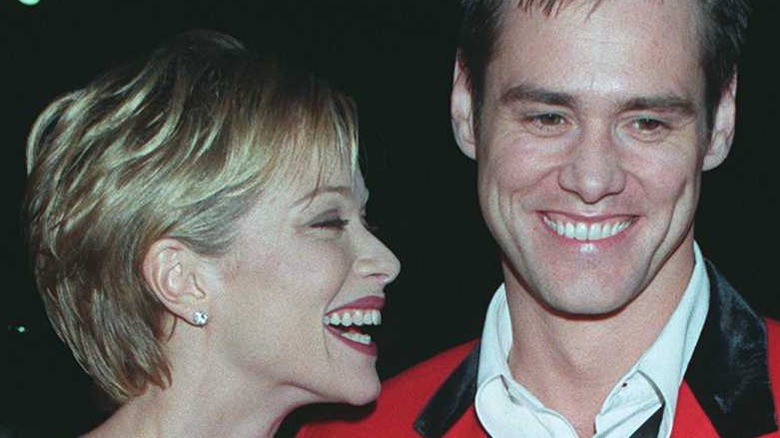 Denny Keeler/Getty Images
While he might consider Renée Zellweger the love of his life, Canadian icon Jim Carrey has had quite a few serious loves in his life. Carrey was married to Melissa Womer from 1987 to 1994, and they have a daughter, Jane (who tried her hand at the spotlight when she auditioned for "American Idol" in 2012). On the set of his smash comedy "Dumb and Dumber," he quickly fell in love with actor Lauren Holly, and they married in 1996. However, some people cast aspersions that Holly had made a move on Carrey while he was still married to Womer. "They kept calling me a homewrecker," she told Rolling Stone.  "I feel for Melissa, but they were completely apart when Jim and I met." They divorced a year later.
The "Bruce Almighty" star went on to have a five year relationship with Jenny McCarthy (with whom Carrey shared some unorthodox views on vaccines), and he also had an on-again-off-again relationship with Irish beauty Cathriona White for three years. Tragically, she died in 2015, and Carrey was a pallbearer at her funeral, per NBC News. The Irish Mirror reported seeing Carrey breaking down into tears during the ceremony, and published photos of him gripping his daughter's hand. As he has stated, it's clear Carrey has appreciated the loves of his life over the years.