The Harry Styles Songs That Are Rumored To Be About Taylor Swift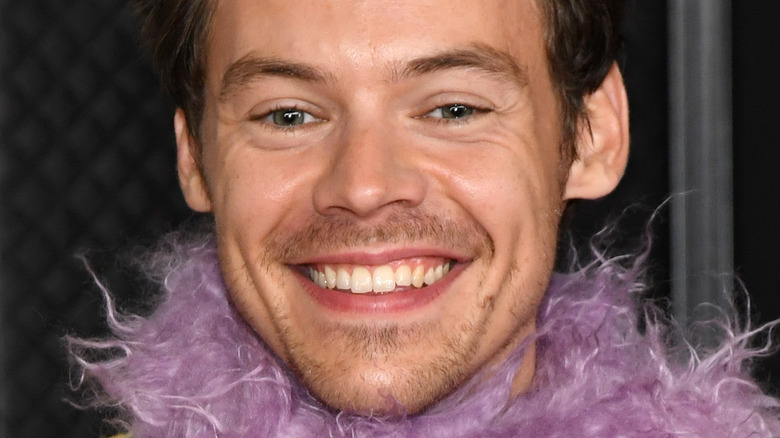 Kevin Mazur/Getty Images
Harry Styles and Taylor Swift are arguably two of today's biggest stars, but some may have forgotten that the pair are also former lovers — yes "Haylor" fans, this one's for you. Rumors of the duo's budding romance began in November 2012, after Styles all but confirmed his crush on Swift to Seventeen. He told the publication that Swift was "a really lovely girl," but did not explicitly confirm the dating rumors. Swift further exacerbated speculation when she was spotted in London wearing a paper airplane necklace that was almost identical to the one that Styles wore at the time, according to Bustle.
In December 2012, the pair took their relationship to the next level, as they were spotted together publicly for the first time. According to MTV, Swift traveled to New York City for a performance at Z100's Jingle Ball concert, where the former One Direction member was also set to perform. However, a month later, reports began to surface that the pair had called it quits. Following the end of their relationship, fans of the artists began to wonder which of their subsequent musical releases were based on their time together.
Harry Styles sings of a red lip lover
When Harry Styles released his debut solo album in 2017, fans began to theorize which of the tracks on the self-titled record were about Taylor Swift. Styles' song "Two Ghosts," in which he sings about a failed relationship, is believed to be a direct response to Swift's jab in "Style."
"Same lips red, same eyes blue / Same white shirt, couple more tattoos," Styles sings, leaving some to suggest that the singer was referencing Swift's lyrics in "Style," when she sings, "I got that red lip classic thing that you like." And while Styles has never confirmed (or denied) that the song is about the "Lover" singer, he did address a fan theory about a song on his third solo album, "Harry's House."
During an appearance on "The Howard Stern Show," Styles was asked if his song "Daylight" was in any way linked to Swift's track of the same name. "You're reading too much into it," he told Stern. "You know I'd love to tell you that you're spot on, but I can't. No, sorry." Styles did not reveal who inspired the song, but did explain that it was about his "infatuation" with a difficult relationship.
Which Taylor Swift songs are about Harry Styles?
For fans who have questioned whether Taylor Swift has ever written about her rumored relationship with Harry Styles, the proof is in the lyrics. Swift's first artistic take on her relationship with the former One Direction member came with the release of her 2012 hit, "I Knew You Were Trouble." Swift told The Times in March 2013, that her performance of the song at the BRIT Awards was fueled by her feelings for her former lover, who happened to be in the audience.
"It's not hard to access that emotion when the person the song is directed at is standing by the side of the stage watching," she told the publication. Then, in 2014, Swift seemingly slammed her ex-lover again, this time in a series of songs on her album "1989."
In the song "Style," which may or may not be titled after the former boy band member, Swift sings of a long-haired lover and a relationship that is constantly "crashing down." In a more direct reference, Swift's song "Out of the Woods" appears to also be a nod to the singer's relationship with Styles. "Your necklace hanging from my neck / The night we couldn't quite forget...," Swift sings, "...Two paper airplanes flying, flying, flying."