Here's What Addison Rae Really Looks Like Without Makeup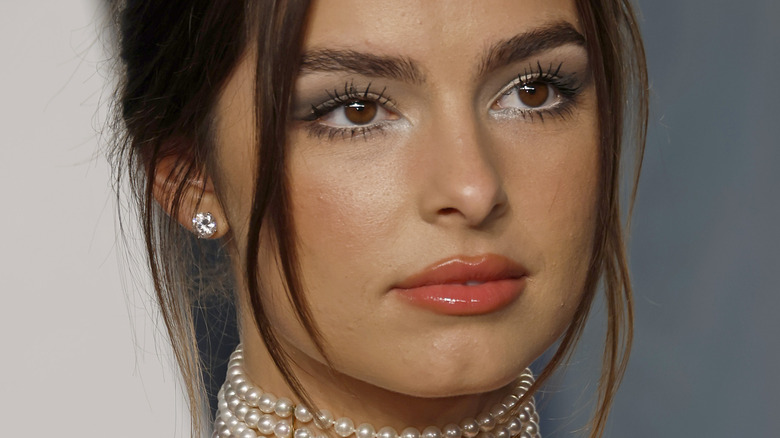 Frazer Harrison/Getty Images
Addison Rae has evolved far beyond her beginnings as an early adopter of the tried-and-true TikTok format, which was usually a mixture of dancing and lip-syncing to popular song snippets. "Honestly, I contribute so much of my TikTok growth to me being raised as a dancer," she told Business Insider in 2020. These days, Rae has a following of more than 87 million fans on the social media platform that put her on the fast track to fame, and she didn't just use her popularity to launch acting and singing careers — she also came for Kylie Jenner's cosmetics crown by creating her own line of clean makeup and beauty products, Item Beauty.
Speaking of Jenner, the beauty mogul's sister Kourtney Kardashian became BFFs with Rae, and apparently Kourtney has no family loyalty when it comes to lip gloss. In an August 2021 interview with Refinery29, Rae revealed which product Kourtney loves most. "Like the other day, we were in the car and she was like, 'Oh my gosh, I need my Lip Quip!'" Rae recalled, adding that she's grateful that her pal has had such a positive response to her product line.
In a "Keeping Up With the Kardashians" bonus scene, Kourtney's younger sister Khloé Kardashian and Rae attempted to apply their makeup using plastic doll hands, playing on the popularity of beauty tutorials on social media. Rae has filmed a few such videos herself, and her fans have praised her for going fresh-faced before piling on the products.
Addison Rae was applauded for going makeup-free and revealing her adult acne
Addison Rae had the perfect promotional tool at her disposal when she launched her beauty brand: her own TikTok account. In April 2022, she posted a video of herself using some of her makeup products to get ready for Lil Nas X's birthday party. She began with a bare canvas, telling her followers that she had just gotten out of the shower. "I am sunburnt, so my acne scars are kind of coming out a lot," she explained. "I definitely don't have perfect skin." As she spoke, she pointed at a red bump on her chin.
In the comments section, the influencer's followers let her know how much they appreciated her for leaving her acne uncovered at the beginning of the video. "Love that you are so open about acne!" read one comment. "You are beautiful." Another fan wrote, "I feel so confident about my acne now!!!! Thank you!!"
In a January 2022 interview with Byrdie, the Louisiana native shared her theory that a number of factors are to blame for her skincare struggles, including her move to Los Angeles and the changes that come with age. "I get cystic acne and breakouts when it's close to that time of the month for me, and now I have to do a lot more," Rae added. She revealed that using products containing salicylic acid when she experiences a breakout remains an important part of her updated skincare routine.
How dance inspired Addison Rae's beauty brand
Addison Rae's passion for dance could have taken her life in a totally different direction. She was a competitive dancer growing up, and on her "That Was Fun?" podcast, she revealed that one of her biggest post-high school aspirations was to join the LSU dance team, the Tiger Girls. She even missed her senior prom to try out for the squad. "I didn't make that dance team, and now I'm here today, living in Los Angeles, where I've dreamt of living, and it just all makes sense," she said.
Rae's dance background clearly helped her perform the bite-sized routines that TikTok teens couldn't get enough of, and it also influenced her decision to create her own cosmetics line. "My mom was a makeup artist and I was a competitive dancer. So for performances, we would do the lipstick and the eyelashes together. So I've always been around makeup and super comfortable with it," she told Elle.
During a YouTube livestream, Rae said she was around 6 or 7 years old when she began wearing stage makeup, and her looks were rather bold. "We always wore bright red lipstick and glitter eyeshadow," she recalled. That early introduction to cosmetics has helped Rae build her net worth up to $15 million, per Celebrity Net Worth, and while she obviously wants fans to purchase her beauty products, her years of experience applying makeup have taught her a valuable skincare lesson, as she told Byrdie: "Less is more!!!"