What Really Happened Between Cara Delevingne And Halsey?
Cubankite/Shutterstock
Cara Delevingne is as well known for her storied love life as her eyebrows and impressive work history. The model, actor, and singer launched her catwalk career in 2009. Although she made her debut at 10, on the front cover of Vogue Italia with model Lady Eloise Anson — Delevingne's wealthy family has very noble connections.
Despite her conquest of the modeling world, Delevingne soon became bored, deciding it wasn't enough to fulfill her life, and she moved on to acting. She quickly excelled in that field, too, with roles in "The Suicide Squad," "Valerian and the City of a Thousand Planets," and "London Fields." Along the way, she's also made appearances in numerous music videos, in addition to making her own. She starred in videos for Rita Ora, Die Antwoord, Taylor Swift, and Halsey. It was following her appearance in Halsey's 2019 video for "Nightmare" that tongues started wagging.
Delevingne, whose motto is "embrace your weirdness," identifies as pansexual. She talked about the difficulties and confusion her sexuality can cause during an interview with Glamour. Delevingne explained that many of her straight friends assume she's a lesbian because she likes women; they're confused if she's attracted to guys. "[They're like], 'But you're gay.' I'm like, 'No, you're so annoying!'" she said. "Someone is in a relationship with a girl one minute, or a boy is in a relationship with a boy; I don't want them to be pigeonholed." So, what really happened between Cara Delevingne and Halsey?
Cara Delevingne and Halsey just want to have fun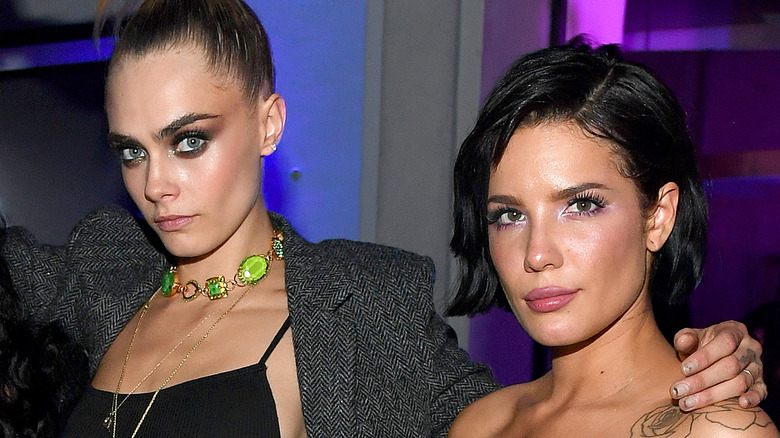 Kevin Mazur/Getty Images
The Halsey And Cara Delevingne dating rumors started after they filmed the video for her feminist anthem "Nightmare." The pair reportedly began hooking up shortly after Delevingne and Ashley Benson's two-year relationship ended. To add to the confusion, Benson immediately started dating Halsey's ex-boyfriend of a year, rapper G-Eazy, who the singer split from in 2018.
The timeline of Delevingne's relationships is pretty convoluted, so an Excel spreadsheet might come in handy. Around the time she and Halsey were reportedly seeing each other, Delevingne was also linked to Kaia Gerber, they even got matching tattoos together. Meanwhile, Halsey was dating Evan Peters when she first met Delevingne. The couple had appeared to be going strong, with Peters even jumping on the "Manic Tour" bus in February 2020. However, they officially split a month later, and every trace of him was scrubbed from Halsey's Instagram. 
"Cara has been hooking up with Halsey in the last few weeks, and they've been having a laugh together," a source told The Sun. They said the two had spent time together after being "stuck in LA" for a few months due to COVID-19. "They've both been very open about their sexuality and just want to enjoy themselves, so they're both on the same wavelength," the source said, explaining the couple was "fine about seeing other people" too. Which was good as what happened between Delevingne and Halsey is about to become even more complex.
Halsey values keeping certain things private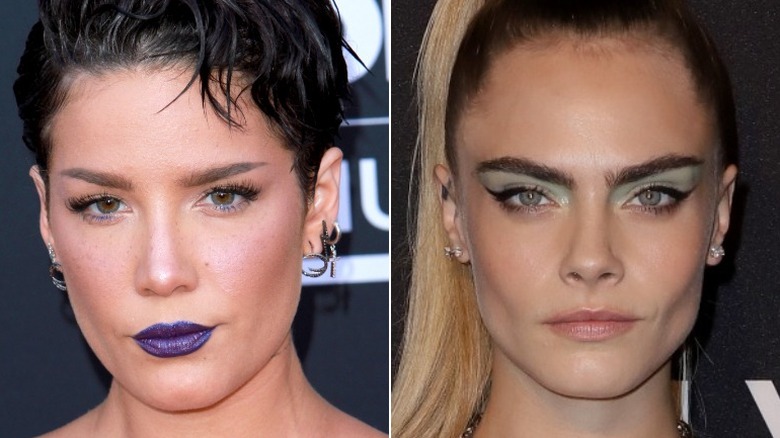 Kathy Hutchins/Shutterstock & John Parra/Getty Images
What really happened between Cara Delevingne and Halsey will likely remain a mystery. Both are open about their sexuality, but feel under no obligation to explain specifics. "[Cara] stands for something in her generation's eyes," Stella McCartney told Vogue. "She's not living her life for other people's approval," the designer concluded. 
Following the Halsey rumors, Delevingne was reportedly spotted making out with Jaden Smith during a Valentine's Day dinner. She was also linked to Sienna Miller after they supposedly got hot and heavy at New York City's Temple Bar. "It was like fluid friends. Sienna made out with this tall guy, and then she made out with Cara," a source told Page Six. "It was like a fun night out."
Meanwhile, to throw another smoke bomb into the haze of confusion, Halsey posted a pic of their baby bump in 2021. Initially, fans speculated that Evan Peters was the baby daddy. However, the father is actually Alev Aydin. The singer had been dating the producer and director on the down-low for months. The pregnancy was planned, and the couple even got matching tattoos. In June 2020, they had "seeds" inked across their feet. "I've never talked about him before," Halsey told Allure. The singer felt nobody was "entitled" to know the ins and outs of their private life. "I signed up to give my whole life away; my loved ones didn't," Halsey said.