Chris Rock And Dave Chappelle Are Teaming Up After Their On-Stage Attacks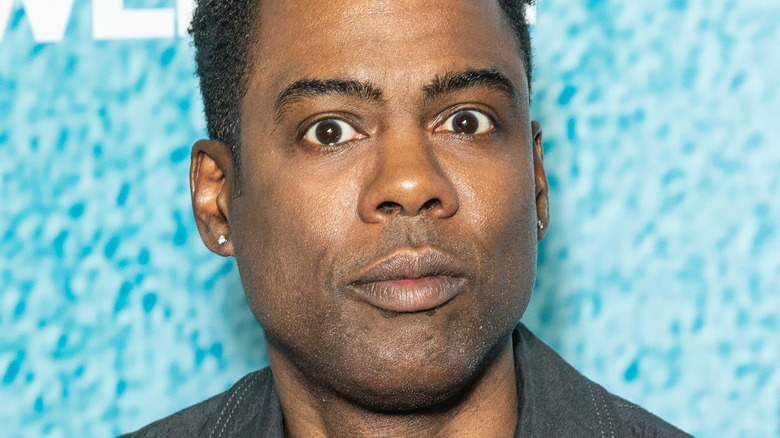 Lev Radin/Shutterstock
After years of performing standup, Chris Rock and Dave Chappelle have probably collected quite a few crazy stories about hecklers to swap. However, each comedian experienced one of their wildest encounters with an audience member within the space of a few weeks.
Comedians don't miss out on the opportunity to turn their captive audience of glitterati into punchlines when they get invited onto the Oscars stage, but Rock found himself on the receiving end of an open-handed punch when he angered an A-list attendee. After the comedian cracked a joke about Jada Pinkett-Smith being bald, Will Smith stormed the stage, smacked Rock on the face, and left viewers stunned. Rock briefly addressed the incident during a tour stop at Royal Albert Hall in London on May 12. "I got most of my hearing back and I'm trying to make a decent show," he said, per the Independent. He also joked that fans would have to wait to hear him say more about the incident during a future Netflix special.
Rock was actually present when Netflix darling Chappelle was assaulted by an irate audience member at the Hollywood Bowl in early May. Chappelle's attacker had a weapon, but luckily the assailant only managed to tackle the comedian before having the favor returned tenfold by security. Per People, Rock later quipped, "I thought that was Will Smith!" The two funnymen are about to cross paths again, and we're betting that they won't pull any punches when talking about their similar incidents.
Dave Chappelle and Chris Rock are reuniting onstage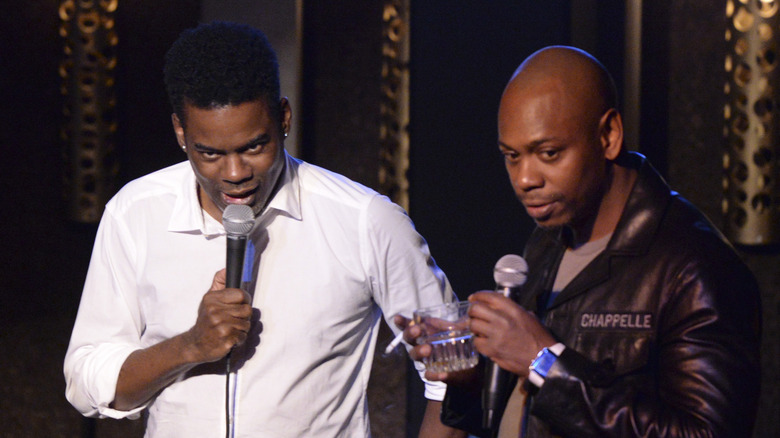 Vivien Killilea/Getty Images
Dave Chappelle and Chris Rock are joining forces for an event that will show their slap-happy haters that they can't be scared away from the stage. According to The Hollywood Reporter, they will be joint headliners at a special Live Nation comedy show on September 3. The event will take place at London's 02 arena.
Chappelle and Rock's comedy kinship extends beyond their recent shared experiences. They've performed together before, and Rock spoke about their friendship in a September 2020 appearance on "The Howard Stern Show." Two months earlier, Rock had joined Chappelle in Ohio for one of his "Dave Chappelle & Friends: A Talk with Punchlines" comedy shows. Rock revealed that his relationship with Chappelle had grown stronger during the pandemic and declared, "I'm just in love with Dave." He also explained that seeing other Black comedians become rivals, including Richard Pryor and Eddie Murphy, impacted how he treated Chappelle. "I made it a f***ing conscious effort: Me and Dave Chappelle are going to get along," he said.
The two comedians share so much more than laughs when they get together. While speaking to Rolling Stone in 2017, Rock recalled how deeply it moved him when Chappelle asked him if he had cried when he was going through a divorce from his wife of 18 years, Malaak Compton-Rock. "No one's ever asked me that," Rock stated. "We live in a world where men are assumed to not have feelings."