Chris Rock Had The Perfect Comment Immediately After Dave Chappelle Was Attacked On Stage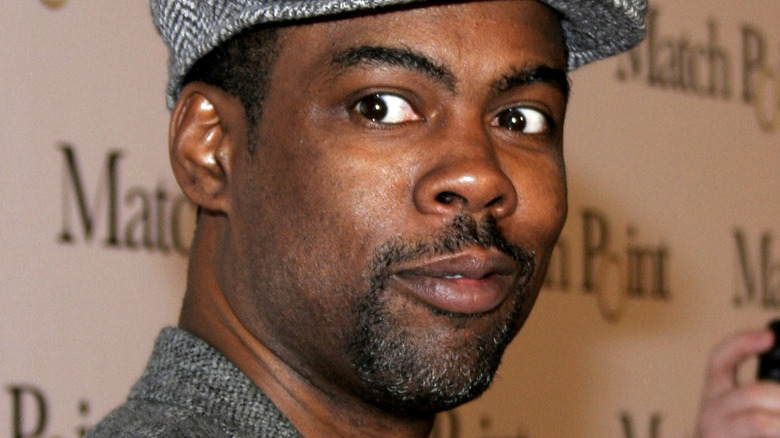 Tinseltown/Shutterstock
Dave Chappelle is a controversial figure, to say the least. Chapelle, who's worth $60 million, has been known to make incendiary remarks and not apologize for them. He's often landed in hot water, including after the release of his 2021 Netflix special, "The Closer," which featured what many deemed to be queerphobic remarks. Critics were quick to speak out against Chappelle, with GLAAD tweeting that his "brand has become synonymous with ridiculing trans people and other marginalized communities." Indeed, Netflix employees even staged a walkout to condemn the release of the special and "underscore the importance of responsible content offerings that prioritize the safety and dignity of all marginalized communities," per CBS News. 
Rather than offering a mea culpa, the brash comedian stood by his jokes, arguing that his remarks weren't offensive and that "everyone I know from that community has been nothing but loving and supporting." Indeed, he received very public support from Caitlyn Jenner, who tweeted that "Dave Chappelle is 100% right," adding that the backlash "isn't about the LGBTQ movement" but "about woke cancel culture run amok, trying to silence free speech."
Since then, Chappelle hasn't backed down from making jokes about the LGBTQ+ community, and he did so again after a rather scary moment. In a manner reminiscent of Chris Rock's Oscars experience, an audience member stormed the stage and attacked the "Chappelle's Show" star while he was performing at the Hollywood Bowl on May 3, per Page Six. While Rock's response elicited laughter from the rather tense room, Chappelle's response to the scary incident left people fuming.
Chris Rock's response to Dave Chappelle's attack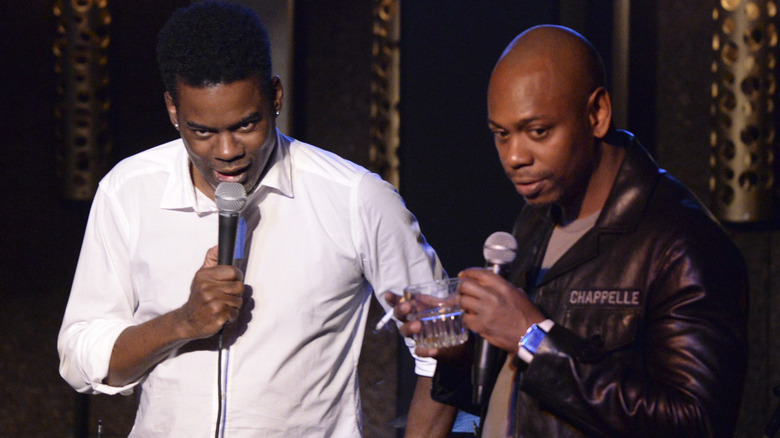 Vivien Killilea/Getty Images
It's a scary time to be a comedian. As Page Six learned, Dave Chappelle was onstage as part of the "Netflix Is A Joke" festival and nearing the end of his set when, around 10:45 p.m., a man sitting in the front row got up onstage, rushed directly at him, and tackled him to the ground. Video posted to Twitter shows the comedian staggering back as he's hit with brutal force. Luckily, he wasn't hurt, but LAPD spokesperson Lizeth Lomeli told the outlet that he very well could have been, as the suspect carried a fake gun hiding a very real blade. According to eyewitness accounts, it didn't take long for security and various folks to jump in and help Chappelle. One eyewitness tweeted that the perpetrator soon "got his a** kicked by at least 10 people," which reportedly included Jamie Foxx. Another A-lister who witnessed the whole thing was none other than Chris Rock. After coming onstage and hugging his fellow comedian, he unleashed the perfect one-liner: "Was that Will Smith?"
In the end, the suspect was taken to hospital before being booked for assault with a deadly weapon. Brushing himself off, Chappelle returned to finish his set and even told the audience, "Listen, I just want to say I've had an incredible time." Many fans were impressed with his response, with one telling Page Six, "Dave handled the whole thing like a pro. Just another reason why he's the GOAT." However, one of Chappelle's jokes about the situation is making some people think twice.
Dave Chappelle's own response has landed him in hot water ... again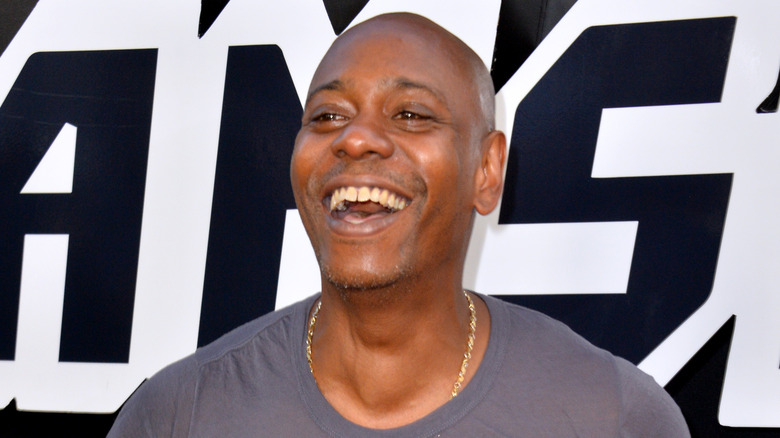 Featureflash Photo Agency/Shutterstock
Dave Chappelle may have received praise from some in attendance who tweeted that he handled the scary incident "like a champ," but others who have since seen video from inside the Hollywood Bowl don't agree. In fact, it seems compassion has now turned to anger for many who simply can't believe that the first thing the comedian did when he recovered was proclaim that his attacker had been a "trans man," per Page Six. Backlash to Chappelle's joke was swift. "I'm glad he's ok but f*** Dave Chappelle," tweeted one critic. Another slammed, "Nothing about the Dave Chappelle attack is fun. The attack itself. The beatdown. The 'trans man' quip ... It all just sucks." Another argued that such rhetoric was the very reason why "the trans community are the most victimized, assaulted and abused." 
Meanwhile, others unleashed even stronger condamnation and refused to show any concern for the comic's wellbeing. Award-winning journalist Ernest Owens unapologetically tweeted, "If you think I'm going to feel sorry for that transphobe Dave Chappelle, please don't." Why? Because "it's clear he will continue to put a target on trans people regardless."
Late last year, Chappelle addressed the LGBTQ+ community directly in a video posted to Instagram and claimed that he was "more than willing to give you an audience" but held firm that "you will not summon me," adding, "I am not bending to anyone's demands." It seems he wasn't kidding.