The Madonna Biopic Has Reportedly Finally Chosen Its Star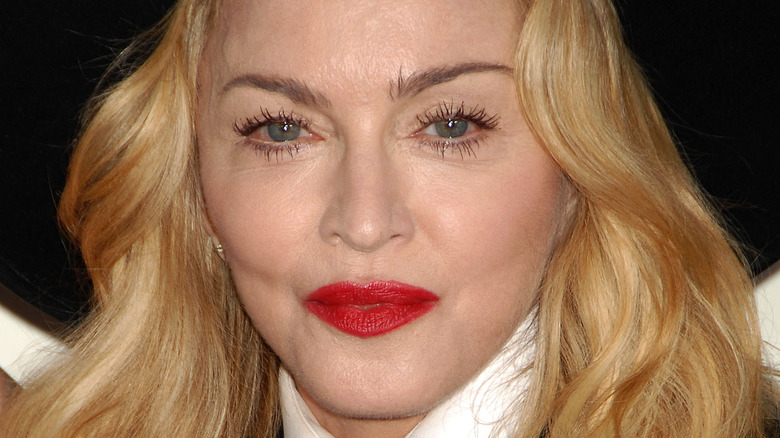 Ga Fullner/Shutterstock
Ever since a Madonna biopic was announced, excited speculation began swirling about who will tackle the role of the Queen of Pop. Madonna herself is a co-director and co-writer on the "visual autobiography" because, as she explained on "The Tonight Show Starring Jimmy Fallon" in 2021, "There is nobody on this planet that can write or direct, make a movie about me, better than me and that is just the truth."
Madonna will also have final say over the choice of star, a source told Mirror in 2021, "since she's directing and it's her story." Since then, various actors' names have been rumored to be on Madge's casting shortlist. Speaking to the Associated Press in September 2021 (per Today), the pop icon expressed interest in "Black Widow"'s Florence Pugh, saying, "We haven't decided yet. But she's definitely up there on the list, if she'll have me." The Daily Mail also reported in March that two stars of HBO Max's "Euphoria," Sydney Sweeney and Barbie Ferreira, have auditioned for the part along with "Ozark"'s Julia Garner. 
Well, the wait is over, as it was announced on June 7 that the project has made an offer to the last Madonna standing.
Julia Garner has reportedly been offered Madonna's Material Girl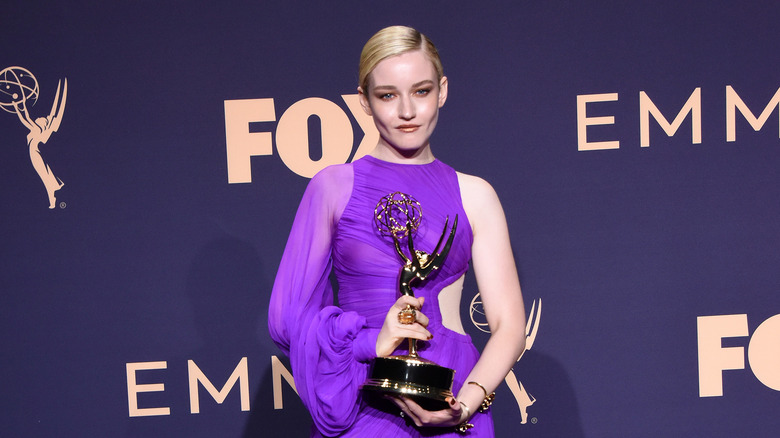 Kathy Hutchins/Shutterstock
Long speculated to be the frontrunner for the part, Julia Garner — of "Ozark" and "Inventing Anna" fame — has been offered the role of Madonna in a biopic about the pop icon. As Variety reported on June 7, sources anticipate that Garner will accept the offer. It seems a hard-fought victory for Garner, as the auditioning process reportedly involved separate choreography, acting, and singing sessions, per Vulture – sometimes even with Madonna. 
The untitled biopic had a major stumble in 2021 after Diablo Cody, who was co-writing the script with Madonna, quit. Luckily, screenwriter Erin Cressida Wilson stepped in and filled in the role. Madonna previously stated, per Trentonian, that the film will be a depiction of "the incredible journey that life has taken me on as an artist, a musician, a dancer — a human being, trying to make her way in this world."
Fan reactions to Garner's possible casting appear mixed. Some affirmed faith in Garner's skills, with one tweeting, "Quality actress who I'm sure would do a fantastic job." Others doubted her physical likeness to Madge, with one Twitter user writing, "Julie Garner looks nothing like a young Madonna. I am sure she is talented but I think Miley Cyrus is the best for this." Another user directed their skepticism toward Madonna's filmmaking abilities, tweeting, "we've seen her past work and let's just say,is razzie material." Let's just wait and see, shall we?!