Jordan Carlos And Michelle Buteau On Their Podcasting Community And Finding Like-Minded Listeners - Exclusive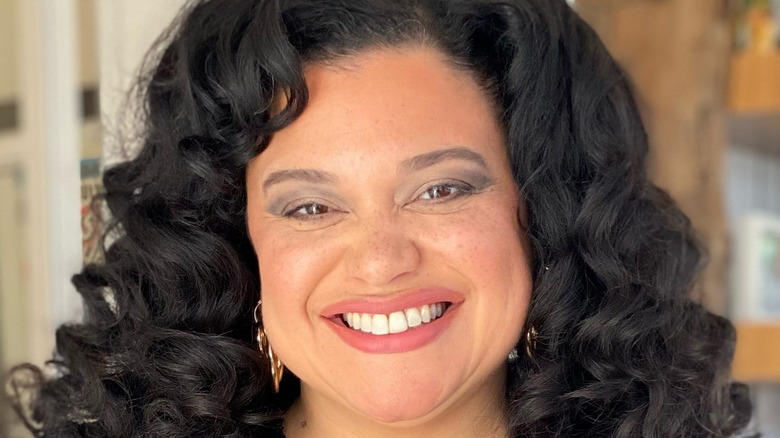 Michelle Buteau/Getty Images
If you're anything like us, podcasts keep you sane. From filling the mundane noise of the office to keeping you company while cooking dinner, the podcasting world is rich, fulfilling, and full of amazing creators. The podcasting landscape wouldn't look like it does without Exactly Right Media, the brainchild of Georgia Hardstark and Karen Kilgariff. Their hit podcast, "My Favorite Murder," led to a litany of content, and their umbrella is adding another incredible podcast to the mix.
"Adulting" with Michelle Buteau and Jordan Carlos went off the air about two years ago, but the dynamic duo is back thanks to their new partnership with Exactly Right Media! Answering life's toughest questions — like "How Do I Get Out of Going to Work on Monday" and "When Does a Venmo Request Become Petty?" — Buteau and Carlos are the dynamic duo, bringing hilarious commentary to each episode.
Ahead of the hit podcast making its official return today, we sat down with the hosts to discuss the show, how many pairs of underwear you should pack for a weekend vacation, and how to face a world that feels increasingly heavy. Amid the laughs, Buteau and Carlos revealed that their podcast is a place of community, and reflected on their listeners and collaborators with an open heart.
Michelle and Jordan found like-minded creators at Exactly Right Media
When workshopping "Adulting" and bringing it back to the air, Michelle Buteau and Jordan Carlos were careful about who they worked with. Telling us that they were dedicated to doing the podcast right, the duo reflected on Exactly Right Media and the community they found there.
"I wish it was easier to find a place that didn't give a platform to nonsense misogyny, transphobia, whatever the f*** it is, but Jordan and I are like, 'Where are the good people?' Buteau told us. "Then I'm like, 'Oh, right — my friends, they have their own company.'"
Further reflecting on the wide ranging listeners that tune into their podcast, we asked the duo if "Adulting" is a means of escape — the answer they offered might surprise you.
"I wouldn't ever think it's an escape. When I was a kid, I used to always be fascinated with the fact that people like Bob Hope would go out and perform for the troops during World War II. Those were people that were facing death every day, but they needed their spirits raised," Carlos told us. "What gets lost in the sauce is the people's experience, because we are buffeted by so much and looking for control in our lives, and it's not there."
Michelle and Jordan want their podcasting community to be a place of like-minded people
When we sat down with Michelle Buteau and Jordan Carlos, the horrific attack in Uvalde, Texas had just occurred. We asked the creators about their intentions to address such painful topics on their show, and they shared with us that "Adulting" offers a much needed place for people to come together.
"We understand that so much of our democracy is under attack, but for these moments, it's not an escape. It's not an escape. It's that in this space you can find like-minded people that relate to you and see you eye-to-eye," Carlos told us. "It's that we march together, that we make calls to our intransigent government together, that we strap it on and do what we have to do every day together."
Emphasizing the importance of community as well as representation, Buteau further told us that it would "be crazy for us three Black performers" — including their DJ Don Will — not to address such important topics. So while "Adulting" can certainly make you laugh, it will also provide a space to process this wild thing called life.
The first episode of "Adulting with Michelle Buteau and Jordan Carlos" is now available wherever you get your podcasts.