Who Are Chrishell Stause's Sisters?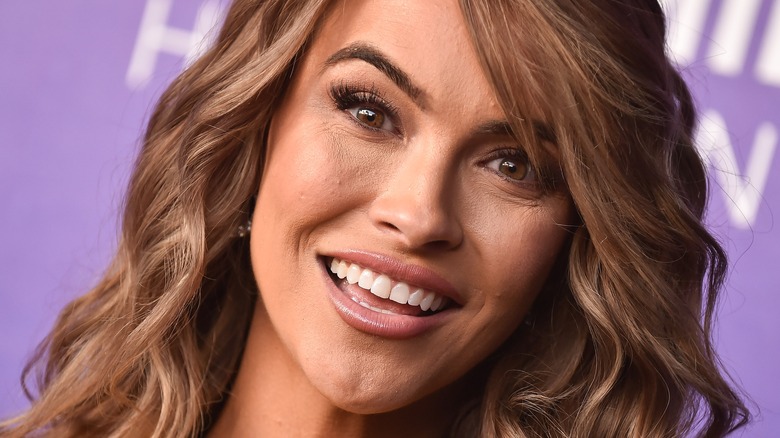 DFree/Shutterstock
"All My Children" fans may remember Chrishell Stause as Amanda Dillon, but it was "Selling Sunset" that made her a household name. Thanks to her poverty-stricken childhood, per Page Six, Chrishell knew that she couldn't rely on an acting career to make ends meet. So, she got her real estate license and works for The Oppenheim Group. As far back as 2016, she revealed that she's a realtor, per Instagram, saying, "Let me know in the comments if you're in the market to buy or sell and need a super dedicated friendly realtor to help you."
With her acting gigs, working as a real estate agent, and appearing on reality TV, Chrishell was understandably overwhelmed when her ex-husband Justin Hartley filed divorce papers. Luckily, she could fall back on the support of her sisters. As documented on "Selling Sunset," she moved in with her sister while trying to process the news of the divorce, per Today. During S eason 5 of the Netflix show, both Chrishell's sisters threw some shade at Hartley. Shonda Davisson recalled (via Us Weekly), "A lot of your jobs, he acted like they were not real jobs." Her younger sister Sabrina Stause felt there were "some instances in the past where it felt like you were covering for your partner at the time. Maybe they were doing something that was a little disrespectful and you were, like, standing up for them."
Sabrina and Davisson not only have Chrishell's back, but they're also making their own mark. 
Shonda Davisson's family life inspires Chrishell
Chrishell Stause's sister, Shonda Davisson, is a talented woman. In her Instagram bio, she reveals that she is a mother of three and she's an esthetician. She owns a beauty spa, and during a traumatic time in Chrishell's life, was able to offer her relaxing treatments as she recuperated, as seen on "Selling Sunset."
Davisson helped Chrishell to pick up the pieces after Justin Hartley texted her about their divorce, per Today. She trekked to St. Louis from L.A. and moved in with Davisson and her family. It seems as if she admires Davisson, and during a confessional, said, "Sometimes in L.A., we get too caught up in things that are supposed to matter that really don't and being here, this [family] is exactly what I think really does matter and really is something to be so proud of." Speaking of Davisson's home life, Chrishell added, "They have been married so long and they have this beautiful family ... it helps me be inspired to know that it might be out there."
It's little wonder that the sisters remain close. Both Davisson and Chrishell share plenty of photographs of each other on their social media pages. In April, Davisson posted some pics of her vacation in London.  Per Instagram, she captioned one snap of her and the Netflix star, "When your sister invites you to London, how do you say no?" Now that's sisterly love. 
Sabrina Stause celebrates Chrishell's wins
Sabrina Stause and Chrishell Stause are also very close. A quick look at Sabrina's Instagram page, shows plenty of snaps of her and the "Selling Sunset" star, including a pic of the three sisters posing together. She captioned it, "My best friends," adding two double-heart emoji to the post. Sabrina also promoted Chrishell's memoir and raved about her big sister. "So incredibly proud of my babe @chrishell.stause for being a published author!" She continued, "Settling into bed now to stay up all night and read it."
On the career front, Chrishell's youngest sister seemed to follow in Shonda Davisson's footsteps. She is also an esthetician, per her Facebook bio, and works at Davisson's spa. Sabrina also did her apprenticeship at the spa in 2018, per Facebook, underscoring how the Stause sisters support each other in everything they do. Sabrina and Chrishell have also traveled together. In one Instagram post, Sabrina shared two images of her and Chrishell. She penned, "What's more fun than exploring Wine Country with your sister? Nothing."
It's official — Chrishell, Sabrina, and Shonda are sister goals.