What Is Awkwafina's Real Name?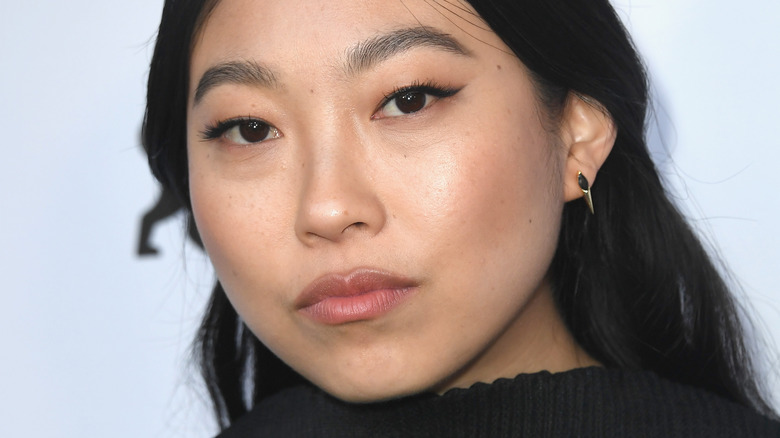 Albert L. Ortega/Getty Images
In the last several years, Awkwafina has been hitting her stride throughout the entertainment world. This rapper, comedian, and actress had her mainstream breakout moment in 2018's groundbreaking hit film "Crazy Rich Asians." She continues to hit the silver screen in the Marvel Cinematic Universe thanks to "Shang-Chi." She portrayed a feisty, funny animated dragon in "Raya and the Last Dragon" as well as starring in several indie dramas, as per IMBd.. Despite her major wins, there have been some awkward moments for Awkwafina. She came under fire when her her use of African American Vernacular English (AAVE) created a stir early in 2022 as she tried to talk herself around it.
On Twitter befo,re deleting her account, Awkwafina said that using AAVE happened because she was "carv[ing] an American identity off the movies and tv shows [she] watched, the children I went to public school with, and my undying love and respect for hip hop." But, not unlike many other Hollywood elites, she also decided to create a stage name when she entered the entertainment industry. So, what was rapper and actress Awkwafina known as before she got famous?
Awkwafina is essentially an alter ego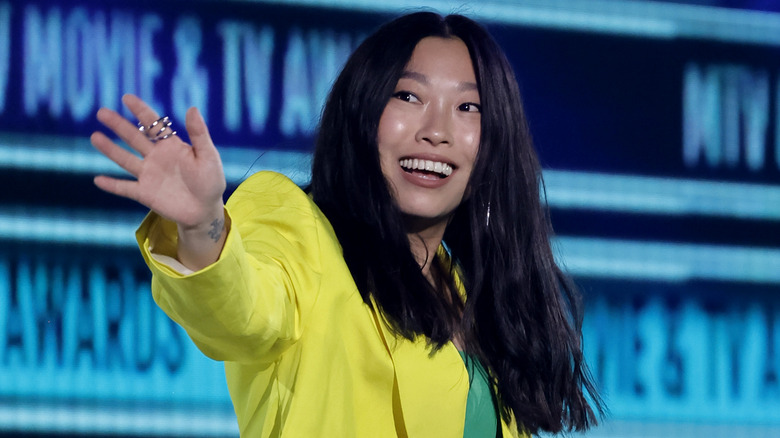 Kevin Winter/Getty Images
When talking to Into the Gloss in 2017, Awkwafina explained that her stage name represents a side of herself that she "repressed." "She's the girl who's high on sleepover energy, running around and dunking ice cream cones in her eyes," she told the outlet. "College was like prison reform where I learned to be quiet and more passive—so when Awkwafina comes out on stage, she's that crazy high school kid that doesn't really care about anything." She further explained that her non-stage persona just doesn't have that "confidence."
Awkwafina's other, less outrageous persona, is her birth name: Nora Lum. Nora even gets alluded to in Awkawfina's 2020 Comedy Central show "Awkwafina is Nora From Queens." It all makes sense now! And there isn't a huge story behind the name change either. As Awkwafina told Galore, she just thought it was a funny name.
Originally, however, Awkwafina's name was spelled Aquafina but she chose to change the spelling so she didn't get sued by the bottled water (via Galore). In fact, the man who made her music video at 16 rewrote her original stage name, as she told the outlet. After changing it up he showed it to her and said "...I feel like it would be unique, so then people [will] look it up" (via Galore).
'Nora' lives on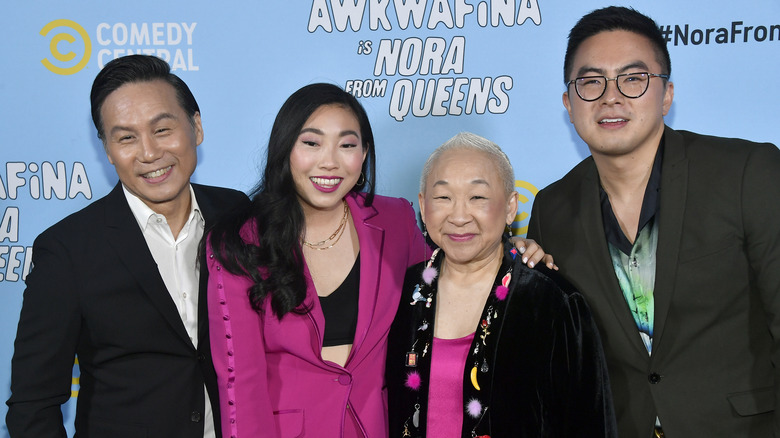 Frazer Harrison/Getty Images
In May 2022 it was announced that "Awkwafina is Nora from Queens" was renewed for a third season on Comedy Central, according to Deadline. Per the outlet, the show centers on a fictionalized version of Awkwafina as she grows up in Queens with her family. The show also stars BD Wong, Lori Tan Chinn, and Bowen Yang. Since its 2020 debut, the show has remained well received by critics and audiences alike, so it's no surprise that it was renewed again.
According to Buddy TV, "Nora from Queens" was Comedy Central's highest-rated season one premiere in three years when it debuted in 2020 with nearly 500,000 viewers tuning in for the new show. While Nora Lum didn't serve Awkwafina's stage presence, it is cool to see her honoring her birth name in such a unique way! A release date for season three has not yet been announced, so stay tuned.