Jessica Simpson's Daughter Maxwell Is Growing Up Fast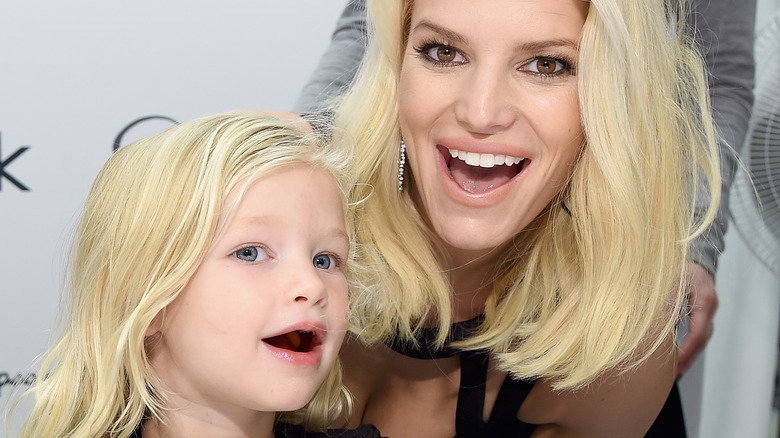 Jamie Mccarthy/Getty Images
Over the years, much ado has been made about just how much Jessica Simpson and Eric Johnson's oldest daughter, Maxwell Drew, looks like her famous mom. The 10-year-old is often referred to as Simpson's "mini-me," but Maxwell has a lot more in common with the "Open Book" author than just her appearance.
For one thing, Maxwell shares her mama's love of a good shoe. But while Simpson often models footwear from her billion-dollar fashion brand, she wouldn't dare rock heels while riding a horse, which is something her daughter did when she was just 3 years old. After "The Tonight Show" host Jimmy Fallon held up a photo of Maxwell's fashion feat on his show, Simpson said, "She's wearing her first heels, which is very impressive. She's like, 'Like mama!'"
By the time she was 5, Maxwell's passion for fashion had her acting more like a mini Tyra Banks. While speaking to ET at a 2018 runway show for the Jessica Simpson Collection, Simpson described how her daughter would have behaved if she'd been there. "She would be very sad that she is not the star of the show," Simpson said. "She would have been guiding people and telling them how to do the hip stance. She has it down better than her mama!" Maxwell is also a makeup fan who got caught raiding her mom's cosmetics collection when she was 2, and she's just gotten bolder as she's gotten older, as evidenced by her new hair color.
Remember when Jessica Simpson got mommy-shamed for dyeing her daughter's hair?
Jessica Simpson usually sticks with her signature blond look, although she was brunette for a minute during her John Mayer era. But Maxwell Drew has been very adventurous with her hair color. On June 7, Simpson posted an Instagram pic of the tween rocking a Wu-Tang Clan T-shirt and long, French-braided pigtails streaked with turquoise and blue. "Shades of blue #MAXIDREW," the caption read.
For her 6th birthday party, Maxwell sported pink hair to dress up like Zendaya's acrobat character from the movie "The Greatest Showman," and she went brunette when she dressed up like Belle from "Beauty and the Beast" for Halloween in 2017. But it was her lilac highlights that had mommy-shamers in a tizzy that same year. Maxwell was 7 at the time, and some critics thought she was too young for a dye job, per USA Today. In a show of solidarity, Simpson's fellow early aughts pop icon, Pink, did her part to silence the haters by dyeing her daughter Willow's hair blue.
This time around, Simpson's photo of Maxwell was flooded with compliments. "She's so beautiful! Just like her momma!!" wrote one Instagrammer. Kim Kardashian also responded to the post with three blue heart emoji, reminding everyone that Maxwell has a friend with fashion connections: Kardashian and Kanye "Ye" West's daughter North West, another style icon in the making.