How Much Does Ice-T Make Per Episode Of Law And Order: SVU?
Slaven Vlasic/Getty Images
Ice-T is making bank, y'all. And we mean bank. The star — who you may also know by his birth name of Tracy Lauren Marrow — is (of course!) one of the most famous rappers going, but has also gained a whole lot of notoriety for his acting career, namely for playing Odafin Tutuola in "Law & Order: Special Victims Unit" since 2000. Yes, it really has been that long!
"I think the best thing about our show is everyone on our show that we work with is so wonderful. It's easy. You know, I love Mariska [Hargitay]. We get along," he revealed on "Late Night with Seth Meyers" when asked his favorite thing about going to work every day. "Just the work environment is so fun, so it doesn't seem like 20 years. It just seems like, you know, you're going to work doing something you love to do," he added.
But while a great work environment and lovely co-workers is obviously high on everyone's list for the perfect job, we're guessing the paycheck probably plays a pretty hefty part in why Ice-T heads to set day after day. So, how much is he actually pocketing from a day playing police?
Ice-T's Law and Order: SVU salary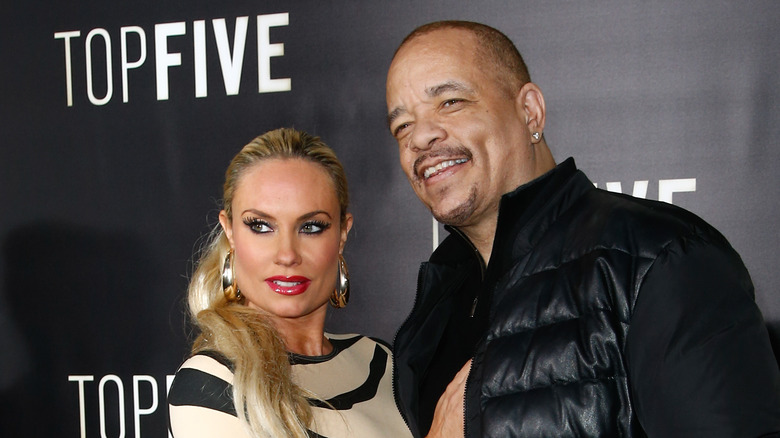 Debby Wong/Shutterstock
If there's one thing you can put money on, it's that Ice-T is making plenty of money from "Law and Order: SVU." How much we hear you ask? Well, according to Celebrity Net Worth, the rapper earns a whopping $250,000 an episode. That's a quarter of a million dollars. Not bad! Of course, all that adds up, and the outlet estimates he takes home about $6 million for every single season of the show he appears on — and that's even before syndication royalties!
That all contributes to his reported net worth of an eye water $65 million. That makes himself and his wife, Coco Austin, one very rich couple. Austin has earned a pretty impressive nest egg for herself, as she's reportedly worth $5 million, per Celebrity Net Worth. That makes these two a $70 million couple!
And it sounds like, understandably, Ice-T is pretty proud of his earnings. "Money is undeniable. It is something that changes life for you. People say money doesn't matter and I always say, 'I wouldn't think money mattered if everything in life didn't have a price.' There is nothing that doesn't have a price," he told Hype Bot in 2017, revealing he has an American Express card he's happy to use.
How Ice-T spends his millions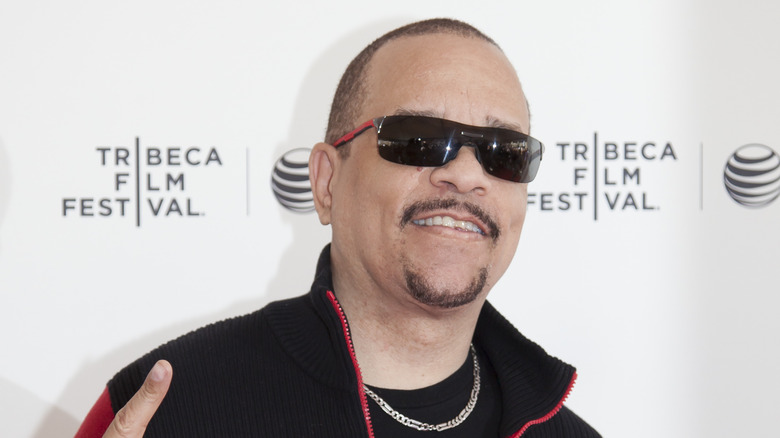 Sam Aronov/Shutterstock
With millions in the bank, Ice-T is living the lavish lifestyle most of can only dream of. But how does he spend all that cash? Well, it seems like real estate is a favorite of the actor, as he's been known to drop millions on fancy houses for himself, Coco Austin, and their daughter, Chanel.
In 2017, Curbed Los Angeles reported Ice-T had put his Hollywood Hills mansion on the market for $9 million, which featured a retractable-roofed pool and chandeliers galore. Fancy! A year before that, they unloaded their New York penthouse, with Realtor.com reported they were looking for just over $1 million for the Big Apple pad.
But it's not just the homes themselves that are impressive, because Ice-T and Coco certainly know hot fill them. Back in February, the latter showed off her jaw dropping shoe collection on Instagram, which featured more Christian Louboutins and designer brands than you can imagine. "Some people collect baseball cards, some collect watches, some collect comic books.... I collect shoes!! Over 20 years worth," she captioned the upload, while Daily Mail reports her collection is worth more than $1 million.