Are Kristen Stewart And Taylor Lautner Still Friends?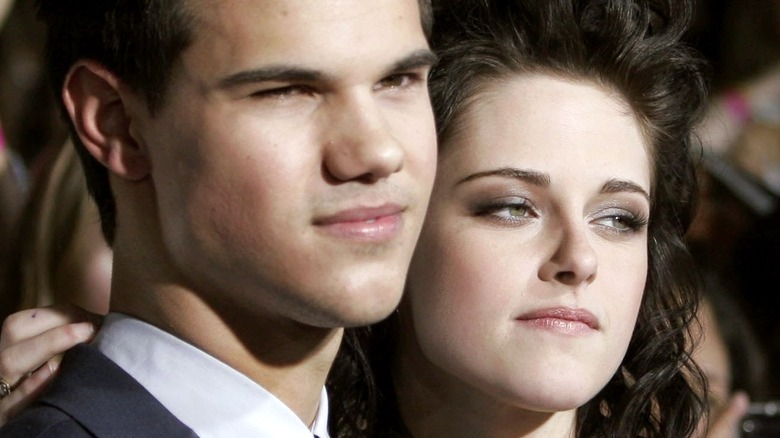 Everett Collection/Shutterstock
In the "Twilight" movies, Kristen Stewart and Taylor Lautner played vampire-to-be Bella Swan and werewolf Jacob Black, characters whose friendship survived what would be an insurmountable issue for many guys: Bella fell in love with a supernatural creature who was one of the immortal mortal enemies of Jacob's wolf pack.
Because the films were released over the course of four years, Stewart and Lautner had to spend a lot of time together filming and doing interviews, during which they were often asked about their relationship on- and off-camera. In a 2010 interview with Parade, Stewart confessed that her first kissing scene with Lautner was difficult, saying, "I was nervous as hell." But the awkwardness didn't stop Stewart from developing a close bond with her co-star. After their working relationship ended, she made sure to keep in touch with Lautner. "When I don't see Taylor for a while I take out my phone and call him," she said in 2011, per CTV News. "We get along together and I think it shows."
A lot of time has passed since then, and the actors' career trajectories have taken them in much different directions. Stewart has steadily found work, while Lautner revealed that the immense amount of attention he received from Twihards made him so uncomfortable that he became rather reclusive for years. "I was scared to go out," he said in a January "Today" interview. "I'd get super anxious." But he didn't cut K-Stew out of his life.
Taylor Lautner showed his support for a spooky Kristen Stewart project
It looks like Taylor Lautner is still following Kristen Stewart's career after all these years. On June 6, hairstylist CJ Romero shared a video of Stewart breaking some big news on his Instagram page. "I am scarily excited to announce that I'm teaming up with Scout — the producers of 'Queer Eye,' 'Legendary,' 'The Hype' — on the most gayest, most funnest, most titillating ghost show ever," she said. Lautner was clearly a fan of the concept. "LETS GOOOO!!!!!" he wrote in the comments.
It's not the first time the "Scream Queens" star has supported Stewart's post-"Twilight" work. In 2015, Lautner showed up at the premiere of her movie "American Ultra." At the event, Stewart told E! News, "I love Taylor. He's one of my boys ... He's like one of my best friends. So I just thought, 'Come see the movie and hang out.'" Their friendship was still going strong four years later when Stewart scored an invite to Lautner's 27th birthday bash, per W Magazine. Romero was also at the event and took to Instagram to share a photo of the reunited stars engaging in a group hug that looked way cozier than that tent scene in "Eclipse."
Clearly, Lautner wasn't lying when he described himself as a "loyal" friend in a 2012 Cosmopolitan interview. He also gushed over Stewart, saying, "Kristen is fantastic at everything she does. I'm always proud of her."
Why Taylor Lautner was asked to choose between Kristen Stewart and an ex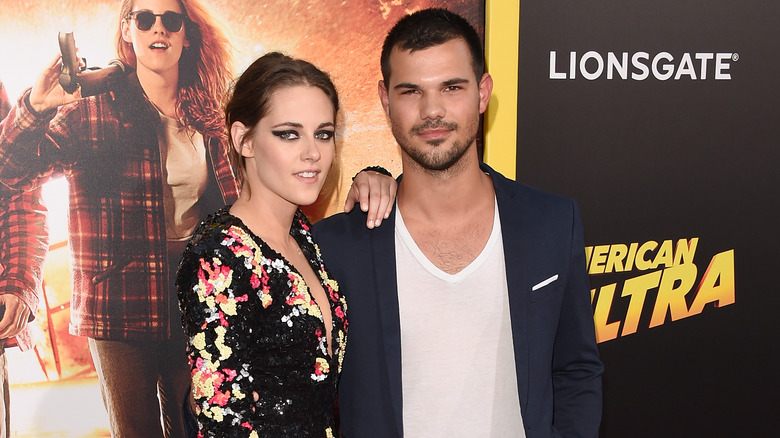 Jason Merritt/term/Getty Images
When Kristen Stewart joined Taylor Lautner to celebrate his birthday, he was dating future fiancée Tay Dome. On Instagram, Lautner revealed that Dome organized the surprise party, and he returned the favor two years later by getting down on one knee and surprising her with a ring.
But back in 2011, Lautner was reportedly dating his "Abduction" co-star Lily Collins when he had to make a decision just as tough as a Twihard's Team Edward or Team Jacob conundrum. At the time, Collins and Stewart were promoting competing Snow White movies, "Mirror Mirror" and "Snow White and the Huntsman," respectively, and E! News tried to get Lautner to pick one fairytale flick. "I can root for both of them," he said. "They're so different. Kristen's going to be cool and edgy and dark, and I think that's really exciting, and Lily's also going to be great, but in a completely different feel." Collins and Lautner broke up the following month, per Us Weekly.
Stewart had to make a choice of her own in 2010 when Us Weekly asked her whether Lautner or Robert Pattinson was a better kisser. She cleverly chose the "Breaking Dawn" star she had previously locked lips with in the movie "The Runaways," Dakota Fanning. But when Lautner appeared on "The Kelly Clarkson Show," he revealed that his fiancée didn't have such a diplomatic answer. "She was Team Edward," he said of Dome's allegiance.