Gisele Bündchen's Cameo In The Devil Wear Prada You Might Have Missed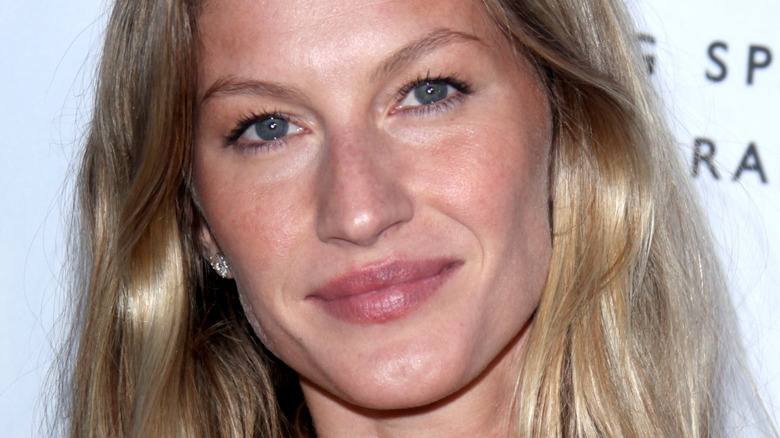 Kathy Hutchins/Shutterstock
Gisele Bündchen is a multi-talented supermodel who has also ventured into the world of acting during her career. Bündchen's first-ever on-screen appearance occurred when she played the part of Vanessa in "Taxi" in 2004. After taking on this role, Bündchen spoke with IGN and was asked whether or not she'd want to explore more acting opportunities in the future. The iconic model called the experience "very exciting" and said she would be open to acting again, although modeling remained her top priority.
"I wouldn't say I'm going to quit modeling and become an actress, especially because I can't do that because I have contracts, but I definitely enjoyed it," Bündchen said of her first acting job. "I wouldn't call myself an actress, but I at the same time, if there is an opportunity... I believe in taking chances and living your life." 
Two years later, the fashion model would again be on the big screen for another supporting role in a classic '00s flick. 
Gisele Bündchen played a Runway magazine employee in The Devil Wears Prada
Supermodel Gisele Bündchen was featured in a fan-favorite 2000s movie as a character that was a stark contrast to her usual professional roles. In 2006, Bündchen played Serena in "The Devil Wears Prada." Per Insider, Bündchen's character was an employee of Runway magazine and appeared during a scene following the makeover of the lead character, Andy, played by Anne Hathaway. When Hathaway enters the Runway magazine office wearing new Chanel boots (and a stylish outfit and 'do to match), Bündchen's character compliments the look.
During a 2021 interview with Entertainment Weekly, Bündchen stated that she actually improvised her character's positive words about Andy's new outfit while acting opposite Hathaway and Emily Blunt. "We did it a few times and I literally had one sentence or two sentences, but I think I added one because [Emily] was being mean [to Andy] and I thought, 'She looks good!'" Bündchen said. "They were like, 'That's perfect!'" Although she nailed the scene, Bündchen initially nearly passed on the opportunity to play a part in "The Devil Wears Prada." 
Gisele Bündchen decided to change up her usual look for The Devil Wears Prada
s_bukley/Shutterstock
Gisele Bündchen opted to change up her supermodel image when she was in "The Devil Wears Prada" in 2006. During a 2022 interview with British Vogue, Bündchen stated that the screenwriter of the film, Aline Brosh McKenna, first reached out to her and asked if she'd like to be in the movie. When Bündchen heard McKenna was seeking out models, she didn't want to pursue the opportunity further and said, "'I'm not going to play a model. I do that every day.'" 
McKenna then presented Bündchen with the part of Serena, a behind-the-scenes worker at Runway magazine, and she decided to accept this second offer. Bündchen told Entertainment Weekly in 2021 that she "really wanted to make sure [she] looked nothing like [herself]." This included wearing glasses, which Bündchen wanted so moviegoers would "forget [she] was Gisele!" In recent years, one of Bündchen's children, Vivian, watched the film at a friend's house and almost didn't recognize her mother in the role. "She's like, 'Mom, I saw you in a movie. You were wearing glasses. Was that you?'" Bündchen British Vogue. "The Devil Wears Prada" was a memorable film, and Bündchen certainly did a great job pulling off her role.